Selk'bag "Wearable Sleeping Bag" Giveaway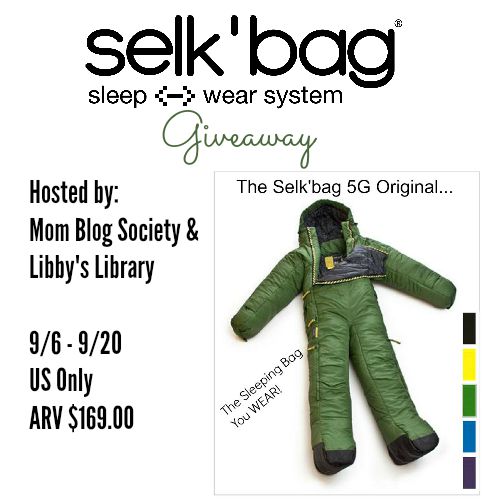 The Selk'bag should be in the dictionary under genius. These "wearable" sleeping bags are a fantastic invention. Why stay warm and dry only when you are sleeping…you need that protection during lots of outdoor activities!
About the Selk'bag
Inspired by the lost Selk'nam natives of Tierra del Fuego, Chile, the Selk'bag has a rich history of innovation, technical proficiency, and worldwide recognition from its creation in 2006 through today. What is a Selk'bag? A Selk'bag is essentially a wearable, human-shaped sleeping bag…and it's awesome! Our customers love us for the comfort, warmth and versatility of the Selk'bag and how it allows them to experience these qualities virtually anywhere, awake or asleep!

Key Features 5G Original:
• Zip-off booties so you can wear your own shoes when active, or the booties when sleeping
• Better two-dimensional, anatomical fit for increased comfort and lighter weight
• A kangaroo-style pocket in the front so you can rest your arms or your stuff easily accessible
• Leg vents help to regulate temperature for times when you get too warm
• Baffled construction helps to eliminate cold spots
• A soft nylon shell with ripstop with a water resistant finish (DWR)
• Double front entry-zippers make for quick entry
• An insulated hood for added warmth
• Thermal collar around the head and neck to prevent drafts
• Exaggerated draft tubes to stop heat loss around zippers
• Redesigned zipper tape prevents snags
• A convenient carry sack for compact portability
Read the full story HERE.
If you'd like the chance to win a Selk'bag 5G Original, please use the hand dandy Rafflecopter form below. Wishing all our readers the best of luck!