Losergurl is a great site to get advice from about being bullied. I love when my daughter used this site last year. Her senior year of high school, and she was being bullied by her step sister. Her step sister doesn't live with us, nor do we see her. And, she bullied Sarah like there was no tomorrow. Sarah tried to ignore it, but then we came across this site, and I suggested she sit down and read some stories. Which, she did.
Haley wasn't bullying her directly either, but through others, that is what made it worse.
If you look at the infographic below, you will get some tips to help deal with bullying.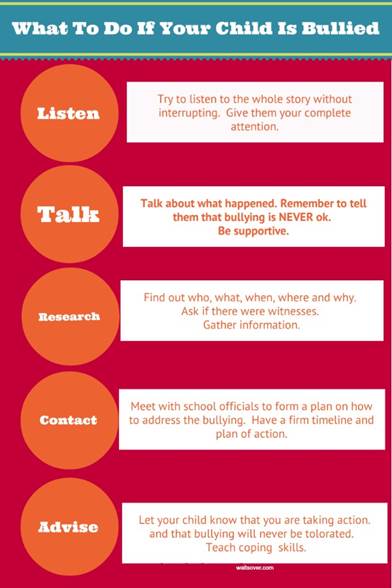 I can also tell you, that my step daughter bullies me. She tries to cause problems between her dad (who adopted her) and myself. It stinks, because she can't just be a loving step daughter/sister. She has to bully her way around us, and try to separate us. That's why we don't talk to her anymore, her dad saw through her lies.
And, Haley's mother tries to bully the dad, which is also wrong. He doesn't let the bullying affect him, because he's a strong man. However, it bothers Sarah and me. The mother won't bully me though, which I find amusing, but the daughter will. Go figure. I don't bully back, I try not to let it phase me, but it's hard.
You can subscribe to her newsletter, to get more information as well. It's on the site to the right of the page.
Physical beauty is an act of nature,
True beauty is an act of self.
Please don't bully anyone, or be a bully. It affects everyone.
And, the person you are bullying may be fighing a battle you know nothing about.
Connect with Losergurl: Site | Facebook | Twitter
Disclaimer:
This product was received from the Company for review purposes only. All thoughts and words in this post is my own and I was not paid to endorse it. I am only voicing my opinion about this product.