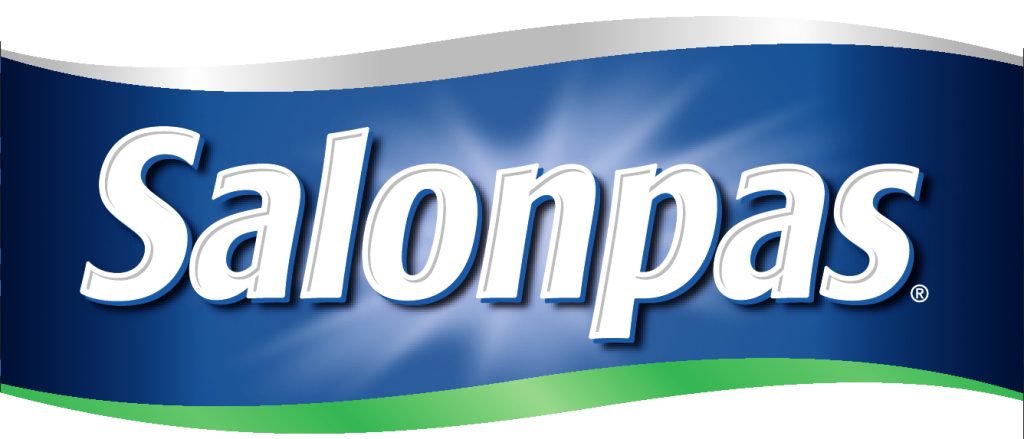 Have you heard of Salonpas? I have to confess, the first time I saw a commercial for Salonpas my mommy listening antenna went up because I thought it was an advertisement for puppy products. Don't ask me why, it is just the first thing that flashed through my mind. Then I actually watched the commercial … yeah, it has nothing to do with dogs, who knew! So, what is it?
Salonpas is an alternative for pain suffers that provides fast and long lasting relief directly to the site of your pain without going through the digestive system; unlike oral over the counter pain remedies. The active ingredients in Salonpas are absorbed through the skin and go directly where they are needed.
Now, I don't know about you but I tend to suffer from aches and pains more during the winter months than the summer months. I am not sure if it is because the weather, the fact that I am more sedentary, or maybe both but I like to have "go to" products on hand that will not only aid me in making it through the day but getting a good night's sleep as well.
MOM BLOG SOCIETY's 4 "GO TO" PRODUCTS (in no particular order):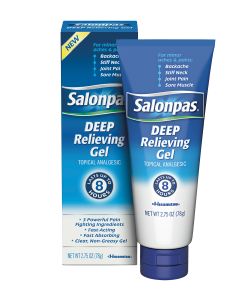 Salonpas DEEP Relieving Gel
Rushes 3 Pain Fighters Deep
Contains 3 active ingredients: camphor (3.1%), menthol (10%), and methyl salicylate (15%)
Start feeling relief, lasting up to 8 hours, in seconds
Clear, non-greasy gel that is fast melting and absorbs quickly
Salonpas Jet Spray
Fast, Convenient Pain Relief
Contains 2 active ingredients: menthol; which cools and soothes and methyl salicylate; which controls the pain for up to 8 hours
Cool, fast relief for muscle and joint pain
Non-drip, quick drying formula for those with an on-the-go lifestyle
Effective for use on still joints such as arms, hands, legs, and feet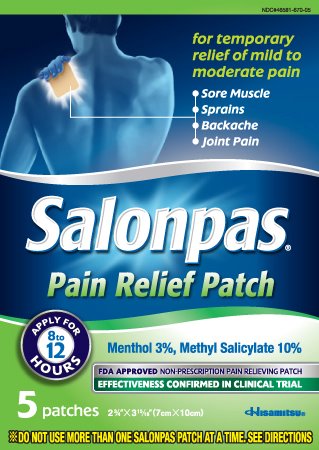 Salonpas Pain Relief Patch
The First and Only FDA-Approved OTC Pain Patch
Contains 2 powerful ingredients: menthol and methyl salicylate
Effective pain relief for up to 12 hours!
Temporary pain relief for mild to moderate muscles and joints aches and pains
Used to combat arthritis, sprains, strains, bruises, and simple backache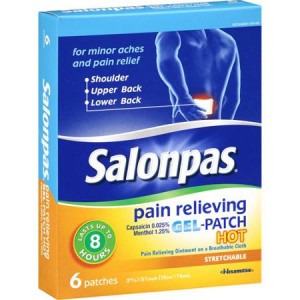 Salonpas Pain Relieving Gel-Patch Hot
Dual Action Gel-Patch
Contains 2 powerful ingredients: menthol; for cooling and soothing and Capsaicin; which provides long lasting heat, hot sensation relief
Effective, targeted pain relief for up to 8 hours
Stays in place better than most patches
Rounded corners to prevent peeling and split film in the center for easy application
Are you suffering with pain but looking to avoid oral medications? Salonpas may be just what you need!
Looking for additional information? The Salonpas website is a great source that provides product comparisons, the ability to browse products by symptom(s), and they even feature videos on how to properly apply their products.
Connect with Salonpas: Shop | Facebook | Twitter
Disclaimer: This product was received from the Company for review purposes only. All thoughts and words in this post are my own and I was not paid to endorse it. I am only voicing my opinion of this product.