The healthcare field is growing steadily and in need of skilled workers. These workers aren't all doctors and nurses, however. With one of these degrees in healthcare management or hospital administration, you'll be sure to find a job in the healthcare field that pays well and is also rewarding in other ways.
Bachelor of Science in Health Administration (BS)
The first step in any university education is obtaining a bachelor's degree. If you already have a bachelor's degree in any subject, you can apply to a master's degree program for further education. If you don't have a bachelor's or you'd like to get another one in a more relevant subject, a good choice is a bachelor's in hospital administration. Not very many schools offer this degree, but many of the ones that do offer online classes so you can study from anywhere on your own time.
Master of Science in Healthcare Management (MS)
This degree requires more knowledge of health sciences and is meant for people already working in the health field. The top schools for healthcare management award degrees that help students become healthcare executives at hospitals, insurance companies, and other health facilities.

Master of Business Administration in Healthcare/Hospital Management (MBA)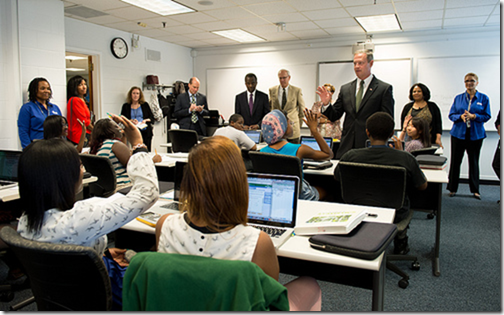 Image via Flickr by MDGovpics
As opposed to a masters in health administration (MHA), an MBA is a general business degree that offers other opportunities besides those in the field of healthcare. MBA degree programs give students in-depth knowledge of finance and business that is applicable in a variety of fields. MHA degrees don't come with as much business knowledge, instead focusing on management specific to healthcare systems.
Master of Healthcare Administration (MHA)
The MHA offers the same opportunities as an MBA in Healthcare but is more focused on the healthcare field. While an MBA in Healthcare is practical in other fields and careers, the MHA only works (and works best) for a career in healthcare. If there's any chance you'll want to switch careers from healthcare down the road, an MBA is a safer bet, but an MHA is the best degree you can get for healthcare management specifically.
There is another degree called a Masters of Health Services Administration (MHSA) that is very similar to an MHA, but with more of a business focus.
Masters in Public Health Administration (MPH)
The MPH is the least business focused out of the three specialized master's degrees in healthcare (MBA, MHA, and MPH). MPH degree programs focus on providing community health programs, outreach, education, and other health services offered through government and non-profit organizations.
These degrees are all very similar, but have subtle differences that vary from school to school. Make sure to speak to a college advisor, students in similar programs, professors, and working professionals when deciding on the program that's right for you.
You can get any of these healthcare degrees online in your spare time. After obtaining your bachelor's degree, it only takes 1-2 years of full-time study or 3-5 years part-time to earn a master's degree and all the lucrative career opportunities that come with it.