I am excited to tell you about this Giveaway! It is sponsored by Run-Chicken and they have some great prizes for you to win! Let's get started!!!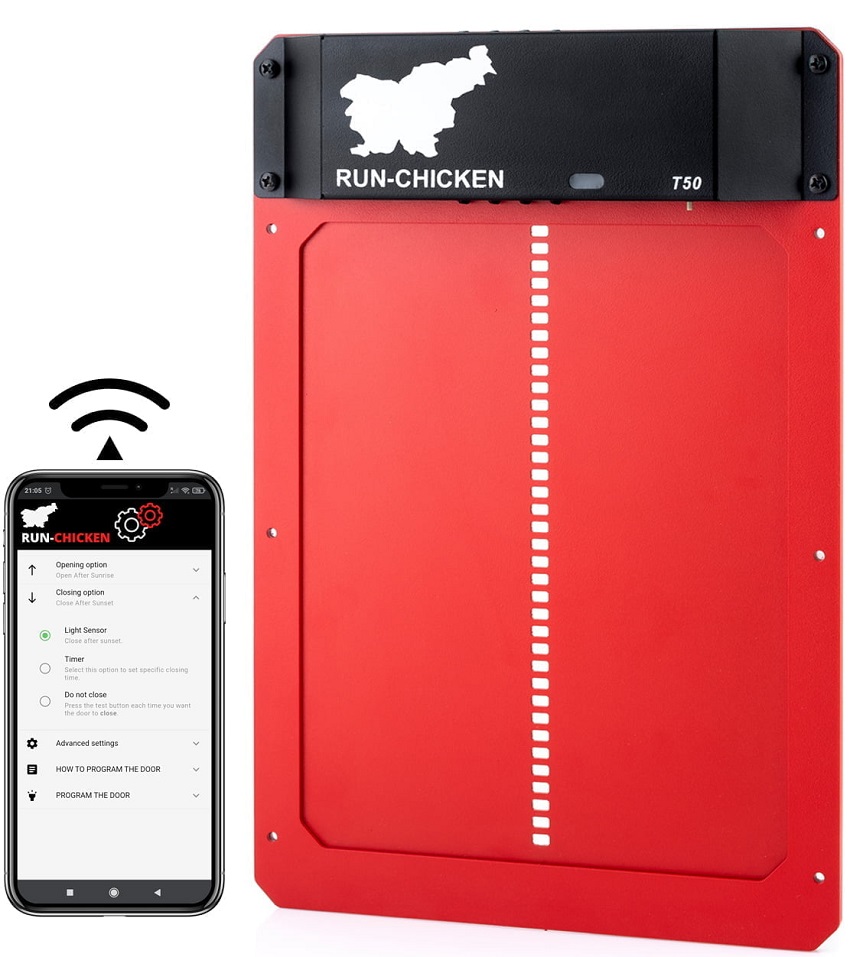 Just about anyone who has chickens has seen these Automatic Chicken Doors. And I can tell you from first hand experience, that the ones made by Run-Chicken work great! I did have mine not open up once. We had freezing rain over the night and in the morning, the door was frozen shut. Just so you know, these doors have a safety device built in that keeps it from crushing your precious little chickens if it closes while the chicken is going through it. And it is that mechanism that keeps your motor from burning up trying to open when it can't. So once I got the door thawed out, it was back to working great again! Anyways, Run-Chicken is giving away one of these awesome doors. They are set from the factory to open and close at dawn and dusk, but you can program it (with the app) to open and close whenever you want.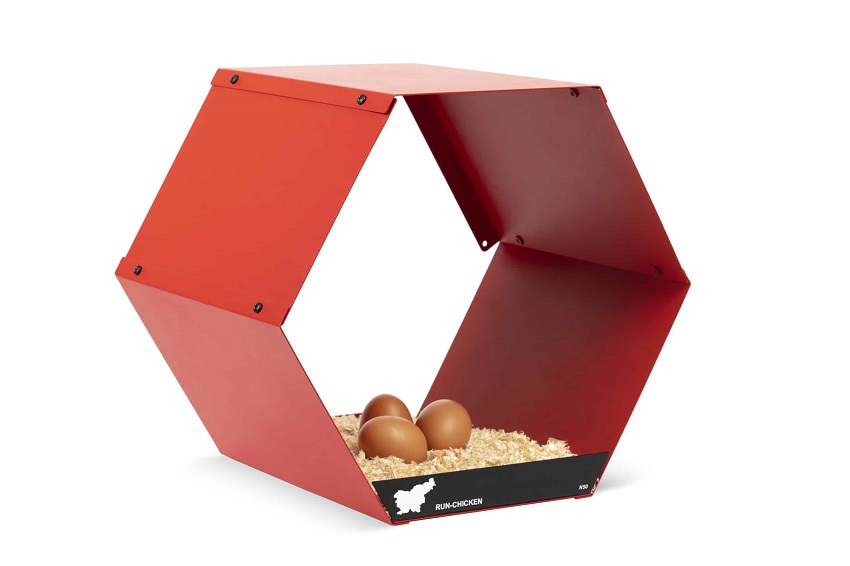 Run-Chicken also makes these modular Nesting Boxes. They're made of Eco-friendly aluminum, not plastic. They fit together, so if you have more than one box (which is likely) they take up less space than the same number of square boxes. I also have used these nesting boxes, I have four. However, my hens usually fighting over one box. In fact, I had three of them inside jockeying for space once. They lay in the other boxes, but not as much as the one. With that said, Run-Chicken is also giving away one of these along with the door. Don't you love Giveaways?!?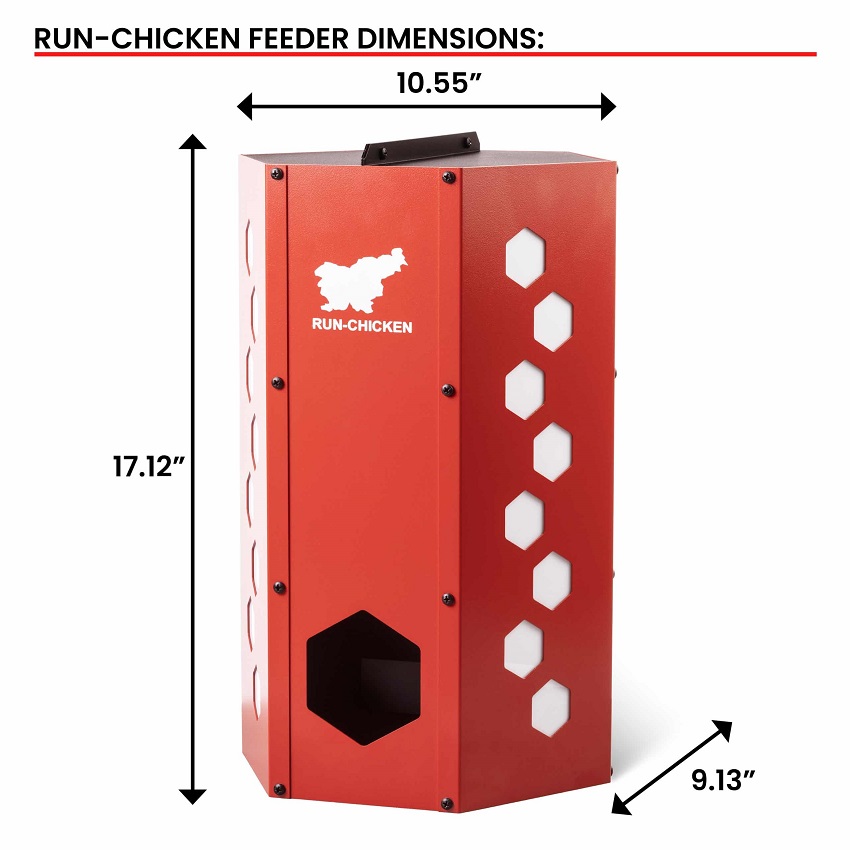 A new addition to Run-Chicken's lineup is this Feeder. Now to give you some perspective, a 5-gallon bucket is 12″ x 14″ (that's about 168 square inches). This feeder is 10.5″ x 17″ (that's about 178 square inches). This is a pretty good sizes feeder! The Run-Chicken feeder holds 20 lbs (9 kg) of feed and provides enough food to keep 10 chickens full for a week or one chicken for 74 days! Now that's piece of mind. I haven't had the chance to use one yet, they're brand new. But guess what? Yes, you guessed it! Run-Chicken is giving one of these away as well! Isn't that awesome!?! One lucky winner is going to win a Run-Chicken T50 Automatic Chicken door, a nest box, and a feeder for their chickens! What an awesome Prize!!! And they come in several colors. Which color will you want?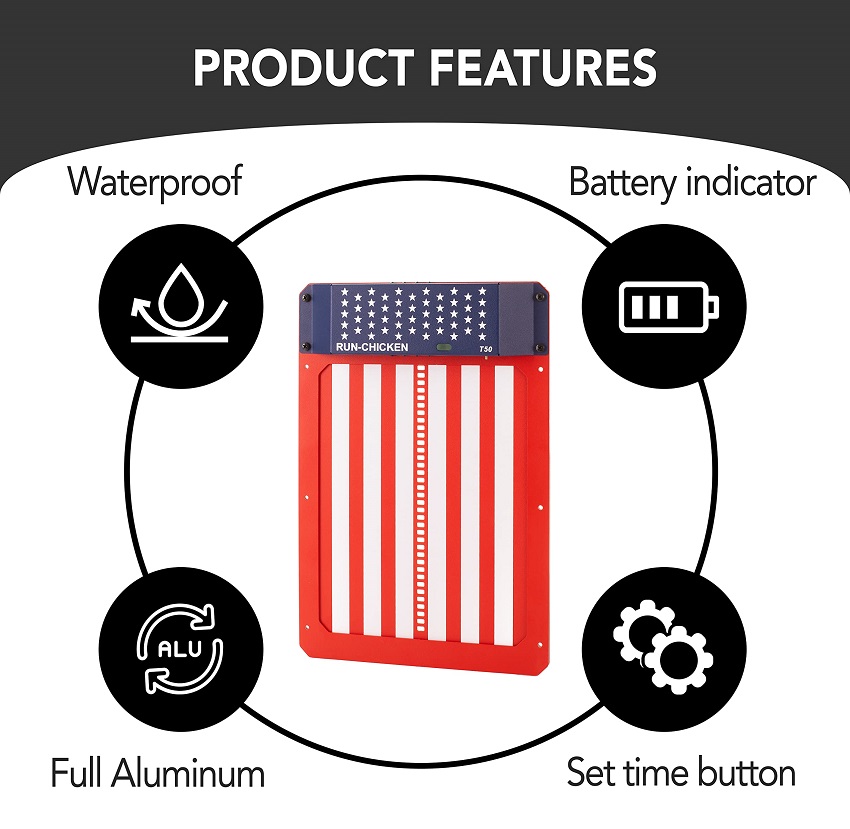 Okay so here is how you can enter the Valentine's Day Run-Chicken Giveaway: Click on the Rafflecopter Link below. That will take you to the Giveaway. It will have a list of things to do that will give you entries into the Giveaway. Some things you do once and some you can do every day to add to your chances to win. At the end of the contest, Rafflecopter will select a winner and if you are the lucky winner, we will notify you (via email) and you will have 48 hours to respond. If you do not respond within the 48 hours, Rafflecopter will select an alternate winner and the process continues until someone responds and we get a winner. At that time we will get your name and address and notify Run-Chicken as to who the lucky winner is, and Run-Chicken will send you your prize! If you have participated in Giveaways before, this is pretty standard stuff. Well, what are you waiting for? Click the Rafflecopter Link below and get your entries in. You only have until midnight on Valentine's Day to enter… Good Luck!