POLLY PINEAPPLE™ comes to us from gnomgnoms. I am sure you have experienced or know someone that has experienced a baby teething. It is not fun at all. There isn't a lot you can do for them besides give them medicine, soothe their gums with a cool cloth or teething ring. But then came Polly Pineapple. Who is Polly Pineapple you are probably asking? Let me introduce you!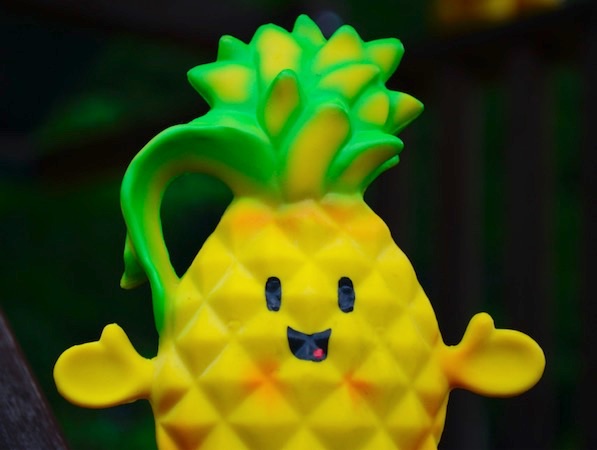 About POLLY PINEAPPLE™
Polly Pineapple is a teething toy that has a multi-texture and is all natural. It will help soothe your child's gums during all stages of teething. For each Polly Pineapple that is purchased a donation will be made to a leading natural hunger nonprofit that will feed a hungry Amerian child for an entire week. That is 21 meals!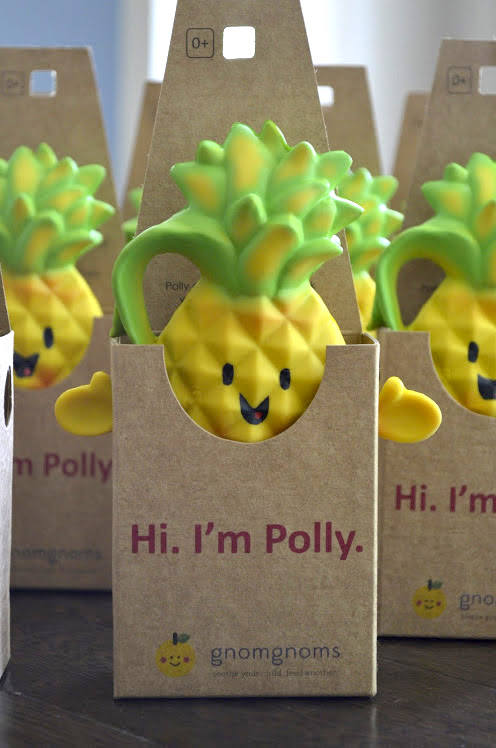 About gnomgnoms™
A family run, family owned business, gnomgnoms™ was established in 2015 with a dual purpose.
They wanted to develop a new teething product with a variety of unique attributes that made it better than those already on the market. Then they wanted to combine their 85 years of combined parenting experience, 125 years of work experience combined as nurses, technology entrepreneurs, sales women, biomedical engineers, social media experts, lawyers and consultants to tie it all together with their intellectual curiosity. Together they hold 4 MBAs, 1 ID, 1 MA and 1 MPP. They also share a passion to make sure all kids grow up healthy and happy which made the Childhood hunger cause a no brainer. This is how Polly Pineapple was born!
So I asked Polly Pineapple what she was made of. I am assuming with a name of Polly that she is a girl. Her answers were very interesting!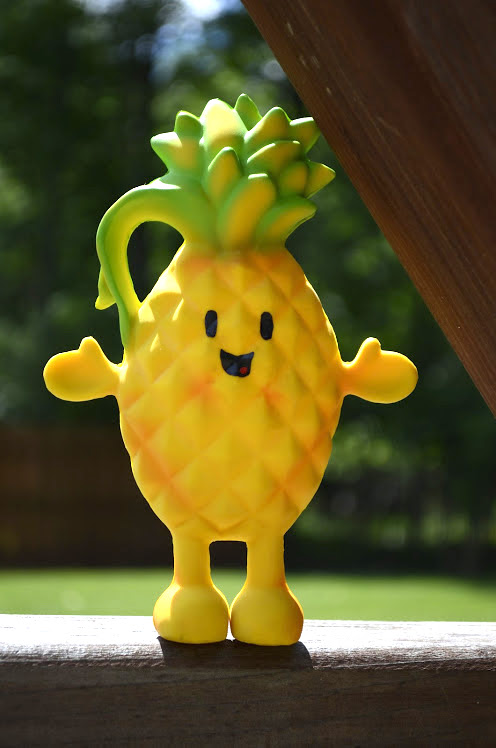 My soft and comforting rubber design boasts various textures that provide relief to your child through all stages of the teething process
I have a big personality but am small enough in size so that your child can easily play with me
My crown and feet can be used to help soothe hard to reach back molars while my nubby fruit body and smooth hands are perfect for front teeth
I am pretty darn adorable, don't you think? Your child will love my friendly smile and open arms
You can use my built-in loop to secure me to your child's stroller or carrier so that I am always within reach and don't get lost; your child can also use it for easy grasping
My pineapple shape will help familiarize your child with healthy fruits and vegetables
I am made from 100% natural rubber, which means I am free of dangerous chemicals like BPA, PVC, and phthalates
I am hand painted, so each one is unique and just a little bit different
Since I am decorated with food grade paint, your baby is free to safely teeth and chew with abandon
I have been certified to conform to U.S. and Canadian safety regulations according to the Consumer Product Safety Improvement Act and Consumer Product Safety Commission
Designed in the USA, made in Sri Lanka -taken from their website.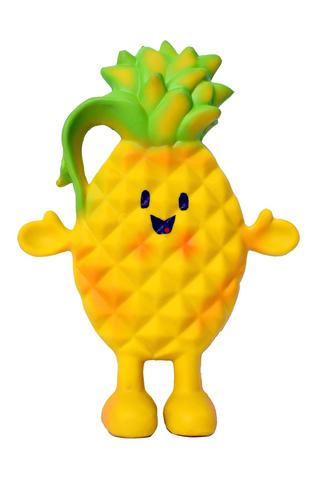 Facebook | Instagram | Website