I work about sixteen-plus-hours a day. Most of the time, I do without eating until very late at night. The main reason is, I don't have time to stop and make myself lunch. Lately, I've been trying to think of a way to make eating lunch easier. Then, I learned about PlanteBox! Seriously, I'm in heaven! I can actually make my lunch on Sunday, refrigerate it and have lunch ready to pull from the fridge throughout the week. It's really that simple. PlanteBox is made from stainless steel and will keep my lunch fresh and crisp all week since I eat a lot of fresh fruit and fresh produce. . This is exactly what I need.
The Planetbox is a stainless steel (solid) box that is Dishwasher safe. PlanetBox is going to save you a lot of grief and money in the long run. It comes with two pieces of silverware and two small containers that are used for less solid foods But it is yours so put whatever you need to inside. This means no more mess, and no need to pack your sandwiches in a zip-lock bags. The sectioned out spots in PlanetBox makes for a nice and neat lunch. And all those other lunch accessories from the other brands are now unnecessary. Because of it's steel frame your food will stay amazingly cold in the PlanetBox lunchbox. I will say that for its size it holds more then I had imagined it to hold, as you can see from the pictures. Placing the food in an orderly fashion rather then just trying to throw it inside the box will help tremendously with portion control. And it's perfect for both kids and adults.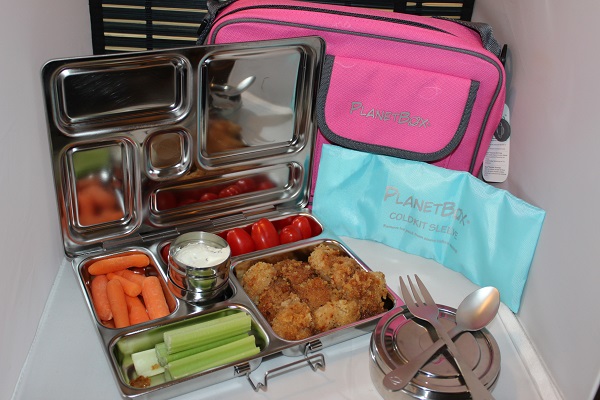 When it comes to a school lunch for my child, I want to make sure that not only will she get all the nutrition needed, but the portion size to keep her full until she can get home. Vegetables are an obvious must in our family, and this container is going to keep them nice and cold, crisp and fresh while until lunch hour. Just remember that this is a metal, so it is not going to be microwave proof so heated food will have to be removed from the PlanetBox and heated up in a separate container. While traveling though you can use the cold kit sleeve to keep everything in your new lunchbox from spoiling.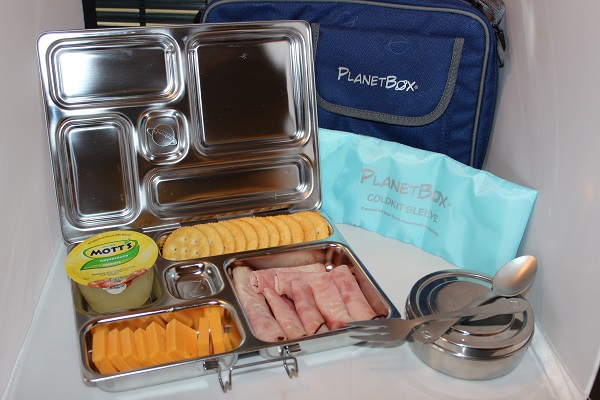 Planetbox is currently selling three different styles of Lunchbox the Launch, the Rover (seen in the above picture), and the shuttle. The difference in the styles are size and compartment space with the Launch containing a larger space for a sandwich, and the shuttle being the smallest. You have choices of different types of designs on the outside of the lunchbox, different colored choices for your carrying case, and two magnets. With it's sleek and modern looking design you will have people wondering where you got this amazing lunchbox.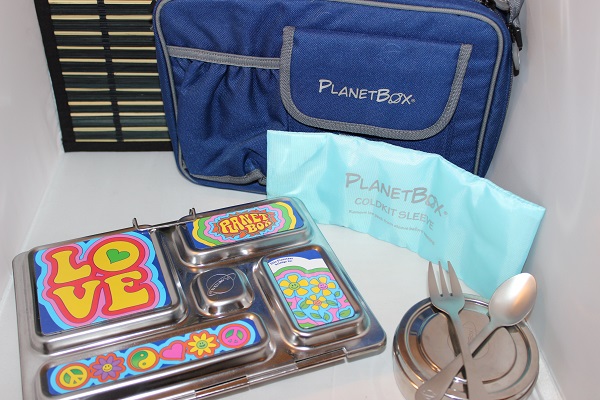 Once you switch from your usual plastic designed lunch containers you will probably never go back. With the stainless steel design being a safer alternative due to chemicals used in the plastics that can make there way in to your foods. Having this in mind I have been sold, it has enough room, comes with it's own pair of silverware, gives you two containers to store food inside as well as the Planetbox itself, and is dishwasher safe! What can I say it seems to have everything I want to have in a lunchbox, this is a big win for Planetbox hope they keep up the good work.
Connect with Planetbox: Shop/ Twitter / Facebook
Disclaimer:
This product was received from the Company for review purposes only. All thoughts and words in this post is my own and I was not paid to endorse it. I am only voicing my opinion about this product.