How do you store your knives? Do you like to keep them out? Put them away in a drawer? Or store them in a knife block?

If you are anything like me and love to cook, then you know that knives are one of your most important kitchen tools. You also know that a good knife is not inexpensive, and therefore you want to take care of your investment. How you store that investment plays a huge role in the longevity and cutting quality of that knife. The most popular storage options include using a knife block, hanging them on a magnetic strip and storing them in a drawer. But every single one of these has drawbacks, from dulling the blades to scratching them to outright breaking them. The Knife Dock is the solution.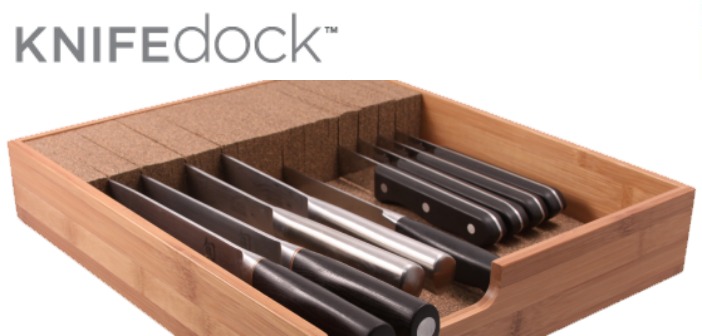 Designed to provide you with a way to safely store, protect and organize your knives, the Knife Dock is an innovative solution to the most common knife storage problems. Made of bamboo and other sustainable and recycled materials, the Knife Dock can be used on the countertop or in a drawer to free up that valuable counter space.
"With counter space always at a premium, our ingenious knife storage system allows you to neatly tuck away your cutlery from the countertop to the kitchen drawer."
Knives rest vertically in the dock with their blade secured between the flexible, food-safe, cork and rubber composite dividers. This unique material is soft, and will not scratch or dull the blades. Plus the dividers are flexible enough that they can adjust for thicker or thinner blades while still holding them in place securely. Unlike traditional knife blocks where the blade is covered, part of the blade is now exposed making it easy to find the exact knife you need quickly.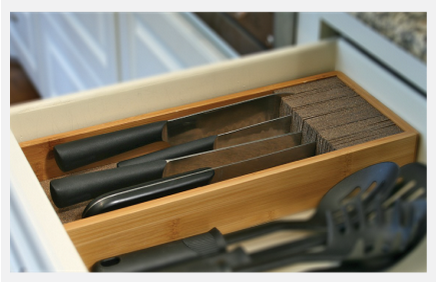 The Knife Dock is designed to hold knives up to 12″ in length. While shorter knives' handles will rest down in the Knife Dock, the handles of longer knives will rest on the edge of the specially cut out front. Traditional knife blocks have slots that are designed to fit particular knives. Because of this, many of the knives I have collected over the years will not fit and are left laying loose in drawers. This is not only dangerous, but it also destroys the integrity of the knife over time, dulling the blade and possibly even breaking it. The Knife Block solves this dilemma, and several of the others that you commonly encounter with typical knife storage options such as:
Knife Blocks – removal and replacement of knives cause the blade to rub against the wood, over time this dulls and damages the blade; slots are sized for specific knives only; bacteria forms in the slots over time; they take up much-needed counter space.
Magnetic Strips – again, if you are not careful, removing and replacing knives can cause damage to the blades as they slide across the magnets; knives are out on the wall for all to see; it's hard to keep knives aligned perfectly, so it often looks messy. Knives are exposed which can lead to cuts; dangerous if you have little ones around!
Drawer Storage – knives are loose so every time you open the drawer they slide around banging into other utensils causing scratches, dullness and possible broken blades; very messy and unorganized; takes more time to find the knife you need; risk cuts reaching in the drawer. Even if you use a knife sleeve, the blade can still be damaged, and now you have the extra step of having to remove a sleeve every time you use the knife.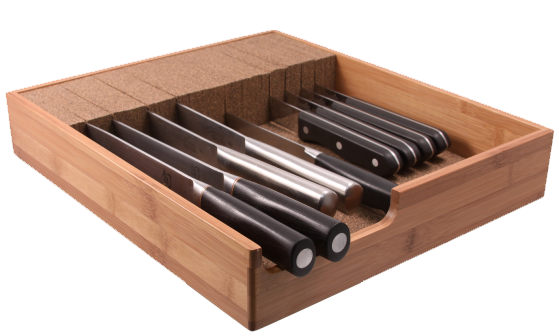 The Knife Dock is available in two different sizes – Original and Deluxe. Both are designed to fit almost all standard kitchen drawers, so you are sure to find one that fits your needs. You can order them directly through the Knife Dock website, as well at Amazon.com, Williams and Sonoma, The Container Store and Bed, Bath and Beyond.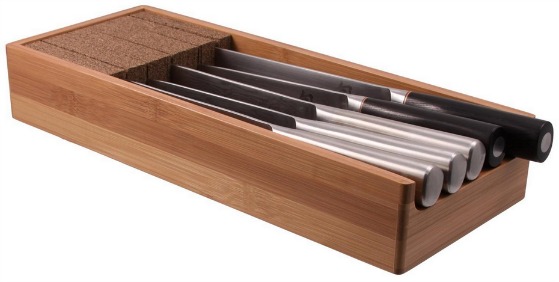 What will you use to store your knives from now on?
Connect with Knife Dock: Shop – Facebook – Twitter
Disclaimer: This product was received from the Company for review purposes only. All thoughts and words in this post are my own and I was not paid to endorse it. I am only voicing my opinion about this product.