Find learning experiences in every day play! That's they way children learn best. They play.
Educational Insights has so many great tools for educational play. They reach kids with the things kids love best – toys, turning everyday play into a learning experiences.
"Educational toys fueled by kid-powered play! We're play enthusiasts. We aim to create experiences filled with sheer joy and uncontrollable laughter. We are champions of curiosity and those "eureka" moments of discovery. In addition to inspiring creativity, imagination, good sportsmanship, and out-of-the-box learning, our inventive line of kid-powered toys and engaging games are packed full of fun, designed to delight, and are certain to satisfy kids' natural curiosity. Now let's get giggly!"
This holiday season, give your child the gift of learning through play. Here are some favorites you'll want to check out, and how we enjoyed them.
This is both mine and my son's favorite! It's almost like magic! Press the stick on a surface of any color (including rainbow colors, pink, white, and black) and it can detect it!
In instrument mode, it will play the corresponding note. You can make your own music using the included booklet. There are preset songs you can play, or you can turn to the piano page, and press on the color that corresponds to that note. The music note at the top of the wand will light up in the correct color.
In song mode, you can press on a color and it will not only light up that color, but it will play a unique song corresponding to that color. M loves finding red things because he loves the red song best.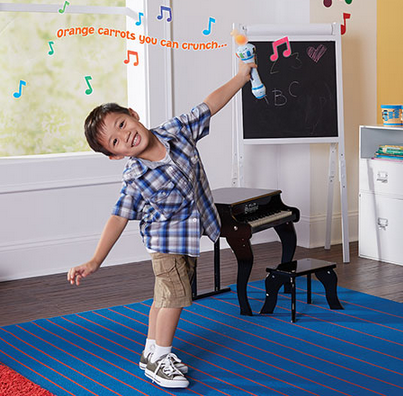 This toy is really perfectly geared toward M. He is very music minded, and the Magic Moves RainbowJam gives him an opportunity to learn colors through the thing that he loves best. He presses it all over his kitchen set, finding out which color the fridge door is (white), the food bins (orange), and the counter top (green.) He hasn't stopped playing with it since we opened the package.
Click on the title link to find more features. You can download additional music sheets, plus sheets to compose your own music using colors (in addition to the included booklet)! How's that for a little hands-on learning?!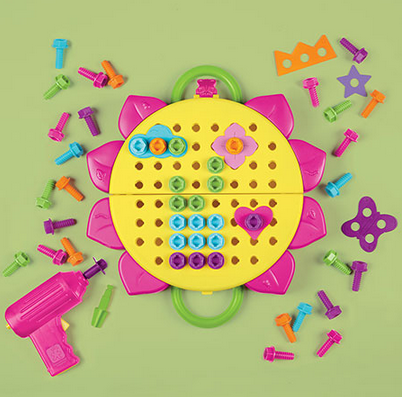 There are so many ways to learn with this fun award-winning toy!
This STEM focused toy is a drill toy designed for girls (although I'm happy to have my son play with it too.)
Drill in the bolts, through the plates, creating your own designs and patterns. Learn a little bit of math and patterning, and enjoy making fun designs. This self-contained toy helps develop hand-eye coordination too, and is a perfect way for your preschooler to play.
The flower board doubles as a carrying case. It comes with a power drill, sixty bolts in five fun colors, six designer plates, a butterfly clasp, a Phillips bit, a flower bit, and a guide with twelve patterns.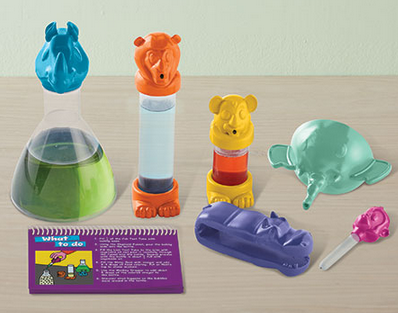 Science experiments and exploration are made more fun with this bright and friendly set of animals. It's full of totally kid-friendly tools for hands-on learning, including:
Large orange lion test tube with a pour-spout mouth
Small yellow lion cub test tube with a pour-spout mouth
A big blue rhino flask
A teal elephant funnel
Purple hippo tongs
A pink monkey dropper
10 spiral bound activity cards to get you started with some STEM learning ideas
I love how the bright and friendly animals add a little extra fun to learning. The truth is, kids love to do hands-on experiments. They do it in their everyday play! Whether you homeschool or not, this lab set is a fun way to do activities that teach something tangible.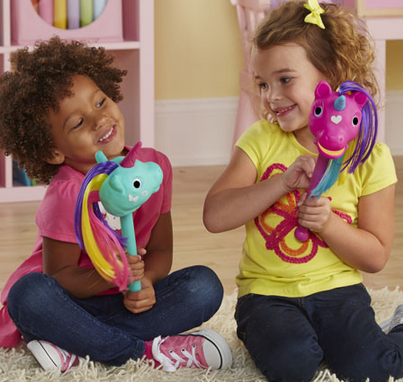 My nieces fell immediately in love with these three rainbow haired unicorns. Imaginative play is another area important to your child's development. It encourages self-expression, creativity, and communication.
Your kids can even make them their own, with the sparkly stickers enclosed. They can style the hair, and put on puppet shows. This set of three was perfect for my three nieces -they can now put on shows together.
These puppets are unique and fun for kids. A lever-style switch is moved up and down to make the puppets closed. I really love this design, as it simplifies puppet play for young ones. They don't need to focus on hands, feet, mouth, etc. all at once. They can get involved with the speech angle of it, and move them around for other forms of expression.
Whether you're looking for solutions for everyday play, educational holiday gifts, or both, these latest products from Educational Insights are no-brainers. They will engage your child for hours, while teaching important lessons and skills.
Connect with Educational Insights:
Disclaimer:
This product was received from the Company for review purposes only. All thoughts and words in this post is my own and I was not paid to endorse it. I am only voicing my opinion about this product.