We recently received Welch's PB&J Snacks, and my daughter, age 17, took them to school everyday last week. She loves them. They are in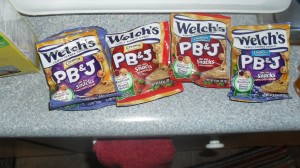 flavors of Strawberry or Grape.
Sarah said they are like gummies, but wrapped in Peanut Butter. She says they are absolutely delicious, and can't wait to go buy more.
Welch's PB & J snacks are new, and a must have essential for any school child's lunch. They are getting a couple food groups here, and there's even a coupon on the link above.