Remember the excitement of playing with dolls when you were a little girl, and all of the fun you had changing their dresses? As mothers now, you want the same playfulness and enjoyment for your own daughters, and in this modern day of children's play there are an unlimited amount of dress up games and dolls for them to experience. Well, what if they could now even have the pleasure of playing dress up with their own fashion? With BiBi Club, your little girls can play dress up all on their own.
BiBi Club is a Ukrainian-based children's fashion brand that launched a Kickstarter campaign in March with the debut of a limited edition collection of T-shirts for children through its Kickstarter campaign. Complete with removable miniature dresses and carefree designs created by BiBi Club designer, Tatyana Vlasenko, children are able to change up the style of their shirt in an instant. This is a total modernization of the classic fun of dressing up our dolls that we all remember and love. The high quality T-shirts use a Velcro technology so children can easily change the dress of the design on their shirt, being able to share with their friends and replace daily for style changes in their outfits. This fashion fun will have your little girls revealing the brightest smiles and really feeling like their own stylist.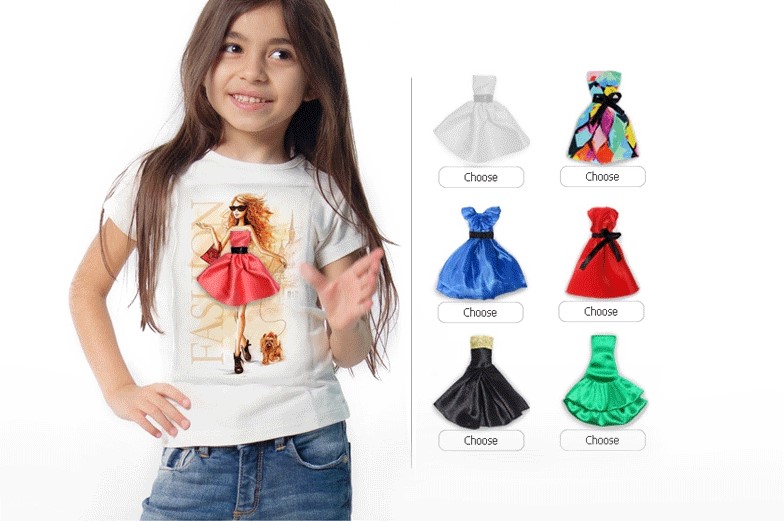 The professional designers of BiBi Club wanted to give children something that would bring them joy, while at the same time help them to develop a sense of style, creativity and independence. BiBi Club is not only an addition of fun fashion to the wardrobe of your children, but it also serves as an exciting and educational game, while enabling them to become little fashionistas. BiBi Club also strives to help the children in orphanages in Ukraine by teaching them the culture of design and how to sew the dresses themselves.
The Kickstarter campaign will run through May 4th 2016, with a fundraising goal of $15k. As with all Kickstarter campaigns, the project can only be funded if they reach their donation goal. Within the BiBi Club Kickstarter campaign, there are two collections – Fashion and Stargirl – available for little girls to vary their look by changing the cute miniature dresses. Every collection consists of 3 T-shirts and 3-6 miniature dresses. So you can pledge for up to 6 different t-shirts and 12 different miniature dresses. Imagine buying a T-shirt for your little girl and getting 3-6 stylish miniature dresses to vary the look! There are six pledge packages that range from $5 to $500 and all ship worldwide. The rewards for them are based off of different levels of donations:
$5 or more: Digital Coloring Book of the BiBi Club wardrobe
$29 or more: Early Bird – One t-shirt & 3 dresses
$39 or more: Basic – One t-shirt & 3 dresses
$99 or more: One Collection – 3 t-shirts
$150 or more: Both Fashion & Stargirl Collection – all 6 t-shirts
$500 or more: Angel Pack – 25 t-shirts
All packages listed online include specifics about choosing the exact t-shirt and dresses, as well as add-ons. As with any Kickstarter campaign, all products will come after the funding goal is reached.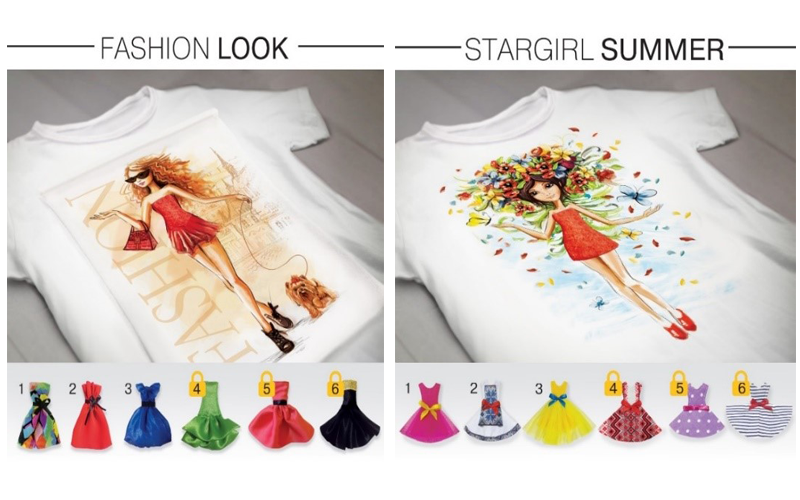 These charming t-shirts will enable little girls to share happiness and give them the independence of changing their styles wherever they are and at any time, just simply with their extra little dresses. Give your children the chance to show their individual style and get involved in their own fashion frenzy design fun with BiBi Club.
DONATE NOW to BiBi Club Kickstarter:
https://www.kickstarter.com/projects/bibiproject/bibi-club-select-the-look-girl?token=e2ad13d4
Show support for BiBi Club at:
All donations and social media support are deeply appreciated so that little girls everywhere can enjoy the fashion fun and excitement of these adorable T-shirts!