I'm an avid reader and it just so happens that my husband is as well. Let's just say that we are so avid that every time one of our favorite authors publishes a new book, we have said book in hand on the day it is released, and it is read from cover to cover before we go to bed for the night. Reading it amazing! It allows us to escape, use our imagination, and gain a wealth of knowledge beyond our wildest dreams. If you haven't read a good book recently, it's time.
Reading is such an important part of our lives that when we got pregnant and had our baby shower, we asked people to bring us a copy of their favorite children's book in lieu of other gifts. Needless to say, our daughter had a small library before she was born, and we've made reading an important part of her childhood. We often read books throughout the day and always at bedtime. I'm not sure which who enjoys it more; her or us. I'll say it's a tie but in my mind, I definitely enjoy it more. We snuggle down in her bed and head out on a new adventure. Magical!
As she got older, she started taking the books and "reading" them to me. She would look at the pictures and make up stories as she went. To say that I was impressed with her accuracy would be an understatement. Unfortunately, as she got a little older, she started to become frustrated with her inability to read. I explained that this would come in time, reassured her that her stories are amazing, and we have continued to read but I have been looking for a way to ease her into reading. I always want to support my daughter's passions and if reading is one of them, I am all for it!
Enter Let's Learn to Read from Rock 'N Learn.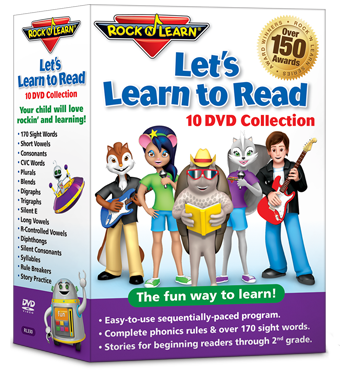 Let's Learn to Read is a series of 10 DVDs and optional activities that provide a fun way for kids to build reading skills, from beginners through second grade. Entertaining music, humorous characters, and engaging stories help learners stay focused. By covering phonics rules and sight words, this collection offers the best of both worlds. And it's sequentially paced to work well with 80 free worksheets. Learners move on from one DVD to another, as they are ready.

Phonics skills include vowels, consonants, blends, digraphs, diphthongs, silent consonants, rule breakers, and more. Over 170 sight words help build speed and accuracy for the most common words used in children's literature.
Aimed at children ages 4 through 7, Let's Learn to Read introduces fun songs and humorous characters that help your little one build reading skills. I like that the run time of each session is 30-45 minutes as this is suitable for younger minds. We love the music, the stories, and the bonus worksheets that allow us to enjoy education at home in a relaxed, fun way, that doesn't make my little one feel pressured.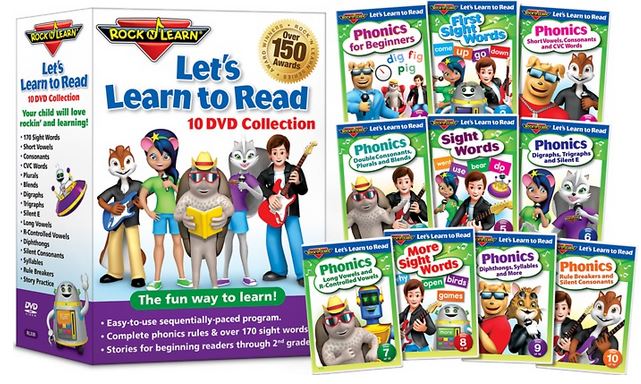 This 10 DVD Collection Includes:
Phonics for Beginners
First Sight Words
Phonics: Short Vowels, Consonants and CVC Words
Phonics: Double Consonants, Plurals and Blends
Sight Words
Phonics: Digraphs, Trigraphs and Silent E
Phonics: Long Vowels and R-Controlled Vowels
More Sight Words
Phonics: Diphthongs, Syllables and More
Phonics: Rule Breakers and Silent Consonants
If you would like to give your little one an early start to reading, Let's Learn to Read is the fun way to learn!
Connect with Rock 'N Learn: Shop | Facebook | Twitter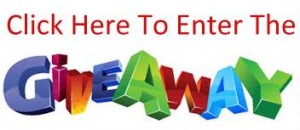 Disclaimer: This product was received from the Company for review purposes only. All thoughts and words in this post are my own and I was not paid to endorse it. I am only voicing my opinion of this product.