By Joan Lawrence, Senior Vice President of Safety Standards and Regulatory Affairs, Toy Industry Association, and mother of three Toy Safety Mom and play safety expert
For kids, summertime is about running through sprinklers, cannon-balling into pools, and zooming through the neighborhood with friends on bikes. For parents, this time of year is about trying to keep up!
Parents have an especially tough job in the summer months, when there is a 15 to 27 percent spike in ER visits for children for numerous reasons (Kaiser Permanente, 2014).
As a mom myself, I know parents have plenty of questions about what's safe for their kids to play with and how to be on the lookout for any potential dangers. Summertime, and outdoor play in general, poses its own unique set of safety issues to be aware of. PlaySafe.org, an online toy and play safety resource for parents and caregivers, offers the following seven tips to help families ensure that their children's summer is as safe as it is fun: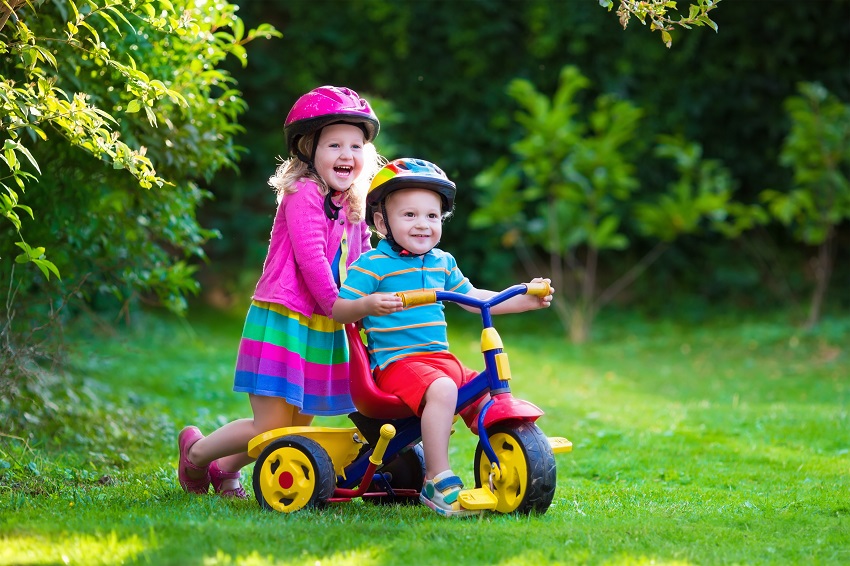 Make adult supervision a crucial part of outdoor play. Summer is about kids feeling free and exploring, but that can also mean kids discover hidden hazards. Adults should always keep a close eye on their little adventurers.
Don't be misled by the term "kiddie pool." Children should never be left alone near "kiddie" pools, swimming pools, beaches, lakes, and other bodies of water, regardless of age and swim abilities. All kids under the age of 5 should always be at an arms-length from an adult when near water.
Be extra careful while supervising kids playing with toys near dangerous areas. When toys, such as balls, bounce into a street or are left in a driveway or near a body of water, they can lure children into dangerous situations.
Ride safely! Always make sure kids wear helmets, knee pads, and other protective gear when playing with bikes, trikes, scooters, and other ride-on toys. Accidental falls are the number one cause of childhood injury, according to the National Center for Injury Prevention and Control.
Organize and store toys to prevent slips, trips, and falls. Designate "parking" spaces for bikes and ride-on toys and store smaller items, such as skateboards, on shelves. Make clean-up a part of the play process.
Watch out for deflated and popped balloons. Summer is party season and also a great time for water balloon play to cool off — but latex balloons, when broken or uninflated, can pose a choking hazard. Parents should be sure to scoop up any broken pieces and keep uninflated balloons away from children.
Check and follow age guidance on toy packaging. Year-round it's important to check and follow age guidance and other safety information on toy packaging. Remember, the age-grading isn't about how smart your child is—it's safety guidance that's based on the developmental skills and abilities of children at a given age, and the specific features of a toy.
Check out PlaySafe.org for more safety information – from tips on toy shopping and smart selection to toy safety FAQs and much more.