At LogoMyWay, we are revolutionizing the way business owners across the world design logos for their brands, making it easier than ever before for them to develop an effective and eye-catching logo that will market their business to prospective customers. In addition to our logo design contest which enables you to receive dozens of designs from talented designers all over the globe, we are now proud to offer our customers a state-of-the-art online logo maker as well. Using this online logo maker, you can now design a professional-looking logo in a matter of minutes without any outside help – even if you don't have any experience in art or graphic design.
Before you get started using our online logo maker, though, there are a few tips and best practices that you will want to be aware of in order to have the best experience possible. To help you out, we'll take a look at the step-by-step process you'll want to follow if you decide to make your own logo using the LogoMyWay online logo maker.
The template that you choose will constitute the bulk of your logo's design, meaning that it's important to take your time and select a template that fully reflects the core values of your brand and the products/services that you offer. Fortunately, we offer an incredibly wide range of templates to choose from, making it easy for you to find the ideal template for your next logo.
Step #2: Choose a Color Scheme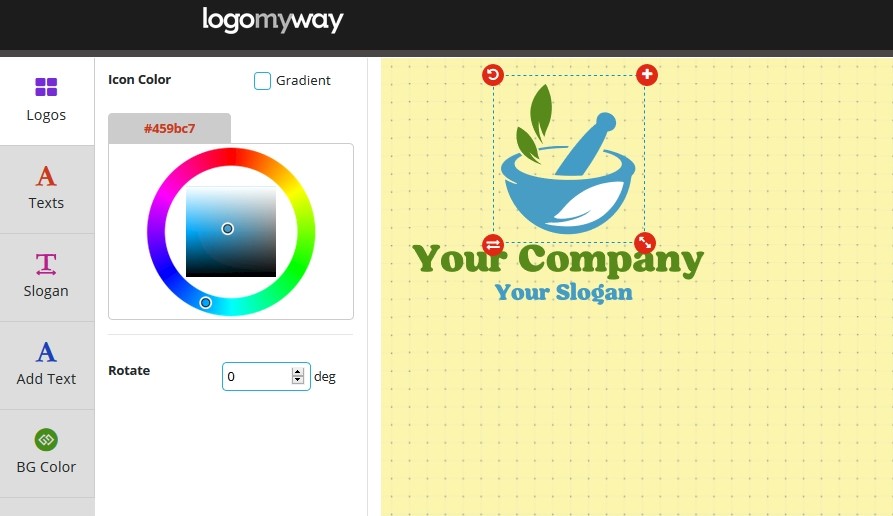 When you use the LogoMyWay online logo maker, you are able to customize the color scheme of any template that you select. This gives you plenty of room for creativity as you go about transforming a template into a custom design that is entirely your own. With that said, though, you'll want to select the color scheme of your logo design carefully, as your color scheme needs to meet two essential qualifications. First and foremost, your logo's color scheme needs to be eye-catching and aesthetically pleasing. Some colors go well together in a design while other color combinations clash, making for a design that is unpleasant to look at. It doesn't take a ton of artistic talent to tell which colors work in a design and which ones don't, but it does take a calculating eye and some attention to detail.
In addition to making sure that the color scheme you select looks great in your logo's design, you will also want to pay careful attention to messages that you are conveying to your audience via the colors that you use in your logo. Colors have meaning, and different colors are able to convey different messages, themes, and emotions. Green, for example, is a color that is associated with nature, youth, and good health – which is why it's common to see the color green used in the logos of natural health and pharmaceutical companies. Red, meanwhile, is a fiery and passionate color that can be used to convey ideas of romance, anger, aggression, or passion depending on the context. These, of course, are just two examples of how colors can be used to portray specific messages. When choosing a color scheme for your logo, it's essential to consider the impact those colors will have on your audience's thoughts and emotions before selecting a color scheme that best aligns with the culture and goals of your brand.
Step #3: Choose Your Text
The text that you include in your logo's design may just be your company name or you may wish to include a clever tagline as well. Put some thought into this element of your logo's design, as a lot can be accomplished through the written element of your logo.
Like the color scheme of your logo, the font that you select for your logo design plays the role of improving the aesthetics of your logo design as well as conveying messages about your brand. A fancy, cursive font, for example, sends out an entirely different message than a large, bold font. Consider how your font selection meshes with the overall design of your logo as well as how it meshes with your brand image and select a font that fits both qualifications.
Step #5: Admire Your New Logo
LogoMyWay's online logo maker makes designing a great, one-of-a-kind logo as simple as four easy steps. Once you've chosen a template for your logo, selected your logo's color scheme, decided on the written text that you want your logo to include, and picked a font for that text to be written in, all there is left to do is admire your new logo and begin strategizing the ways that you will use it to grow your brand and reach new customers.