Gone are the days when people used to keep PDF editing applications on their devices. Today, we have hundreds of online platforms where we can edit a PDF directly. In addition, these tools are way more reliable because you can access them through any web browser.
This guide will share how you can edit a PDF by only using the online platforms. You won't need to install any type of application on your device. Additionally, the solution that we will share is completely free, and you won't need to pay a single dollar to use it.
So let's start with a quick introduction of the tool helping millions of people edit their PDFs online.
CocoDoc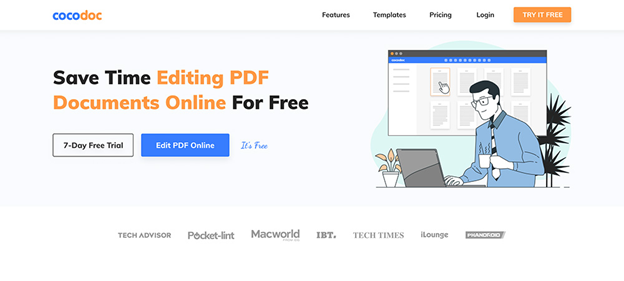 CocoDoc is a platform that offers online PDF editing services. It is a free, reliable, and trusted platform to edit any PDF conveniently. The best thing about the platform is the way it offers you to edit your files. You can find hundreds of different editing tools to upload your file and wait for the tool to perform the required action.
Unlike other tools with a single page feature and require you to perform all the actions from a single page, CocoDoc has exclusive tools for each feature. Editing your PDF is much easier and more fun this way.
The platform won millions of users' trust by deleting all the uploading files within 24 hours. It gives you a safe platform to upload your files, edit them, and delete their existence from the internet. For the same reason, using online platforms to edit PDF is no longer a security issue.
Online PDF Editing With CocoDoc
Editing files online has never been easier than now. Follow these easy steps to edit any PDF you want.
Step1: Access the Required Tool
After visiting CocoDoc's platform, look at the website for the required tools. You will find all the tools from PDF editor to PDF converter. All you need is to click on the tool that you wish to use. Please know that all these tools are automatic, and you won't need to do much other than uploading the file (that takes us to our next step).
Step2: Upload File
The next step is to upload the PDF that you want to edit. Again, the platform offers a simple way to upload your file directly from your device. All you need is to click Choose File button and upload the desired file to this platform.
The alternate options to upload the file are Google Drive, OneDrive, DropBox, and direct URL link. All these options are available to make it easier for you to upload your file.
Step3: Make Changes (If Required)
After uploading your file, you will find all the options that you need to edit your file. For example, you can either add some text, images, graphics, tables, checklists, or any other content to your file or remove them from the PDF. Similarly, you can add or remove any PDF pages you want.
There are some other tools like PDF converters and PDF unlocker that do not require this step. All the work is done by the tool itself. Therefore, you can skip this step if you are using any of those features.
Step4: Download
You can now download your file on your device or save it on your CocoDoc online storage. Other ways to get the file are by emailing it to someone from the same page or saving it on your Google Drive.
Benefits of Using Online PDF Editors
Here are some benefits of using online PDF editors:
Easy To Access
You can access an online PDF editor from anywhere on any device. All you need is to open the website on any web browser and use the tools to edit your files.
Convenient
Using online PDF editors allows you to create accounts and save files on cloud storage. That way, you can access all your files whenever you want.
Affordable
Most online PDF editors are affordable. Additionally, most of them offer free trials, and you can access these tools without paying any money.
Conclusion
You would be surprised to know how reliable and convenient it is to edit PDFs online. In the above guide, we shared the easiest method to edit your files without paying any subscription fee. You can use the same tool as we shared in the guide or use any other PDF editor you like.
The only thing to consider is the security offered by the platform, as you would not want to lose your confidential data.