Every week my family gets together and we play a board game. We sometimes do it more than once a week, but once a week is mandatory! It is a great time for us to get together and just have fun, device free play. Gets our entire family together for some fun. We love trying out new games and we love games that are competitive along with cooperative. We have been incredibly lucky in being able to try out Peaceable Kingdom games. There are so many of them and there is a little bit of everything for everyone.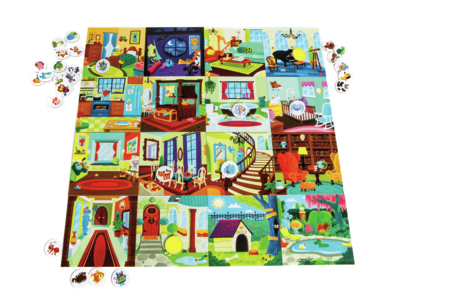 My kids LOVE The Memory Palace. My oldest daughter is a bit of a storyteller, she loves to write and make up stories. I imagine she will become a novelist when she is older, but has not settled on it yet. Only time will tell what she decides with her creative mind. Peaceable Kingdom has made an exceptional game that really brings out your creativity and storytelling abilities. I love that it also helps with memory skills and my number one favorite, listening and communication skills. It can sometimes be difficult to get kids to listen and communicate well, this really helps them practice these skills.
The Memory Palace has 27 animal tokens, 16 palace tiles and 3 memory monster tokens. You lay out all 16 palace tiles in a 4×4 grid, and then you place 3 memory monster tokens in random rooms, face down. Then you take turns picking an animal token and you make up a story on what they are doing in each room and then put them face down. Once you do this, you realize that the memory monster tokens look JUST LIKE the animal tokens when they are face down. Memory monsters are there to confuse you. Once everyone has created a story and placed their animal face down, you pick a story teller. They go through and recall the stories for each animal, but if they pick up the memory monster by mistake… you all lose!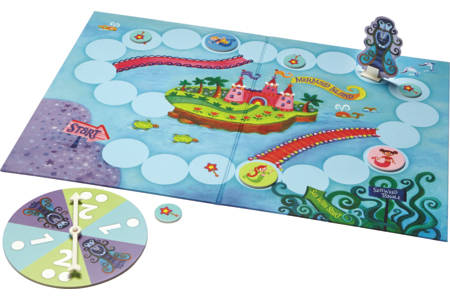 I truly enjoy how Peaceable Kingdom brings so much cooperative play to my children. I love watching them work together to accomplish a goal! Mermaid Island is such an adorable game and seeing my kids giggle and enjoy working together to beat the Sea Witch to the island. It is a strategy game that makes them share decision making while they cooperatively play. This game even helps with their social and emotional development. The Sea Witch can bring out the worst in some people, and getting them to deal with the fact that sometimes their strategy does not go well or in the horrible case the Sea Witch beats them to Mermaid Island can have them working on those emotions. I find it great a game can help my kids learn their emotions and conquering them, no one wants to leave a game because they are being sour pusses.
With Mermaid Island you have to work together to beat the Sea Witch to Mermaid Island. They work together against the Sea Witch instead of against each other. I find that a really nice concept. When you spin you can either move 1 or 2 spaces, or the Sea Witch gets to move. The Sea Witch can not use the bridges and if she falls on a wand, she has to move back, which is helpful to the little mermaids. However, if the Sea Witch lands on a mermaid, she has to go all the way back to the start! It is a fun game for kids to enjoy together.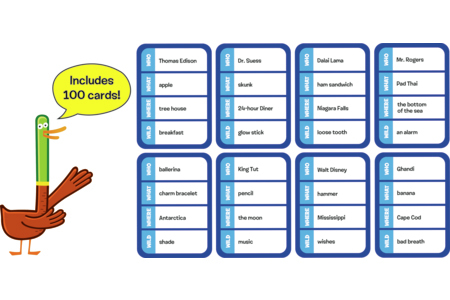 We spend a lot of time on the road, and car rides and other such things can be pretty boring. Peaceable Kingdom has come up with a great 20 questions game You Guessed It! We have a lot of fun and even the driver can participate, as the driver does not have to read any cards if they are a guesser. Just fun to sit back and ask questions and have a great time. It is small enough to travel with, but makes a great game to sit playing at the table or criss-cross-applesauce in the living room. It helps strengthen your skills of deduction along with cooperation skills.
One player will pick a word. The other players have to work together to figure out what that word is, in 20 questions or less. The person with the word can only answer Yes or No to the questions being asked! There are so many options to choose from, you can not run out of words to be guessed! It is a fun, fast paced game that can bring a lot of laughter in some of the crazy questions that can be asked!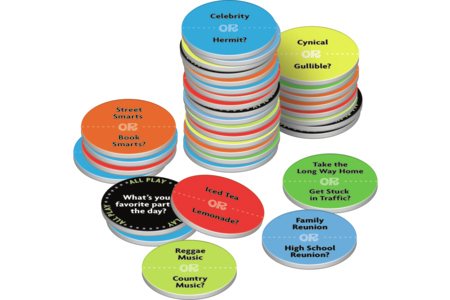 We love to get together with friends and have game nights. Lots of fun and laughter and we like lighter games that are fast paced and keep the energy of the room fun. Peaceable Kingdom brings us all of that, along with a fun travel bag, with This or That? I love that it comes in a little travel back, makes it easy to clean up, and also small enough to just throw in my purse. I can head over to my friends house without having to lug around a bunch of stuff. We can sit pretty much anywhere and just have fun sitting around laughing while playing such an enjoyable game.
There are 125 tokens that have 250 questions total. You pick a token and it has a question on it, you pick your answer and then ask a player to answer it. Funny to see them try to guess if you want This or That! I love picking my husband and seeing if after almost 12 years of marriage, if he can pick my favorites. He does pretty well, but no one is perfect. Plus some of the questions are pretty crazy and it can be a tiny bit tricky to decide! All in all it is a game full of laughs and it keeps the mood fun and engaging. My daughter loves this game and enjoys playing it with friends. She says its a great way to get to know someone.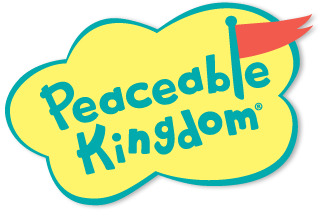 Each of these games make an exceptional gift this holiday season. There is something for everyone and playing games is a fun way to hang out with friends and family. Keep you engaged and unplugged from everything else. Give the gift of skill building and laughter this holiday season.
Connect with Peaceable Kingdom: