Celebrate Courage, Confidence, and Character of Girls Everywhere
The Girl Scouts have been a part of my life for as long as I can remember. It all started when I was really young and I would go on the annual Girl Scout camping trip with my sister and mom. I was way too young to be a Girl Scout but my sister was and my mom was the leader; there are some perks to being the "boss' daughter!" 😉 Swimming in the lake, taking nature hikes, and sitting around the campfire at night making S'mores and Brown Bears … the word EPIC does not even begin to describe it. Have you ever had a Brown Bear? I mean, seriously, this stuff was amazingly awesome over the campfire. If you have not had one, I highly recommend that you look up a recipe, book a camping trip, and get the fire stoked and ready. Ahem, I digress.
Where was I?
Oh yes, Girl Scouts!
I learned a great deal from these experiences as a youngster but the real fun began when I hit the right age and was able to become a Daisy, and then a Brownie, and finally a full-fledged Girl Scout! Aside from selling those highly addictive cookies … wait, am I the only person who keeps Girl Scout Cookies in the freezer at all times so I don't run out? Anyway, aside from the cookies, we also participated in a number of community service events and worked on projects that would help us grow into the young women that we eventually became. Have you ever read the mission of the Girl Scouts? If not, it is simple, straight to the point, and fabulous. According to the Girl Scout website, Girl Scouting builds girls of courage, confidence, and character, who make the world a better place.
Needless to say, it was a great experience and one that I am thrilled my little sister took part in, my niece is currently a part of, and my daughter will follow in our footsteps when she is old enough! There are still great organizations out there and the Girls Scouts are one of them … not to mention the COOKIES!
So, back to those cookies … well, kind of. We had vests with patches that we wore during Girl Scout meetings and events, I even remember having a Girl Scout hat that I wore when it was cold outside, my sister had a uniform at one point but our troop really did not get into the uniform thing, and we sold those awesome cookies. Those are great in meeting or event items but overall, there was not a lot to identify a Girl Scout on a day to day basis. I never really questioned why, that is just how things were back in the day (I think I just aged myself) but boy have things changed! Now, the Girl Scout(s) in your life can enjoy a collection of cute clothes, accessories, games, crafts, collectibles, and yes, even dolls!
This holiday season, my daughter will receive her true introduction to the Girl Scouts all thanks to Girl Scout Friendship Dolls. There are three plush dolls currently in the troop; Carina, Carly, and Chloe. Each doll is packaged in a color-coordinated box that includes detailed stickers of troop numbers, insignia, pins, and badges. This allows your little one to personalize the sash of their new friend and match their doll's achievements and goals to their own. The back of each box shares some of the troop member's favorite things to do in Girl Scouts through learning and skill building as well as her favorite Girl Scout Cookie!
Each Friendship Doll is made of velour, twill knit, and vinyl fabrics and stands 11 ¾" tall.
Meet Carina
Dresses in a bright purple and light blue Girl Scout knit tee, velour shorts with twill cuffs decorated with the Girl Scout Trefoil design, striped pink leggings and vivid purple vinyl shoes with lavender grosgrain ribbon and light blue corduroy fabric soles.
Loves being a Girl Scout because "it teaches me to be honest and fair so I can make the world a better place!"
Likes being active and setting goals to keep fit
Favorite cookie-selling skill: Helping my troop and community
Favorite cookie: Peanut butter & chocolate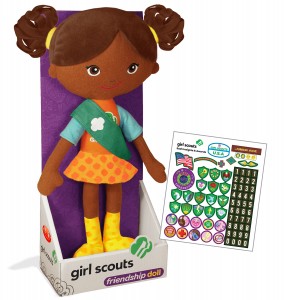 Meet Carly
Dons a bright orange and teal Girl Scout knit tee, an orange velour skirt decorated with the Girl Scout Trefoil design and vivid yellow vinyl boots that feature Trefoil emblems and teal corduroy fabric soles.
Loves being a Girl Scout and "learning to be courageous and strong, so I can make the world a better place!"
Likes writing poems and stories to share with friends
Favorite cookie-selling skill: Setting goals and organizing orders
Favorite cookie: Caramel & coconut stripes
Meet Chloe
Wears a bright pink Girl Scout knit tee, blue twill cuffed shorts decorated with the Girl Scout Trefoil design and vivid light blue vinyl shoes that are trimmed with pink grosgrain ribbon and pink corduroy fabric soles.
Loves being a Girl Scout and "learning to be considerate and caring, so I can make the world a better place!"
Likes listening to music and making her own songs
Favorite cookie-selling skill: Talking, listening and working with different kinds of people
Favorite cookie: Thin Mints®
If you have a Daisy, Brownie, or Girl Scout in your life then you have just found the perfect gift for them this holiday season. So what are you waiting for? Grab a tall glass of milk, a box of Thin Mints, and check out the Girl Scout's Official Online Store full of great gifts and collectibles.
Stay tuned, new Girl Scout Friendship Dolls will join the family in fall 2015!
Connect with the Girl Scouts: Shop | Facebook | Twitter
Disclaimer: This product was received from the Company for review purposes only. All thoughts and words in this post are my own and I was not paid to endorse it. I am only voicing my opinion of this product.