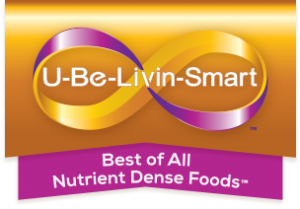 We all want to give our kids a yummy treat every once and awhile, especially around the holiday season, but it's hard not to feel guilty about the loaded fat, high sugar content and cavity-causing ingredients in candy. Well fear not, as we introduce you to a new healthy stocking stuffer this season, U-Be-Livin'-Smart's Pocket Treats. These delicious candies are packed with nutrient-dense ingredients that are sure to satisfy anyone's holiday sweet tooth – even your kids! How can Pocket Treats be so healthy and taste good you ask? Well, these treats are created using a special "Patent 10 to 1 Process" that delivers balanced nutrition and contains a blend of yummy super fruits and flavors – like, banana, apple, cranberry, blueberry, blackberry, pomegranate and orange. Unlike traditional candy — which often contains up to 10 grams of sugar per piece (yikes!), Pocket Treats have less than three grams per serving and contain no high fructose corn syrup, additives, preservatives, artificial colors or flavors, gluten, or nuts. Pocket Treats provide a simply balanced bite with these awesome nutritional benefits. In one serving of 4 chews there are:
1 serving of 7 Superfruits
2 tsp. of Extra Virgin Olive Oil
We know there are so many delicious treats that come with the holiday season, but do the unthinkable! Instead of loading your kids up on empty-calories and sugar, try a healthier alternative this year! Their faces are sure to light up when they unwrap their presents and take a bite of Pocket Treat goodness. Knowing how nutritious they are will just be an extra treat for mom. For more information on U-Be-Livin-Smart, and where to purchase Pocket Treats check out our website: http://www.ubelivinsmart.com and be sure to like us on Facebook and follow us on Twitter for the latest health information.