Enjoy A Glass of Wine From Gallo Family Vineyards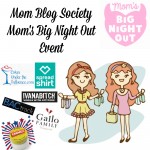 Last month I got some of my closest friends and a few fellow bloggers got together for a mini Mom's Night Out! Since we have started families our lives have gotten extremely busy with carpools, doctor visits and work. We were all looking forward to a night away from our spouses and our kiddos! We wanted to make it a very special night enjoying the things that we once took for granted. We were lucky enough to have some amazing companies participate in our Mom's Night Out and make it one to remember! We were even able to put together beautiful Swag Bags for us each to take home.

One of the companies that participated in our mini Mom's Night Out was Gallo Family Vineyards! We were extremely excited that Gallo Family Vineyards was sending several bottles of wine for us to try during the event. We even gave a bottle away to one of the lucky guests! We all loved enjoying a nice glass of wine after a long day of work, shuffling the kids around, running errands and cleaning house, at the end of the day the best day to relax is with a good book and a glass of wine.
Gallo Family Vineyards sent us three different varieties of their famous wines to enjoy, Moscato, Pink Moscato and White Moscato. The guests enjoyed taste testing the three different varieties of wine and even voted for their favorite. The Moscato was voted group favorite. The Pink Moscato is light-bodied, but bursting with aromas of fresh citrus and peach, followed by hints of fresh red berries and orange blossoms. The Moscato was my personal favorite. I usually prefer red wine but the Moscato wonderful flavors of peach, honey, and ripe citrus is now my all time favorite.
I would like to personally and publicly thank Gallo Family Vineyards for being part of our event and sending samples free of charge for our guests to try and enjoy for themselves.
If you would like more information or if you would like to purchase , please visit the Gallo Family Vineyards Website. Be sure to stay up to date on all of the latest news and products from Gallo Family Vineyards by following their social media pages on Facebook, Instagram and Twitter. While you are there, be sure to follow Mom Blog Society on Facebook.
Be sure to check out the other amazing products and companies that Mom Blog Society partnered up with for our Mom's Big Night Out Event.
Disclaimer: Mom Blog Society received product free of charge to write our review. All opinions stated in our review are our own truthfully opinion and were not influenced by the sponsor or from getting the review product free of charge. We were in no way compensated for our review or opinion.