Good news! The number of women entrepreneurs has been rising steadily for years with no signs of slowing down. At the same time, more and more of these women are working from home so they can conveniently and skillfully master their roles of being a mom as well as a CEO. So it's pretty awesome when we discover new companies that help us make these jobs easier. Even if you aren't an entrepreneur, PosterMyWall can help you get your ideas out into the world.
For Entrepreneurs
Perfect for social media sharing, PosterMyWall has thousands of templates available to fit your needs, from flyers and business cards to posters and videos. They can help you build a logo for your business or create a dazzling new social media ad. Whatever your business is, they've got you covered. Check out some of the fabulous templates they offer below.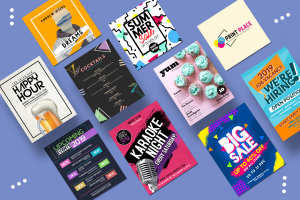 While they do offer thousands of sleek, stylish flyer designs, that's not all they do. Step your brand up a notch with a high resolution video ad. Best of all, they're super affordable at only $14.95 with even more affordable options for subscribers!
For Everybody
Maybe you don't run a business but I'd be willing to bet that there's some area of involvement in your life that PosterMyWall could help with. As much as I like to do DIY projects, this is one area I like to leave to the professionals. I'm busy enough and I know they'll get it done right and on time.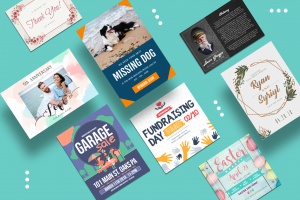 No matter how you use PosterMyWall, their premium features are sure to keep you coming back. With web quality downloads, custom fonts, and thousands of stock photos and templates available, they're guaranteed to have what you need. If you can imagine it, they can create it! Get started on your project today!