I am a big fan of Adult Swim. It is after all the #1 network for people 18-49 years of age. It is watched in the US in 94 million homes. It is a spectacular network for us adults to unwind after a long day of being an adult. FLCL is one anime I enjoy watching on Adult Swim.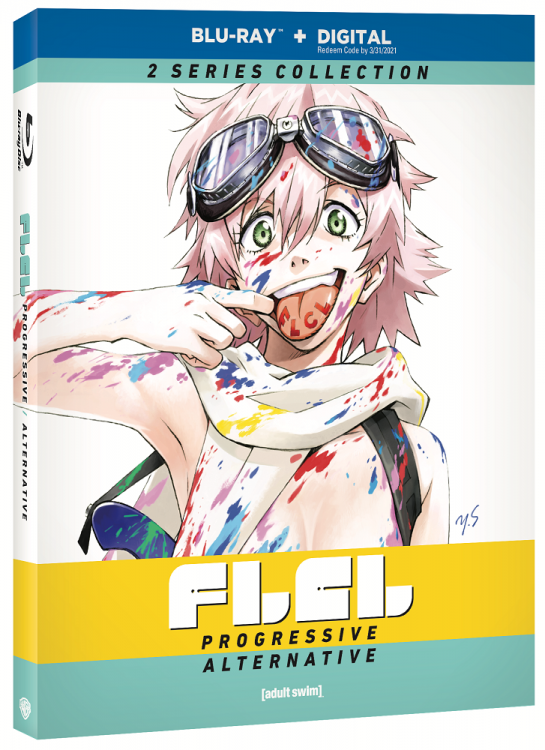 Luckily for all of us on February 4th, we can enjoy it whenever we want! FLCL: Progressive & Alternative Combo Pack is releasing thanks to Warner Bros Home Entertainment. On the same day, FLCL Alternative is available on DVD as well. So you have two options available now for purchase and enjoyment.
"During its twelve-week run on Adult Swim's Toonami, FLCL was #1 in its timeslot, and garnered a huge fan following," said Mary Ellen Thomas, WBHE, Senior Vice President, Originals, Animation, and Family. "We think both the fans and newcomers are going to love the Combo Pack with it exciting behind the scenes extra content, in addition to the final 12 highly anticipated episodes from the fanatical series."
About the Plot
FLCL: Progressive is about 14-year-old Hidomi along with a classmate, Idia, during the war between Medical Mechanica and Fraternity. Haruko Haruhara makes a return as their teacher. With the addition of gorgeous Chrysler Bel Air and her yellow Vespa. Be prepared for them all to come into their hidden potential.
The third and final season is FLCL: Alternative. Leading seemingly ordinary lives are 17-year-old Kana along with her friends, Mossan, Jijiri, and Pets. Their normalcy is thrown out the window when a Mecha falls from the sky along with guitar-wielding Haruko Haruhaara. Determined to take out Medical Mechanica, Haruko tries to awaken Kana's NO channel.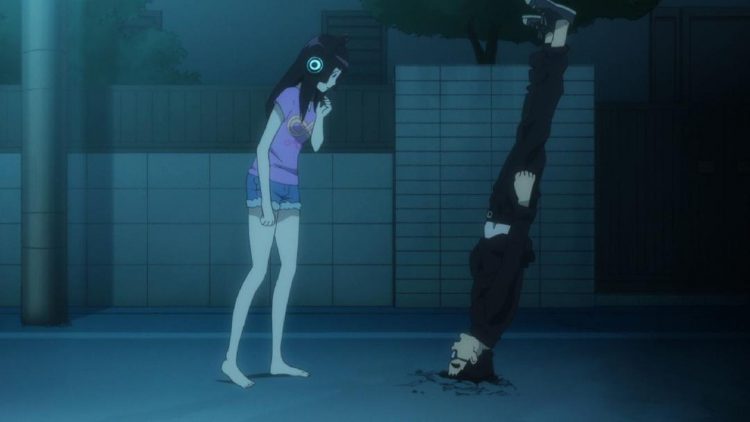 One thing that I love about combo packs is the extras that are included. FLCL: Progressive & Alternative Combo Pack contains a 15-minute never-before-seen documentary that features interviews with Voice talent and crew along with the making of both seasons. Additionally, there are special features that include "Meet the Creators" with a segment about "The Pillows" relationship with the series. Get a glimpse at the English voice actors behind FLC all together.
Enjoy it Digital!
You can get FLCL: Progressive & Alternative Combo Pack digitally. Meaning you can stream and download to watch anywhere! Taking a trip and you don't have to miss out. Want to snuggle on the couch and enjoy it with someone you can do that too. You can now watch it on the go and in your home.
I recommend watching this great story. Below you can get all of the additional information you will need about both releases on February 4th.
BLU-RAY COMBO PACK
Price: $44.98 SRP ($52.99 in Canada)
Running Time: Feature: Approx. 264 min
Enhanced Content: Approx. 35 min
2 BD 50s
BLU-RAY COMBO PACK SPECIAL FEATURES
The Making of FLCL: Progressive & Alternative: An in-depth look behind the scenes featuring interviews with the cast and crew.
Meet the Creators
The Pillows
English Voice Actors
Production: Behind-the-Scenes
COMBO PACK INCLUDES ALL 12 EPISODES
RE: Start
Freebie Honey
Stone Skipping
LooPQR
Fool On the Planet
Our Running
Flying Memory
Grown-Up Wannabe
Freestyle Collection
Pit-a-Pat
Shake it Off
Full Flat
FLCL: ALTERNATIVE DVD
Price: $19.99 SRP ($24.99 in Canada)
Running Time: Feature: Approx. 132 min
Enhanced Content: Approx. 10 min
2 DVD-9s
Audio – English (5.1)
Subtitles – English
UPC# 883929707577
Catalog# 1000757642
FLCL: ALTERNATIVE DVD SPECIAL FEATURES
English Voice Actors
Production: Behind-the-Scenes