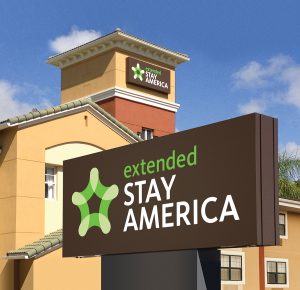 Extended Stay America is my favorite Hotel. They know how to treat you, as well. From the front desk, to housekeeping, they are all so friendly. We really enjoyed our 5 day stay. With great company. We stayed of my son's 5th birthday. Everything was within a good distance, from restaurants to the mall, and even Chuck E Cheese was right down the road.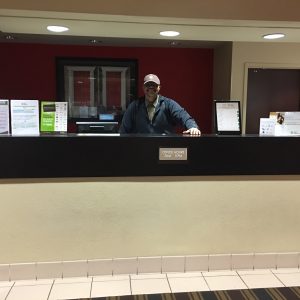 The room is so spacious, with a full size refrigerator, microwave and a stove top. Pots and skillets are available, along with Silverware. The sink is nice and deep, so it's easy to wash dishes, and put them in your drain board. They even have dishwashing liquid right there for you. And a wash rag, and rag to dry your dishes, if you don't like to let them sit.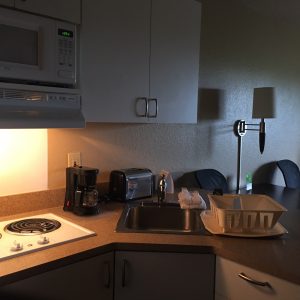 With Free Grab n Go Breakfast, it's a great morning, at Extended Stay America. The Grab N Go Breakfast featured Coffee, with a few types of creamers, Nature's Bounty Bars, Tea, Oatmeal, muffins and fruits. It's definitely delicious. And a great way to start your day.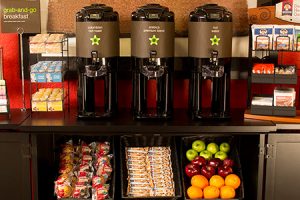 Then there's a perfect spot, in every room, to do your work. The table is spacious, and so is the kitchen. The entire room made the stay so great. And, with a restaurant right outside the hotel, lunch and dinner were easily taken care of. We also road one mile, down the road, to the mall. Jacob, my 5 year old, was in heaven during our stay. He loved everything about it. Especially the Flat Screen Tv, with Cable.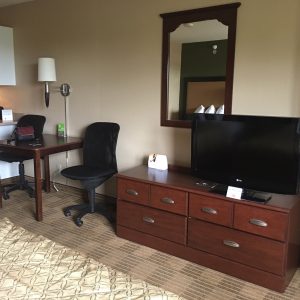 Two full beds, you can also get queen or king beds, were wonderful for us. We set the extra pillows up around Jacob, because he's used to a toddler bed, and he slept like a baby. He slept longer, in the comfortable Extended Stay America bed, than he ever does at home. This was so nice. I was able to do work, while he was sleeping. He, and his daddy, went down for Grab n Go Breakfast every morning, and brought me a coffee back. Although there is a coffee pot in the room, it was easier to have the coffee already made for me.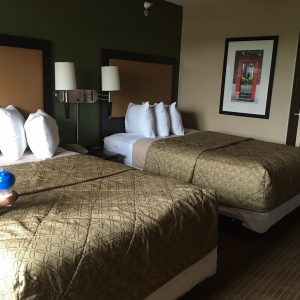 I will never forget this wonderful stay we had. It will definitely be the same hotel chain I try to stay at every time we go away.
You can even find Extended Stay America, certain locations, with swimming, a gym, and a business center. But I was find in the room, I made my own business center.
Connect With Extended Stay America: Make Reservations | Extended Stay America on Facebook | Extended Stay America on Twitter
Disclaimer: This product was received from the Company for review purposes only. All thoughts and words in this post is my own and I was not paid to endorse it. I am only voicing my opinion about this product.