Everyday Health with EverydayHappy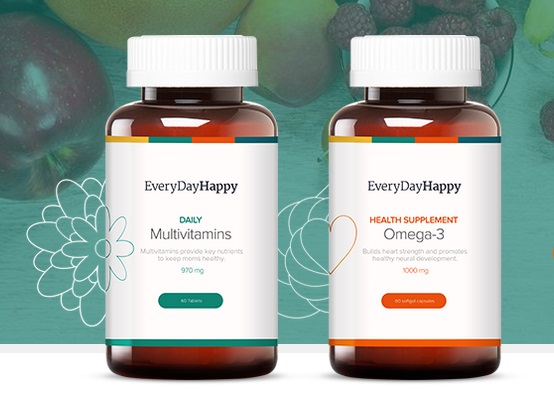 EverydayHappy makes wellness easy, with their Wellness Care Kit. You get 2 bottles – A Multivitamin and an Omega3. Each made of the purest ingredients.
Parents (and especially new parents) need to keep strong and healthy. With crazy schedules, late nights and loads of stress, that isn't always easy to do. Taking supplements that provide the necessary vitamins and minerals that our bodies need, helps to fill the gaps in our diets.
Speaking of sleep…
New parents are often sleep deprived. Not just because baby keeps them up, but the stress of new parenthood can often keep us awake even when baby is sleeping. Also, when we aren't eating properly we don't get quality sleep. Studies show that a well-balanced, varied diet provides for better sleep, thus providing our bodies with those needed vitamins and minerals can help to assure that when we do get to sleep, we get the best sleep possible.
Essential Vitamins • Key Minerals • Antioxidants
EverydayHappy's lab is GMP-Certified and products are made in a common allergy-free facility (which meet BCR Global Standards). Capsules are nut free, soy free, GMO free, gluten free and are designed to be easily swallowed. Wild anchovies, provide the freshest natural fish oils.

EverydayHappy

Makes Wellness Easy

Our daily Multivitamins and Omega-3s are made to nourish your body and keep you feeling great. A happy, healthy, beautiful life starts on the inside, so bundle up some Wellness Care of your own!

| | |
| --- | --- |
| Vitamin A | Critical for vision and organ health. |
| Vitamin B1 | Thiamine helps with cognitive function, and is also a mood and energy booster. |
| Vitamin B2 | Riboflavin maintains cell health and produces energy for the body. |
| Vitamin B6 | Pyridoxine hydrochloride reduces risk of heart attack and helps prevent heart disease. |
| Vitamin B12 | Plays an essential role in healthy red blood cell production. |
| Vitamin C | For growth and repair of body tissues, cartilage, bones and teeth as well as helping wounds heal. |
| Vitamin D | Promotes calcium absorption for healthy bones and teeth. |
| Calcium | Supports bone structure and function, and helps prevent osteoporosis. |
| Phosphorus | For improved digestion, hormonal balance and bone health. |
| Iron | Essential for overall health, and a part of the hemoglobin needed to transport oxygen in the body. |
| Magnesium | Helps prevent high blood pressure and promote healthy heart rhythms. |
| Zinc | Impotant in regulating immune system functions and also aids memory. |
| Manganese | For treating weak bones, anemic blood and PMS symptoms. |
| Potassium | Has been shown to lower blood pressure, and promote cardiovascular and kidney health. |
| Nicotinamide | Integral in energy production, and may help prevent type 1 diabetes, as well as some cancers. |
| Pantothenate Acid | Helps the body process carbohydrates, proteins and fats. |
You don't have to worry about running out, because EverydayHappy offers a "Delivered To Your Door Every Month" option. Subscribe and save 40% off the regular price!

EverydayHappy also sells Diapers and Wipes, Bath and Body Products, as well as Household Products. Their Diaper + Family Care Kit would make an awesome gift for new parents!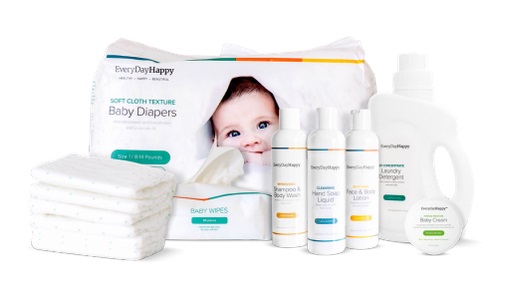 The Diaper & Family Care Kit includes a one-month supply of diapers, wipes and family care essentials. Go ahead and treat a friend or even yourself!

1 month supply of premium diapers and wipes
Shampoo & Body Wash 8.4 Fl. Oz
Face & Body Lotion 8.4 Fl. Oz
Liquid Hand Soap 8.4 Fl. Oz
Diaper Care Cream 1.76 Oz
Laundry Detergent 42.3 Fl. Oz
Give EverydayHappy a try!
Connect with EverydayHappy: Shop / Facebook / Twitter
Disclaimer: This product was received from the Company for review purposes only. All thoughts and words in this post is my own and I was not paid to endorse it. I am only voicing my opinion about this product.