You're in a bit of a tizzy because you need gifts for everyone and then you find out you need even one more. Where is the one place to look? International Arrivals!
From stocking stuffers to the perfect gift, you will be able to pick something special for those on your list. Here are some great small goodies that will bring joy to your recipient.
Fun to use and easy to share: BFF Scented Eraser Bracelets-packed 2 to a box. The little hearts that dangle fit together to make one whole heart.
Not so scary monsters are the faces of these mini journals, a set of 8 colorful Pocket Pals Journals with plenty of pages for doodles or notes! Don't forget to look for the little monster tails on the back covers!
This tiny set of 6 Monster Scented Neon Markers are bound to be a hit with funny faces and shaped ears. Whether for fun or homework these markers will be used with delight.
With 6 different gel ink colors in one pen, what could it be called except 6 Click Gel Pen. All you have to do is click and voila a new color is ready to use! With acid-free ink and smooth gel writing, even adult covet these!
Don't be fooled these candy look-alikes are a set of 6 fruitty scented neon markers. Sweet highlighting ahead! Dandy Candy Scented Neon Markers are just fun to use!
Dinosaurs disguised as erasers! Choose the Triceratops or the Stegosaurus for big erasing!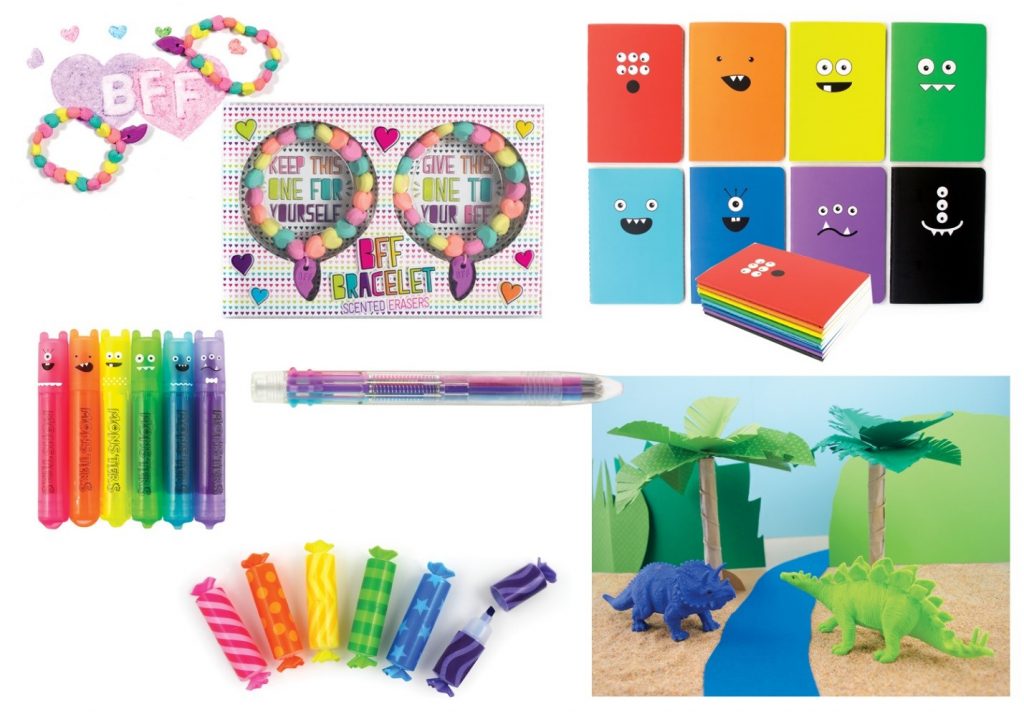 For those presents that you need to send/ship- think paper based products like a few of these shown here:
Stickers provide hours of entertainment and are easy to mail in an envelope, samples shown here are Bug Life, Cat Eyes and glow in the dark Outta This World. These tiny stickers come in 31 styles, so there is a design or 2 for every child on your list.
Journals are definitely "in" this year and this nifty notebook fits child to adult. Choose between 4 brightly colored notebooks, each one has 64 lined pages, 16 gridded, and 16 blank pages, Outfitted with its own pen and very convenient string tied inside pocket and elastic band to hold it closed. Color Pop Notebooks are an easy and perfect gift!
Note Pals Sticky Tabs are as handy as they are cute! With 18 styles to choose from there will be a great choice for everyone on your list! Use them as bookmarks or on shopping lists, or to help with homework! Artic Animals and Gift Tags are shown here, but be sure to check out all the designs!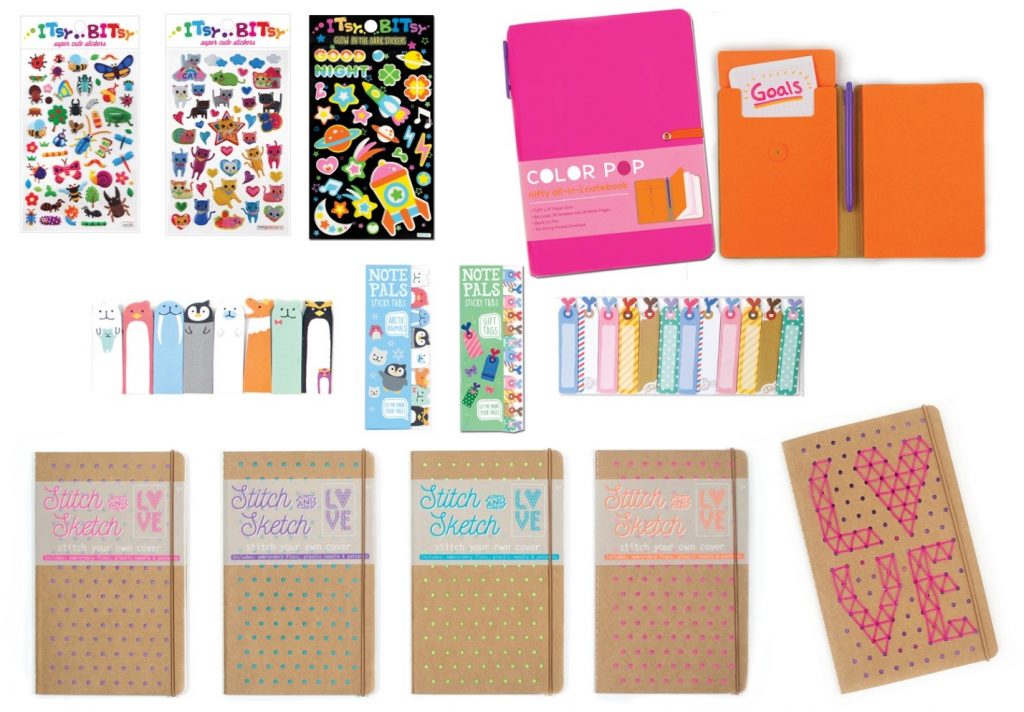 Easy gifting with a one-box present or make it more special by including a coordinating item. Start with Brilliant Bee Crayons, a box of 24 vibrant crayons with a bit of beeswax. They are each named with a delightful bug related names like Snail Shell Pink or Katydid Green. Triangular –shaped so they won't roll away and are easy for little hands to hold. Make it more special by adding a something to color on! Try one of the Color-in Book series, 4 artist created coloring books designed with care. Choose from Cozy Critters (woodland animals at their cutest), Happy Snacks (fun sweets with personality), Beach Bums (laid-back ocean stylings or Unicorn Adventures (Unicorn does yogi, Rodeos & more). Each book is 9 x 12 and lays flat for easy coloring, designs are one-sided so no bleed through. And each of the 32 pages are perforated so the artwork can be hung on the wall.
There are so many coloring options available for all age groups, Brush and Line Markers are dual ended with a fine point and the other end a brush tip. With 24 colors there is no end to the options for artwork. Colored pencils are another option especially when packaged so nicely. Try Fantastic Planet, a set of 24 woodless colored pencils housed in a beautifully decorated tine case. A perfect companion to the Cozy Critters book. Perfect for the serious artist in your family, Color Core Colored Pencils, very high quality, solid color, no barrel and woodless. This set of 12 are also in a re-useable tin case. And don't forget those fine tipped colored pens, the perfect thing for intricate coloring. Color Luxe Gel Pens fit the bill with .07 mm nib and acid-free inks and 12 vibrant colors.
Any of these unique and colorful presents should bring a smile or two to your recipient's faces!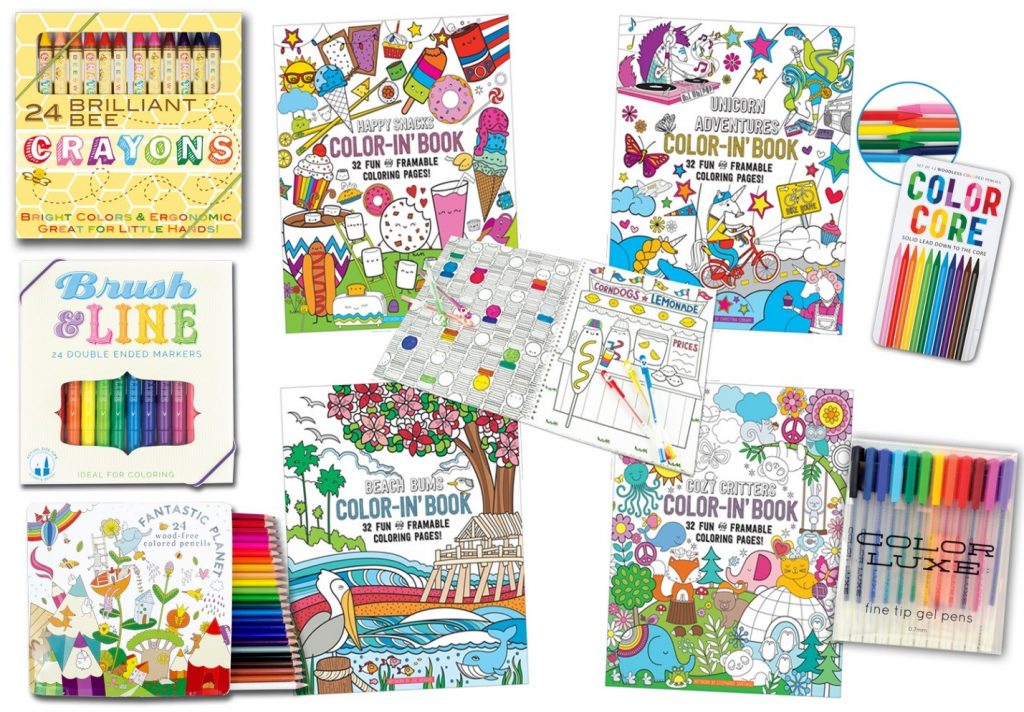 Follow International Arrivals Facebook, Instagram, Pinterest