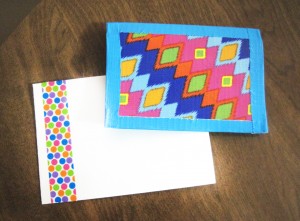 Duck Brand has changed the face of crafting with their massive selection of printed duct tapes. As a sworn craft-a-holic, I can never have enough prints and colors of Duck tape. But did you know that they also make cloth tapes? And washi tape? And glitter, prisms, and licensed prints?
"Duct tape has adhered itself so well to American culture that it's become much more than a roll of tape. It's an enduring symbol of all in this world that is functional…Now, over 50 years after its invention, Duck® tape is sold in more than 20 colors and is touted by its followers for having a nearly endless amount of uses. What will happen to Duck Tape®? What advancements in Duck Tape® technology will be made? Only time will tell."
Duck Tapes are great for making gifts, and the gifts you can make with them are endless. You can check out their selection of crafts & activities on their website. But I also love to make gift wrap and accessories, and cards to accompany gifts. I love adding a personal touch to my gifts even if the gift itself isn't handcrafted, and this is a great way to do that. Duck's new holiday print Duck Tape Bubble trees makes it even easier to do this season.
To make the gift bow pictured:
Fold Duck Brand Bubble Trees duct tape width wise. Start with a little piece, and unroll as you go along, until it's two feet long. Trim. This forms a ribbon that you can use in any way you'd use ribbon.
Accordion fold it leaving the folds un-creased, making each new layer smaller. Wrap the center by folding upward.
Tape into place on the back using a small piece of Bubble Trees duck tape.
Use the same duck tape to "wrap" your gift – adding a strip lengthwise and across. You can use an upcycled brown box for this. Attach the bow.
You can also turn this into a festive headband for a little girl by covering a plain plastic headband with the same or contrasting print and hot-gluing the bow to that.
Making cards with Duck brand tapes is so easy – you don't need any crafting skills! I like to make these using the Duck Tape Sheets, for a seamless, easy cover. I used a plain note card as a base. I covered the outside using a duck tape sheet and trimmed the edges (outside and inside) in a coordinating color of duck tape. The result is a textured, cool card. I even cut out a matching shape of the printed tape and added it to the left inside of the card. I used washi tape in a coordinating color pattern to make a one-second matching envelope.
Duck Brand tapes for crafting include the following products:
Duck Washi crafting tapes – perfect for paper projects! Add a strip for instant stationery, to dress up a plain notebook into a journal, or to embellish just about anything! You can also write on the surface of these.
Duck Prism rolls, mini rolls, and sheets – the holographic/prismatic effect gives it shine and pizzazz. They work great with electronic cutting machines and are great for any scrapbooking, decorating projects
Duck Glitter crafting tapes – rolls and mini rolls – I love these for adding gentle sparkle and glitter to any project! Made with durable film technology.
Duck Fabric crafting tapes – rolls, mini rolls, and sheets – This is actual fabric with a sticky backing and comes in the most adorable prints! It adds such a fun dimension to craft projects, journals, stationery, cards and more.
Duck tape color – comes in every color of the rainbow, plus more! These are a must-have for anyone who crafts, to use on their own, and to accent prints and other textures. The things you can do with these are endless…
Duck tape prints – sheets, rolls and Ducklings mini rolls – There is so much you can do with this! Many licensed prints including Disney, sports, Hello Kitty, and more.
Duck tape scents and glow in the dark – for added fun!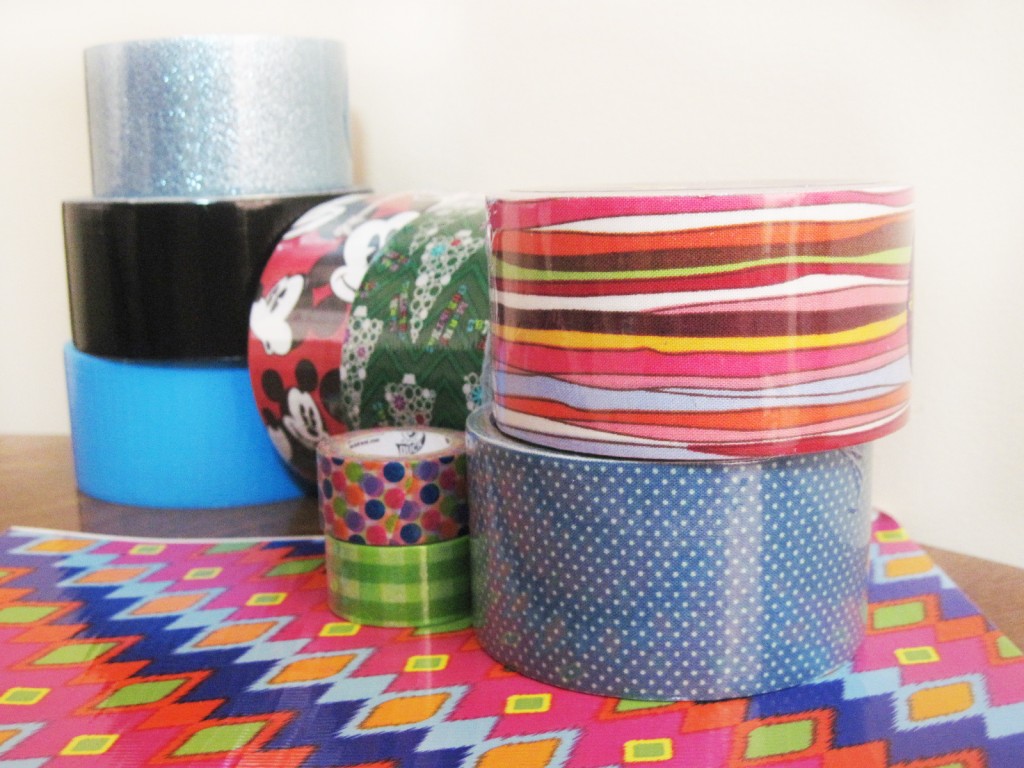 Duck tape tears easily by hand, is so versatile and fun to use. The duct tape textures create a durable, cleanable leatherette feel. The others add texture and sparkle to all your crafts. Whether you're making your own cards, wrapping gifts, making gifts, or giving these as a gift, they are a must-have for anyone who crafts.
Connect with Duck Brand: Website | Facebook | Twitter
Disclaimer:
This product was received from the Company for review purposes only. All thoughts and words in this post is my own and I was not paid to endorse it. I am only voicing my opinion about this product.