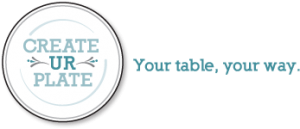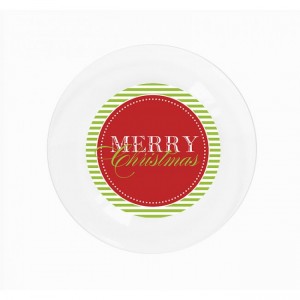 Create UR Plate is a fabulous site, where you can design your own plate. I ordered plates, and designs from Create UR Plate, and my 17 year old put them together. She loves doing creative things, so this was perfect for her.
If you don't have the clear plates, you can order them from Create UR Plate. They aren't expensive, and you get the right sized plate for your design. You can create multiple designs, or use theirs. They have different designs for the entire year 'round.
I love that we made Christmas plates for this year. I've been wanting them, and now I have them. These will make Christmas dinner so much more festive.
The picture, to the left, is just one of so many designs you can choose from for Christmas. I love that design, actually.
I do 6 cookie trays, each year, so this is the perfect added treat to each person on my list.
You can Create disposable plates, or permanent plates. Whichever you choose, they are bound to be the talk of your next get together.
You can also buy, not only your designs, from Create UR Plate, but also the plates you need. They are greatly priced, and will not be forgotten by your family/friends.
Dos and Don'ts
We want to make sure you get the most shelf "life" as possible out of your Plate-Able™ usage.
Some key don'ts:
Only apply your Plate-Ables™ to underside of Create UR Plate™ plates.
Do not put your glass plate and never your disposable plate in the dishwasher with the Plate-Able™ attached.
Do not leave your Plate-Able™ in extremely hot or cold environments.
Do not place your Plate-Ables™ in the oven, microwave, refrigerator or freezer.
Do not put your Plate-Able™ on surfaces other than the surfaces we recommend; Create UR Plate glass and disposable plates and the Plate-Able™ backing.
Should food crumbs get on your Plate-Able™ wipe it off with a warm lint free wet cloth.
Do not adhere the Plate-Able™ by bearing down with a sharp edge, use the palm of your hand or a soft cloth.
Do not put your Plate-Able™ on top of your plate, where it will directly contact food. Plate-Ables™ are designed to be applied to the underneath/bottom side of the plates. Food is not intended to be placed directly on Plate-Able™ decals.
Some key Dos
Have fun decorating your table.
Play with the colors and designs of your salad/dessert plate and dinner plate to create an exciting tablescape.
Remember to order double the amount of small plates and Plate-Ables™ since this size is used for appetizers, salad and dessert.
Save your Plate-Able™ by adhering to the original backings and placing into the Plate-Able™ storage pouch for the next time you want to use it.
Use warm water to wipe off anything that may have gotten onto the bottom of your Plate-Able™.
Tell your friends about us!
Connect with: Site | Facebook | Twitter
Disclaimer:
This product was received from the Company for review purposes only. All thoughts and words in this post is my own and I was not paid to endorse it. I am only voicing my opinion about this product.