I'm a huge fan of creative toys, especially building toys that bring with them endless possibilities. ClickBlock is one that I was introduced to only recently, and my only regret is not hearing of them sooner.
ClickBlock raised the bar when it comes to magnetic building toys (pun intended). They carry a 435% heavier vertical load than leading competitors. They also have a patent pending interlocking design at the ends of their products, which provide stronger security and a stronger build.
"The ClickBlock was created by Bong-Suk Yoon who has 29 years of experience in magnetic toy research, design and manufacturing. His creative inspirations of ClickBlock came from his then 5 years old daughter, Dami. Being his only child then he wanted to create toys for her that are educational and fun to play by herself. After 3 years of grueling development Bong-Suk completed his masterful world first 3D and interlocking 2D magnetic toys for Dami (now 8 years old) and magnetic bars and balls(called "X-Bar") for Dami's little baby sister Daon."
The things that ClickBlock can do are amazing! They have a few different types of toys, my favorite of which is the X-Bar. The X Bar comes in a lovely variety of building sets to choose from. Within each set is lots of open-ended fun and possibilities for young engineering and exploration. My favorite is the CityScape set pictured. It has very basic shapes, making it even more open-ended.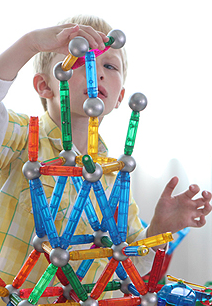 Features of the ClickBlock X-Bar:
The X-Bar CityScape set comes with 48 bars, 16 curved bars, 36 metal balls for a total of 100 pieces! It's perfect for group fun, or for larger projects.
The magnetic balls are large – 1.25 inches in diameter so that they're harder to lose.
The bars are made of high resistance PC plastic- the safer and more durable option.
X-Bars come in six vivid and exciting colors.
The X-Bar sets are all compatible with one another. So, you can start with one, and slowly add to the collection for even more possibilities.
Dimensions: ball 1.25" diameter, bar 2.75"x.5", curved bar 3.5"x.5".
Some designs that ClickBlock created with this set include skyscrapers and buildings, a helicopter, a swing set, 2D and 3D boats, a golden crown, a pyramid, and more!
Unique grooved design locks together so that you have stability in your structure.
ClickBlock's X-Bar is a truly unique and exciting toy. It features open-ended productive play for children ages six and older, but you'll definitely want to join in on the fun!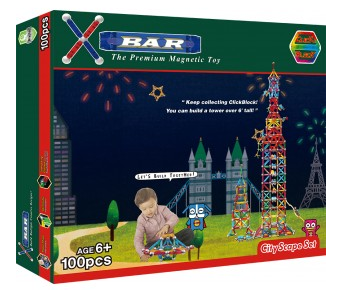 Disclaimer:
This product was received from the Company for review purposes only. All thoughts and words in this post is my own and I was not paid to endorse it. I am only voicing my opinion about this product.