Disney Forzen Review!

If you have kids than chances are that you've seen Disney's Frozen at least once. If you're kiddos are like mine, chances are you've seen it so many times that you are able to sing along and know the lines by heart. My kids are extremely huge Frozen fans. If I would let them they would even be public marketers for Frozen products!! From books, to phones, and iPad apps the kids have them all. We were recently blessed with the opportunity to do the Disney Frozen Review on Blu Ray!
Walt Disney Animation Studios presents a chilly twist on one of the most humorous and heartwarming stories ever told. Fearless and optimist Anna sets off on an epic journey along the way teaming up with rugged mountain man Kristoff and his loyal reindeer Sven. Anna is determined to find her sister Elsa, whose icy powers have trapped the kingdom of Arendelle in eternal winter. Encountering Everest like conditions, mystical trolls and a hilarious snowman named Olaf, Anna and Kristoff battle the elements in a race to save the kingdom.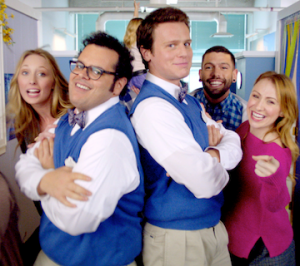 Frozen has an all star cast that brings the movie to life!
Kristen Bell as Anna
Idina Menzel as Elsa
Jonathan Groff as mountain man Kristoff
Josh Gad as the lovable snowman Olaf
Santino Fontana as Hans
Alan Tudyk as the Duke of Weselton
Ciarán Hinds as Pabbie
Chris Williams as Oaken
There are a lot of fun new bonus features included on the Blu-Ray, Digital and DVDs.
The Making Of Frozen (Blu-ray, Digital)
· D'frosted: Disney's Journey From Hans Christian Anderson to Frozen (Blu-ray, Digital)
· Breaking The Ice – The Real Making Of Frozen (Blu-ray, Digital)
· 4 Deleted Scenes with introduction by Directors Chris Buck and Jennifer Lee
· Original Theatrical Short – "Get A Horse" (Blu-ray, Digital & DVD)
· "Let It Go" Music Videos by Demi Lovato, Martina Stoessel & Marsha Milan Londoh (Blu-ray, Digital & DVD)
· Frozen Teaser Trailer (Blu-ray, Digital & DVD)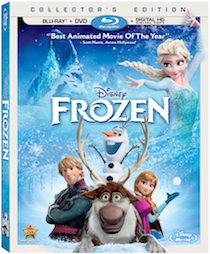 Disney's Frozen has arrived on Digital HD and Digital 3D on February 25th, 2014. The kids are excited that it will be arriving on Blu-ray Combo Pack, DVD and On-Demand on March 18th, 2014. They have a very special viewing party scheduled with some of their closest friends.
If you would like more information or if you would like to purchase the Disney's Frozen on Blu-Ray, DVD and Digital HD, please visit Official Disney Frozen Website. Be sure to stay up to date on all of the latest news from Disney's Frozen by following their social media pages on Facebook and Twitter. While you are there, be sure to follow Mom Blog Society on Facebook.
Mom Blog Society, along with Disney is giving away some Disney Most Wanted Movies! Saving Mr. Banks, Frozen and Pirate Fairy! One lucky winner will win all three. Simply click the image below to enter via the Rafflecopter below. Good Luck!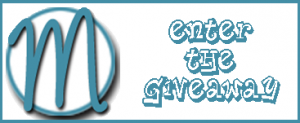 Disclaimer: Disclaimer: Mom Blog Society received product free of charge to write our review. All opinions stated in our review are our own truthfully opinion and were not influenced by the sponsor or from getting the review product free of charge. We were in no way compensated for our review or opinion.