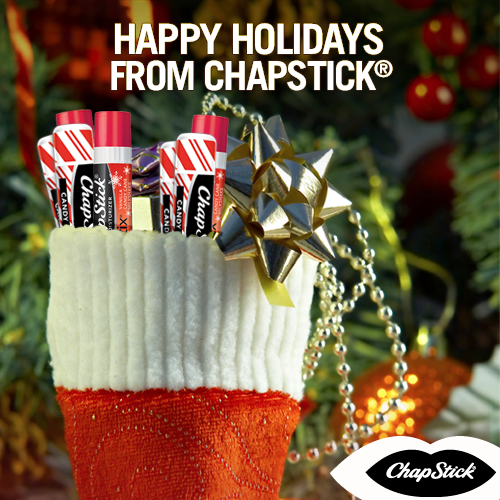 I'm married and have a five year old but I can remember when I first started dating my boyfriend, now husband, as though it was yesterday. It was fall and I was a full-time college student experiencing the thrills and chills of freshmen year. I didn't pick up 15 extra pounds, I swear! 😉 In addition to being a full-time student that was too new to the system to know that you should not schedule classes five days a week when you don't live on campus, I also worked full-time and volunteered. I have no idea how I was able to fit a boyfriend into that schedule but at the time it really did not seem difficult. I think we are more ambitious when we are younger. Needless to say, I was being pulled every which way and with only 24 hours in the day something had to suffer and normally that was my make-up.
Now, let me start by saying that I am not what I would call a "girlie girl." I'm soft and feminine but doing hair, makeup, and matching cute outfits has never been my strong suit; thank God for sisters! That being said, along the way I did learn that there are a few essentials that every woman must have and must use daily. Eyeliner, mascaras, and something to make our lips look and feel kissably (is that a word?) soft.
As I mentioned, we started dating in the fall, at the end of October to be exact, and that meant the holidays were quickly approaching. I have always been a kid at heart so I try to take advantage of anything festive, holly, and jolly during the holiday season. We are talking Christmas music piped into my car and house in November, Christmas movies before Thanksgiving, hot cocoa galore, Christmas socks, and everything FLAVORED!!!
Now, my boyfriend, being the awesome guy that he is, quickly came to realize that I had little time and wore little makeup but he understood the importance of keeping my lips soft and kissable. About a month into our relationship he arrived to pick me up for a date and he brought with him a little, shiny red gift bag. It was that day that he definitely confirmed he paid attention when he gave me holiday scented and FLAVORED (squee) ChapStick®! Hmm, maybe he just wanted to be cute and keep my lips mistletoe ready … who knows.
Fourteen years into our relationship and a five year old later, I am still in love with my husband and holiday ChapStick®! I think I found a keeper in both. 😉
'Tis the Season for Kissable Lips with ChapStick
Right now, ChapStick® is offering a variety of seasonally-inspired, limited-edition products to keep lips looking and feeling mistletoe ready throughout the holidays. This year, the collection includes their new ChapStick® mixstix® Vanilla Candy Cane Milkshake, Pumpkin Pie, Candy Cane, and a new holiday-themed tin containing ChapStick® Candy Cane.

New ChapStick® mixstix® Vanilla Candy Cane Milkshake
This new addition to the family delivers and innovative two-sides lip balm that offers one flavor on each side that can be worn alone or together to make a third unique combination. This thing is so cool!
This holiday season, mix and mingle the complementary flavors of vanilla and candy cane for an irresistible holiday sensation, Vanilla Candy Cane Milkshake.
Heading to the store? Treat yourself … and a friend to this flavor sensation!
ChapStick® mixstix® Vanilla Candy Cane Milkshake is available through the holiday season in a one-count package and sold exclusively at CVS and Walgreens for an SRP of $1.99 to $2.69. Or, keep yourself covered and pick up a two-count package in the holiday section at Target for an SRP $3.99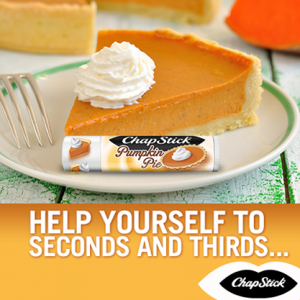 ChapStick® Pumpkin Pie
Hurry and grab these flavorful stocking stuffers and fun gifts for friends, family, co-workers, and teachers!
ChapStick® has debuted a new seasonal flavor, Pumpkin Pie! It will keep your lips soft, smooth, and happy all winter long.
Now, I love Pumpkin Pie but my jeans don't appreciate it when I eat a slice daily throughout the holidays. The Pumpkin Pie ChapStick® allows me to get a taste of the season without the guilt!
ChapStick® Pumpkin Pie is available through the holiday season exclusively at Walmart and SVS for an SRP of $1.00 to $1.99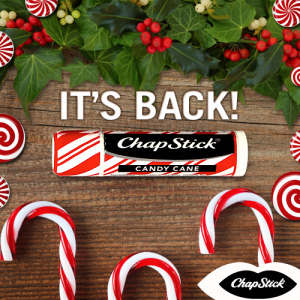 ChapStick® Candy Cane
Back by popular demand, Candy Cane flavor!!!
Not that I want to add my bias or anything but this is my absolute favorite of all time. In
fact, the Candy Cane is so potent that I am able to sit it on my desk while working and inhale the yummy goodness that is Candy Cane all day long. It glides on fresh and gives me that chilled feeling and then rebounds with minty goodness.
ChapStick® Candy Cane is available through the holiday season exclusively at Walmart, Walgreens, Target, and CVS. 1 count loose sticks are sold for an SRP of $1.00 to $1.99 at Walmart and Walgreens and 3 count packs are available at Target, CVS, and Walmart for an SRP of $2.99.
ChapStick® Holiday Tin
Also new to the ChapStick® family this holiday season is the Holiday Tin.
Tucked inside this festive keepsake tin are two tubes of ChapStick® Candy Cane that are sure to bring holiday cheer!
As the snow falls and temperatures drop, keep your lips soft and smooth with ChapStick® Candy Cane, found inside this limited-edition, pop-top ChapStick® Holiday Tin!
The ChapStick® Holiday Tin is available through the holiday season exclusively at Walgreens for an SRP of $3.49
Connect with ChapStick®: Shop | Facebook | Twitter
Disclaimer: This product was received from the Company for review purposes only. All thoughts and words in this post are my own and I was not paid to endorse it. I am only voicing my opinion of this product.