Celebrate Correct Your Posture Month with Keekaroo

May is Correct Your Posture Month and Mom Blog Society is celebrating with Keekaroo! I am constantly telling my kids to sit straight and stand tall. They don't realize that sitting habits they develop as a child will stay with them forever and can cause pain and back issues when they are older. Keekaroo recently sent Mom Blog Society one of their amazing Height Right™ High Chair to review in our home free of charge. There are so many reasons why our family loves the Keekaroo Height Right™ High Chair. We were also sent the infant insert, tray and tray cover to review with my niece who hates traditional high chairs. The best feature of the Keekaroo Height Right™ High Chair is that it grows with your child from infant to adult.

The Infant Insert is water resistant making cleaning up your little bundle of joys many messes without having to worry about fluids penetrating into the seat and ruining it. No need to be concerned about mold either. The infant insert is soft to the touch which creates a comfortable seat for your child. Unlike traditional seats that use a foam cushion that breaks down over time and uses the Keekaroo infant seat will last. My niece is a very messy eater, honestly I love it because I know she is enjoying her meal. The infant seat is so easy to wipe clean and stop bacteria from growing.
When we selected the colors for our Keekaroo Height Right™ High Chair and infant seat I wanted dark neutral colors that would match our decor and would be able to be used for other kids other than just my niece. I selected the chair in Mahogany and the infant seat in chocolate. The colors are beautiful and just what I wanted. Now I am sure that you are thinking a high chair that grows with your child is going to be complicated and a disaster to put together. That was not the case. The directions are EXTREMELY clear and easy to understand but they are also very detailed. Don't worry you wont lose your mind like you probably did when putting together the rest of your baby's furniture. When our delivery of the high chair arrived it came in two boxes. The first box was long and thin, it included the chair. The second box included the infant seat and tray. I had my little helper, Cheyenne (she is 5 years old), help my put the chair together. I am usually the one that waits for my husband to put the furniture together but this time I wanted to see how easy and fast the high chair is to put together. The chair comes in eight different pieces. You also receive a box that has all of the hardware in it as well as 2 metal rods. The only tools that we required was the included Allen key. Overall time that it took to put the high chair together was 15 minutes. I do recommend that you read the directions twice before putting it together so that you know what to do. Make sure that you only start the screws otherwise you will have to loosen them to put in the seat and foot rest. MAKE SURE THAT YOU DO NOT OVER TIGHTEN THE SCREWS! Doing so will cause damage to your high chair. I sat in the high chair before letting Cheyenne sit in it to make sure that it would not fall apart. The Keekaroo Height Right™ High Chair is extremely sturdy and strong.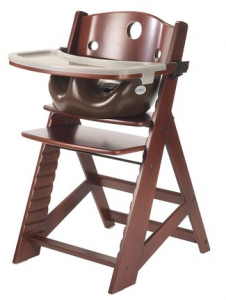 The Keekaroo Height Right™ High Chair is available in two colors, natural wood and mahogany. The infant seat insert is available in seven different colors. Pumpkin, chocolate, lime, lilac, aqua, latte and cherry. All Keekaroo high chair, booster and diaper changer products are JPMA Certified. When you see the JPMA symbol of certification, you can be sure that the product has met the strictest of performance standards. You can read more about Keekaroo and the JPMA symbol of certification here.
If you would like more information or if you would like to purchase the Keekaroo Height Right High Chair or any of the other amazing products they have to offer, please visit the Keekaroo Website. Be sure to stay up to date on all of the latest news and products from Keekaroo by following their social media pages on Facebook, Instagram and Twitter. While you are there, be sure to follow Mom Blog Society on Facebook.
Disclaimer: Mom Blog Society received product free of charge to write our review. All opinions stated in our review are our own truthfully opinion and were not influenced by the sponsor or from getting the review product free of charge. We were in no way compensated for our review or opinion.