Send Someone Special in Your Life Flowers from The Bouqs

I love sending my loved ones flowers, especially my parents. Even though we live close by for regular visits, work and school schedules don't allow us to get together and see each other as often as we all would like. That is why I love surprising them with flowers. I have ordered flowers from many different companies in the past. Unfortunately, by the time the price of the flowers, tax and shipping is all added up it is extremely expensive. That is why I love The Bouqs!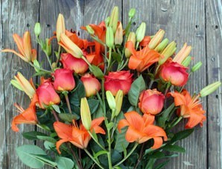 We recently had the opportunity to work with The Bouqs and review one of their beautiful bouquets of flowers. We were sent a gift code so I was able to pick a bouquet that I would love. I selected the Desperado bouquet. I paid extra to have the Deluxe bouquet sent. When our flowers arrived they were in a brown box. They were surprisingly strapped directly to the box and were quite difficult to remove. Some of the flowers look as though they were crushed from being strapped in so tight. After getting the flowers out of the box, I trimmed them up and put them in my favorite vase. All of the flowers would not fit in my large vase so I was able to divide some into a smaller vase and put in the bathroom. After 24 hours of being in water the flowers began to come to life. They were stunning. The Bouqs offers several different options for their customers that come in very handy! My favorite option is that you can schedule regular flower deliveries to the same person, your home or office as often as you would like.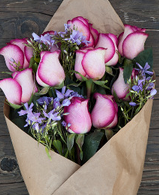 Now you can always have fresh flowers decorating your office. You simply start by selection one of six collections. The Bouq-Tastic Voyage Collection includes bouquets from their current catalog delivered regularly from the volcano. The War of Roses Collection delivers premium roses that clans, countries and cultures would fight for. The Love Ya Collection is a collection of classic, love-infused flowers perfect for that special someone in your life. The C'Mon Get Happy collection is full of flowers with bright colors and a positive attitude. The Farmer's Market Collection is hand selected by The Bouqs team and is filled with their favorite flowers and combinations. The last collection and my favorite is The Custom-er. This collection allows you to choose the Bouqs. It puts you in full control of your collection and subscription. Next you decide on your bouquet size. You can choose from three different sizes to fit your price range. The Original bouquet includes 12 beautiful flowers with prices starting at $40. The Deluxe Bouquet includes 24 stunning flowers with prices starting at $50. The Grand bouquet includes 36 amazing flowers with prices starting at $70.

If you would like more information or if you would like to purchase flowers for yourself or someone special in your life, please visit The Bouqs Website. Be sure to stay up to date on all of the latest news and products from The Bouqs by following their social media pages on Facebook, Instagram and Twitter. While you are there, be sure to follow Mom Blog Society on Facebook.
Disclaimer: Mom Blog Society received product free of charge to write our review. All opinions stated in our review are our own truthfully opinion and were not influenced by the sponsor or from getting the review product free of charge. We were in no way compensated for our review or opinion.