Ever since Baby E could sit up on his own he's always been intrigued by toys with wheels— cars, trucks, trains. If he can glide it across the floor or make it soar in the air and yell out 'vroom vroom' noises, he can happily play for extended periods of time.
The only problem is, he's just over a year old and still too young for matchbox-type cars so we look for vehicles that are larger than his hands and won't fit in his mouth. Plus, because of his age and early learning stage, he requires well made toys that will take a beating (since they tend to be used to bang on our end tables) and still survive. hehee!
This is why I love BeginAgain Toys—ALL of their toys are made from a sturdy, earth friendly Rubberwood that not only looks attractive but can withstand rough play. They're super safe and soft to hold— even in little hands, so you don't have to worry about splinters. Plus, the wheels are coated with rubber to protect your floors.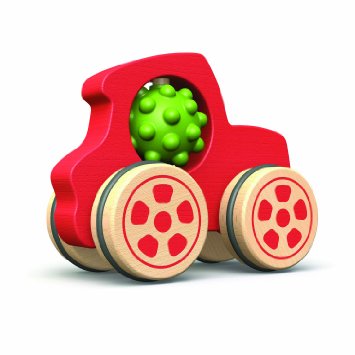 Nubble Rumbler Truck
I love the whimsical designs and bright colors. They're fun to look at yet educational in that they help teach little ones fine motor skills like grasping, stacking, and pushing.
The Nubble Rumblers are thick, chunky wooden vehicles that include a nubby "driver" made from natural rubber. Teething babies love these and of course the first place these rumblers go is in their mouths. haha! Baby E really enjoys these 6-inch tall vehicles because they're like a 2-in-1. Teether for achy mouths, and vehicles for "vrooming".
Choose from your favorite colors or patterns; Red Truck, Yellow Bus or Pink Car.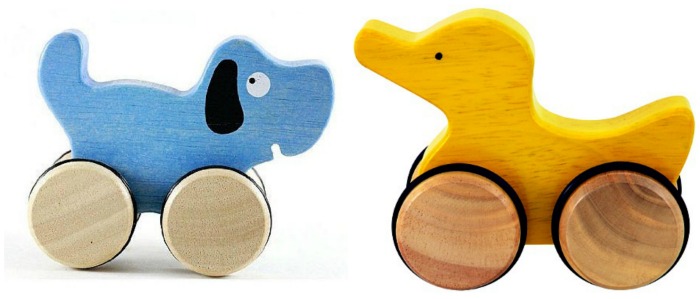 PushArounds
Some classic push toys, the PushArounds are great for developing balance, and fine motor skills. Shaped from a single piece of earth friendly Rubberwood, the PushArounds are sturdy, chunky toys that babies and toddlers are sure to love.
Choose from the Green Car, Blue Dog, or Yellow Duck.
Another fun favorite is the 7-inch Earthworm Racers. They're wiggly worms made of hardwood beads that bend, twist and stretch in all different directions. Plus, they too have wheels for fast racing fun. These not only make fun toys for kids but back massagers as well. Actually all of these adorable toys do a great job of loosening up those achy muscles. Shh, don't tell Baby E. hehee!
Earthworm Racers come in 4 fun colors; Blue/Natural, Red/Natural, Green/Natural and Pink/Natural.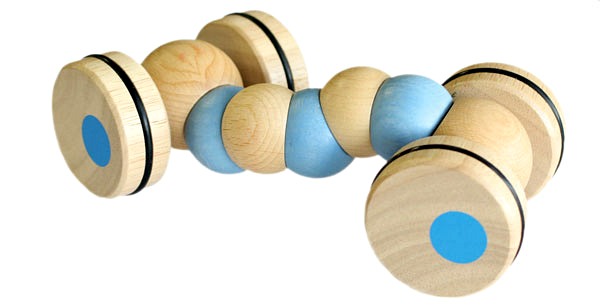 Earthworm Racers
BeginAgain was founded on the principles, ideas, and inventions of Benjamin Barlowe, an early 20th century inventor from Fort Collins. Ben's fantastic tales and astute observations of his grandchildren, Zadie and Fuller, are the inspiration behind our products. His archive overflows with tinkered toys, playful mechanisms, and incredible stories filled with nostalgia, history, and lessons on how things used to be.

"Kids already have the best job in the world, to play. It's full time work and the way they play shapes the way they grow. The toy box is the child's first tool box. Toys are meant to inspire kids to draw, build, explore, tell stories, play games, and ultimately save the day."
BeginAgain also offers a wide variety of wooden puzzles, artistic tools, playsets that inspire the imagination and storytelling, action figures and a whole lot more. You'll absolutely love their prices— very affordable!
Connect with BeginAgain: Shop | Facebook | Twitter
Disclaimer:
These products were received from the Company for review purposes only. All thoughts and words in this post is my own and I was not paid to endorse it. I am only voicing my opinion about this product.