My family loves Magic Chef, so when it came to getting a microwave, it was no surprise that I said "yes" to Magic Chef. Their products are top quality, at great prices.
My daughter loves the microwave, which is hers for College, her first year. She will be styling in her dorm, her friends will be envious. And, do you blame them? Mom is getting her all kinds of cool stuff. This microwave will do her great, because now, instead of going out to dinner, or eating cold cereal, she can have a warm meal. Her friends will be using it too, which is fine, because it's ultra strong, and can handle multiple uses. My in law's last microwave wasn't a Magic Chef, and I blew it up. I don't know how, other than someone else had just got done using it before me, and it was still warm. But it blew up, figuratively speaking. It did quit working. So, they had to go get a new microwave, and guess what brand they picked? The one I suggested "Magic Chef".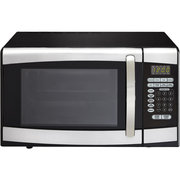 About this item
The Magic Chef 0.9-Cubic Foot Digital Microwave is a perfect addition to any dorm room, apartment or office. It is highly functional and very compact in size. This white microwave comes equipped with ten power levels that give you lots of options while cooking. The user-friendly electronic controls make the job even simpler. The microwave fits well on any counter top and uses 900 watts of power for operation. A kitchen timer that aids in precise cooking and a child safety lock that ensures safety make this oven even more desirable. This 900 watts microwave has three preprogrammed one touch cooking menus that let you cook different foods like pizza, popcorn etc. The five auto cook menus are designed specifically for beverages, baked potatoes, soups, fresh and frozen vegetables. The LED display, 30 second express cooking, weight and time defrost and six quick set menu buttons facilitate quicker and safer cooking.
Magic Chef 0.9-Cubic Foot Digital White Microwave:
900 watts

10 power levels

Electronic controls

LED display

30-second Express cooking

Timer/clock

Weight and time defrost

6 quick-set menu buttons

Model MCM990W