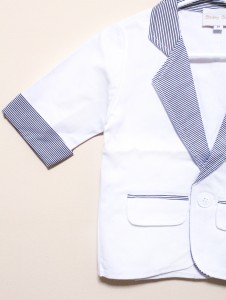 Baby Boosh makes unique and fashionable clothing for your little ones. Their adorable line of toddler and infant clothing for princes and princesses will charm you!
Baby Boosh has a unique line of boutique style clothing for babies. Their line includes fun dresses and tutus, precious baby shoes, cute sandals, spunky outfits, and spiffy hats. They have the most adorable, economically priced range of dress wear I've seen!
I love dressing up my little man. When I put on him these little touches and accessories he looks like such a gentleman. The white unisex blazer that Baby Boosh sent me is perfect for him. They sent a shirt with an attached bow tie too that adds such charm. And I've always loved collared polo shirts on my baby, but none were as sharp as this.
"BOOSH IS A JAMAICAN BASED ONLINE GLOBAL FASHION RETAILER THAT OFFERS OUTRAGEOUSLY FASHIONABLE STYLES FOR ALL OCCASSIONS FOR WOMENSWEAR, FOOTWEAR AND ACCESSORIES PRODUCT LINES FOR WOMEN OF ALL SHAPES AND AGES. WE PRIDE OURSELVES IN BEING DIVERSE IN OUR STYLE OFFERINGS AND SIZES AND THE FACT THAT WE PROVIDE A TOTAL OUTFIT COMPILATION ON OUR SITE, SO YOU LEAVE FULLY "BOOSHED" FROM HEAD TO TOE.

"BOOSH" IS A LIFESTYLE, A FASHION CULTURE, A LOOK THAT DEFINES YOU FROM AVERAGE, IT'S THE GIRL IN THE CLUB WITH ALL EYES ON HER, THE LADY IN THE SUPERMARKET WORKING THE AISLES LIKE A RUNWAY. YOU KNOW YOU ARE A BOOSH BABE WHEN PEOPLE ALWAYS ASK " WHERE DO YOU GET YOUR OUTFITS?", OR ALWAYS ASK YOU TO HELP THEM GET THEIR STYLE IN POINT….YOU KNOW FASHION AND YOU LOVE TO PLAY WITH IT AS YOUR NOT CONFINED BY STYLE YOU RULE IT."
Now Boosh has a line that will make your baby best dressed as well! You can see that their styles are innovative yet not outrageous. When I first saw all those mini hats, shoes, and dresses I went nuts! When I saw the fair prices on boutique-style clothing I went even crazier. My little man and I are definitely looking forward to being "booshed"!
Disclaimer: This product was received from the Company for review purposes only. All thoughts and words in this post is my own and I was not paid to endorse it. I am only voicing my opinion about this product.