There is no doubt that one of the fondest memories that many people have is their first family holiday. Family vacations not only build lifelong memories, but they also break your family away from the usual routine, opening your minds to new cultures, foods, and experiences, and according to research they are even good for your health. It is no surprise then that more families than ever are going on holiday every year in order to forge lifelong bonds.
Indeed, in recent years there has been a tendency for families to opt for a new type of holiday whilst breaking away from the typical all-inclusive holiday. This is because they want to try something new especially if they have already been on many of these types of holidays. In this sense, there has been a rise of adventure travel as families are committing themselves to ticking off many items on their bucket list at the one time. This is why families are flocking to sites like BorrowaBoat to book a unique a fun filled holiday by chartering a boat or a yacht.
Chartering a yacht has become known as one of the most adventurous and luxurious trips that one can go on. Not only does it give passengers a high level of freedom and the autonomy to decide their own itinerary, but it is also a stress-free form of travelling. It also takes the stress out of planning the holiday as these modern websites allow the parents or guardians to simply book the yacht and then forget about it again until the date of their holiday. This is especially beneficial for large families who find it a hassle to book a holiday for every member in their family.
Many parents find it extremely stressful organising transport from one location to another especially if they want to visit different tourist destinations or cities. This means that many parents are required to drive long distances or spend a huge amount of money and energy on bus or train travel. By chartering a boat or a yacht, this stress is hugely minimised as there is even an option to hire a captain and a crew on board. Not only can parents and children relax without worrying about sailing the yacht, but they can also avail of expert advice about which tourist destinations are the best. The captain can provide all family members with information about hidden attractions and destinations where you can avoid large throngs of crowds.
With yacht chartering, there are also a plethora of vacation destinations that are family friendly to choose from. The British Virgin Islands are one of the most luxurious sailing destinations with tours and cruises on various islands. These islands are well known for the huge array of beautiful beaches, for example The Baths in Virgin Gorda. This location is known for its astounding coves and satisfying views. It is one of the most popular locations in the British Virgin Islands with huge smooth ash gray boulders of varying sizes rise from the sea's crystalline waters, making a maze of sorts for travelers to wade or swim through. It is perfect for every member of the family as the children can build sandcastles and explore the nooks and crannies of The Baths whilst the parents can sunbathe and relax on its warm sandy surface. There is also a myriad of shallow watered areas nearby where families can engage in water sports together like snorkeling.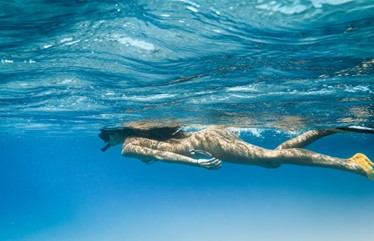 What better way to explore the Baths than taking a leisurely snorkel through with the family?
Kenya is also gaining a reputation as being an extremely family friendly location. This is possibly because Nairobi has access to some wonderful child-friendly attractions. Many family holidays entail visiting animals which is also a fun activity for the parents too. Nairobi National Park, where lions, leopards, giraffe, and zebra can be seen is the perfect day trip for those wildlife fans. Similarly, for those who want to get up close and personal with a giraffe, families can visit the Giraffe Center where you can have an interactive experience with a giraffe by being allowed to feed it. Alternatively, visit the Sheldrick Wildlife Trust where orphaned elephants are rehabilitated and set up for life in the wild. If some family members are thrill seekers there is the option to go white-water rafting down a river. The ideal location for this is The Pyrenees Mountains which has actually proven to be a great workout. This sport entails navigating through the waters whilst creating a strong rapport with your team in order to do so.
In summary, adventure family holidays make the most memorable trips for every member of the family. This is why a huge percentage of families are now opting to charter a yacht instead of going for the traditional type of holiday. This type of holiday is like no other as it provides constant entertainment and a unique experience that cannot be acquired elsewhere. One of the great things about chartering a yacht is also the fact that families can unwind from their adventure filled day by relaxing on their yacht as they sail to their next destination. If some younger members of the family want to carry on the fun on board, there is also the option to choose a yacht that has water toys on the boat so they can always be entertained! Whatever the preference is for each member of the family, the yacht chartering holiday can cater to everyone!