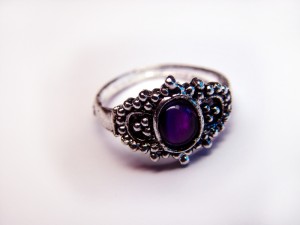 When it comes to getting gifts for your significant other, it can be hard to be creative. After all, getting gifts is almost always a difficult proposal, and that goes doubly true for the ones who are close to us. Let's just face it; if it isn't about us, we don't know a thing. Fortunately, there are people out there—namely me—who have quite a few gift ideas that may be able to pass as "creative" or "thoughtful" (who has time to actually do that anyway?). So, without further ado, here are some of the best gift ideas that are sure to make your SO happier than the time you did the dishes without them telling you to.
4. Personalized Initial Ring
If your GF or wife has a thing for jewelry, a personalized initial ring may be the thing for her. Just pick her favorite stone—perhaps her birthstone?—get a great setting, and find a company that can engrave gemstones, and you're all set! She'll be getting a ring that's not just beautiful, but is also tailored specifically for her. Granted it's a bit more expensive than other rings (with similar stones); but, it's worth it, and your SO will surely let you off the couch tonight!
3. Themed Crochet
Is your boyfriend or girlfriend a super fan of some type of TV show or video game? Then why not crochet them a scene from said show? It's a beautiful way to show you have interest in their show, while giving them a lasting, creative work that—in all honesty—is pretty awesome to hang on a wall or display in the man/woman cave. If you don't know how to do this, there are people out there you can employ or, you can move on to the next gift idea which is…
2. Comedy Club Tickets
This one isn't super creative, but it's still something that's a bit outside the box. If you have a SO who's a fan of comedy—and let's be honest, who isn't—why not get them some comedy performance tickets? Find out whether Ticketnetwork is legit so you can buy tickets for your friends when they're coming into town. Normally, unless they're Louis C.K or another comedian of that caliber, you won't be spending much, but you will be giving them a night that's truly enjoyable!
1. YouTube Video
Do you have acting chops? Are you a fan of making YouTube videos? Then why not make a fan video for them? Show your SO exactly how important they are to you by making a YouTube video that outlines how amazing your relationship is. Make it funny, make it dramatic, make it romantic; whatever, just be creative, and show precisely how great they are for you!
Have any other ideas? If so, leave them in the comments!
Tyler Fleck is a multi-faceted blogger who loves writing about pretty much everything, and he has been published all over the internet. If you like what you've seen here, check out BestCutGems.com for the best personalized initial rings online! Thanks for reading!