It's serious and can be a deadly reality. If you have an emergency and you're calling 911 from your cell phone unless you have the ability to still speak and think coherently, your life could be on the line. And, even if you can speak, there's no guarantee that the 9-1-1 operator will be able to locate you in time. Every year 180 million mobile 9-1-1 calls are made. And, every year lives are lost. Why? Because 9-1-1 does not have the ability to track your location via mobile phone usage. If you've managed to make the call, and you pass out or become incapacitated to the point that you can not communicate your location to the dispatcher, chances are they may not find you. And when, or if they do, it may be too late. More than that, even if even you tell them everything you can about your location unless the map they are looking at shows them that location, chances are they will NOT be able to locate you.
A few years back, my then nine-year-old son disappeared from our home. I was frantic. A river ran behind our home at the time. I was terrified he had fallen into the river. He had an emergency cell phone on him, but it would prove to be worthless. He was unable to get a signal to call me. And calling 9-1-1 proved to be a nightmare. While he was unable to tell them his location, it seemed there was nothing they could really do to rescue him. My son could have died that day. It was only through the grace of God himself that my son is still here. I'm not bashing 9-1-1, not at all. I'm just letting you know, if you or your child becomes incapacitated in any way, the chances of 911 saving their life is next to none.
Fortunately, there's a new app and it could and I'm sure will save the lives of many for years to come. The app from Haven and as far as I'm concerned is the most needed APP around! Imagine, someone you know is kidnapped, held hostage in some abandoned building somewhere. Heaven forbid, that this should ever happen to you or a loved one. But the reality is, it happens every single day! EVERY SINGLE DAY! The RapidSOS HAVEN app could save your life, or the life of a loved one and possibly put a monster behind bars.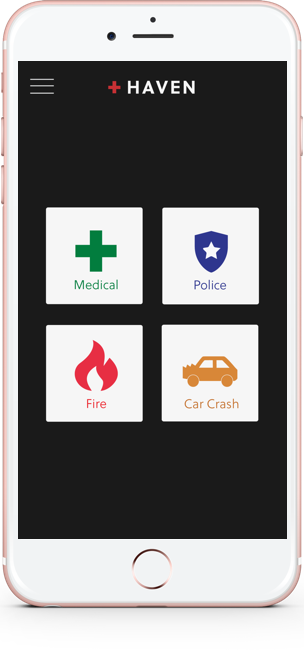 Here's a true story of a victim of a horrible tragedy. Her life was in the hands of a 9-1-1 operator who could NOT find her.
"It took 20 minutes for rescuers to get to Anderson and pull the 31-year old suburban Atlanta woman from her car, barely alive. She died a week and a half later in the hospital. Her 9-1-1 call is one of millions that fail to give police, fire, and ambulance dispatchers a quick fix on location, a technology shortfall that can leave callers like Anderson in grave danger." You can read the rest of the story on RapidSOS. This is just one of many tragic events that happen every day due to the inability of 9-1-1 being able to locate someone.
With Haven you can simply inform 9-1-1 of the type of emergency you are facing, it's just a TAP away. Haven will
provide GPS location and relevant data to 9-1-1 dispatcher systems.And the Intelligent connectivity provides you with the strongest connection available, even if you have poor service or a depleting battery. Morevoer, Haven sends relevant medical and demographic data to assist life-saving efforts. You can text first responders when you can't speak or need to get help discreetly. This is also a great function for those of us that are hard-of-hearing like myself. Haven sends alerts to your loved ones and provides them with key information about your emergency.Plus, if you are out of town, one-touch emergency calling in 250+ countries and territories.
Do yourself and everyone you know a favor and go download this life-saving app today. Please! I plan to write a series on this app. I hope you'll join me in spreading the word. You never know, it could be your family that needs help the next time. Do not be a victim.
Get the RapidSOS Haven App! Connect with RapidSOS and stay up-to-date on the latest news. Facebook | Twitter #SafetyTips #SafetySaturday #RapidSOS #Haven #RapidSOSHaven #911dispatchers