Swaive Corporation is a company located in the middle of Silicon Valley, California. The Swaive Corporation has taken steps to design an Ear Thermometer that is easy to operate for everyone. The Swaive Thermometer is paired with an app, that isn't necessary to use for the device. However, if you'd like to utilize the full capability of the Swaive Thermometer. You may want to download the application to go with your device. The Swaive app saves all information obtained by the Swaive Thermometer, so that you are capable of seeing the temperature pattern saved by the app. With that in mind, you may find it important to share this information with your family doctor. So that they may give you steps to take through any recovery process.

The Swaive Thermometer is a great way to keep track of someones health. Whether that be your child, or a significant other. The Swaive Thermometer as-easy-as pressing a button, then read the temperature on the LED display. Swaive uses an enhanced digital technology when reading the data that is provided to give you an accurate reading. The reading captured by the Swaive Thermometer has a medically grade accuracy reading that follows FDA standards.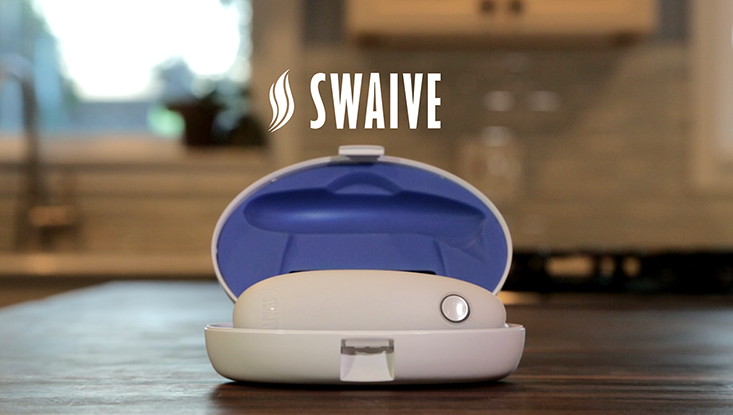 iOS (Most devices running iOS 8.0 and above)
iPhone (4s and newer)
iPad (2 and newer)
iPad Mini (1st generation and newer)
iPad Pro
Android (Most devices running Android 4.3 and above) Preferred OS is Android 5.0
Google Nexus (5 and newer)
Samsung Galaxy (S3 and newer)
Sony Xperia (Z3 and newer)
and many more devices running Android 4.3 (Jellybean) and newer
According to medical experts the normal body temperature changes with age. So everyone using the Swaive Thermometer is most likely to have different standards. The Swaive Thermometer app allows you to add as many people as you'd like. Saving all data that is analyzed by the Swaive for each individual person. You are not required to make any payment towards adding a person, or even downloading the application. It makes me happy to know that Swaive Corporation are not forcing you to use the App with the decive. Whether you are using the application or not the data that is collect by your Swaive Thermometer will be stored in the app. In the case that you'd like to go back and observe how your temperature reading has developed over time.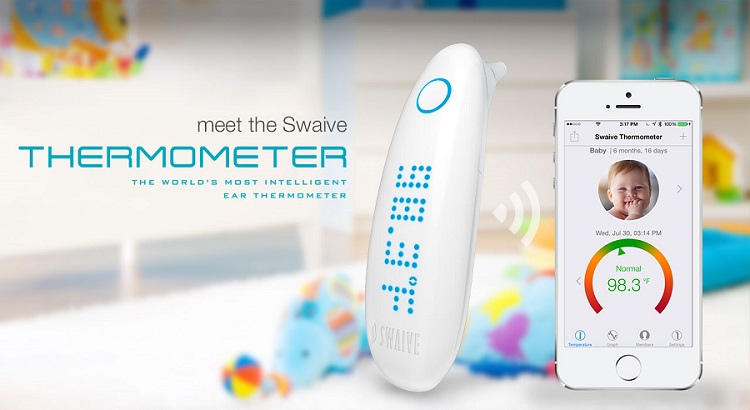 Thanks to the LED display you can now use, with ease the Swaive Thermometer at anytime day or night. Unlike other thermometer's that we use today, that do not have a lit up display for easy visibility at night. If you have a child that is a little tough when it comes to checking his temperature. You can just wait till night when they are sleeping to get the reading. A light helps guide you to their ear if you'd perfer to not disturb their sleep turning on the light in their room. In fear that they may wake up to you checking their temperature. Now you can walk in the room, and leave with them still sound asleep. No fussing, no fighting, and they will never know!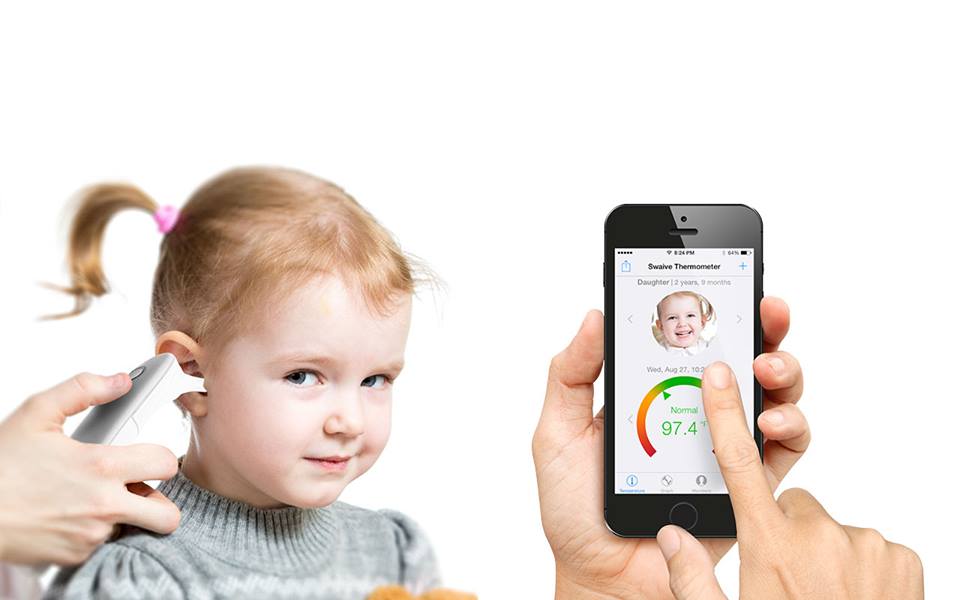 Why would you want to get the Swaive Thermometer for your household. This could easily save you a trip to the doctors office. Easier to use, and more accurate then other leading brands. I wouldn't be surprised to see the Swaive Thermometer being implemented in schools, and hospitals all around. The device is operated with two AA batteries. The life expectancy of the device is about 2 years under normal use of the Swaive Thermometer. Most homes today have an ear thermometer to frequently check body temperature. Now you can do it any time of the day with ease using the Swaive Thermometer.
Connect with Swaive Corportation: