From wedding decorations to the bridal bouquets, the role of flowers is indispensable. Even the flower delivery in Delhi is just a click away. From blooming pink to vibrant blues and soothing peach, there have been numerous wedding forecasts by the floral experts. The wedding day is a big day especially for the brides, and they surely want to make the most of it by staying ahead of the trends.
Fresh Flowers Bouquets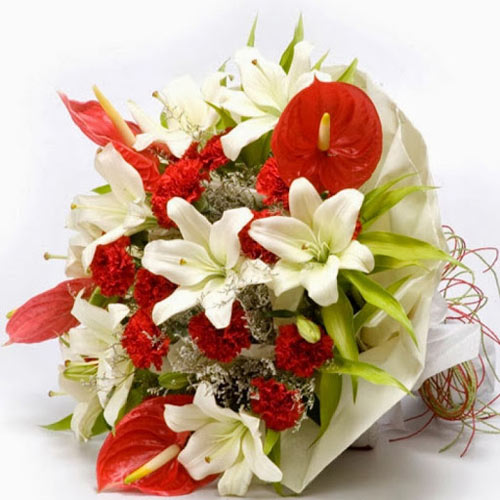 The colors and the style chosen by the brides for their wedding entirely depends on what they are or aspire. If you want your wedding flowers to be different and unique, exploring the individual options is always a tedious task. The best is to judge the bridal bouquets which you have observed in the last one year and discarding them from your list to conclude the unique one.
Queen of my heart by Way 2 flowers
Fun foliages are the best way to challenge your creative skills and aim of being unique. Give a break to the widely used eucalyptus and think out-of-box to explore the one-of-its-own-kind floral bouquet options. Unique foliage is undoubtedly the trend for Bridal bouquet 2019. You always have an opportunity to choose a bad of mix foliage but choosing a unique and specific one represents your actual right shades.
Juxtaposed shades are in trend for 2019 while the mixed flower bouquets are regarded, as an evergreen option. Brides prefer both the smaller and bigger bouquet smell but with a twist of uniqueness. Britton Shisho and cinnamon basil are the two trends which are expected to rule this wedding season.
Soft blushing peach intermingled with the vibrant blues and subtle pinks to form an exquisite wedding bouquet collection. Lilies, protea, roses and peonies are some of the incredible pink floral options while blue shades are reserved by eryngium and hydrangea to present a unique blend.
Ethereal Trend attracts the romantic brides who look forward to a mythical wedding style with minimalistic décor. Garden flowers like astilbe, roses and dahlias add a vibrant hue to the decorations. Add a tinge of grey with its family via seeded eucalyptus, dusty miller and sage.
Floral Bouquets 2019
The flowers like tillandsia will make their mark for the bridal floral bouquets 2019. Many brides prefer natural decor to define a promising future. Cactus zinnia and chrysanthemum are some of the options under heavily patented florals which can be combined, with the rice flowers or scabiosa stellate to craft a unique bouquet.
We can observe the blooming orange and red as the trending color for trend 2019. These brighter hues are strictly meant, for the brides with bolder personalities.
Send cake to Gurgaon with a unique bouquet via way2flower.com to let someone know how much your care!