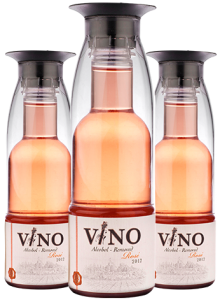 If you love wine, but are trying to live a healthier lifestyle, you're going to love this! Wine is such a great gift. You almost can't go wrong! It's an easy hostess fix, is classy, and not usually too cheap. However, not everyone drinks wine. For whatever reason, it is, those people are often on the search for something great to drink instead.
V/NO Alcohol Removed Wine is a higher class of health drinks. It's a cross between all those "healthy" drinks out there and a glass of wine! It comes in single serve, break-proof bottle that doubles as a drinking glass, ready for you to enjoy. It has a flavor similar to wine, with a lighter, smoother finish.
How V/NO Alcohol Removed Wine is Made:
V/NO Alcohol Removed Wines are created using the same process as wine. They are made from high quality California grapes. Those are pressed, fermented, and then aged in stainless steel. Then right before they're bottled, the alcohol is removed, using a cold filtration process. Less than 0.5% alcohol remains. The cold filtration process is what sets V/NO Alcohol Removed Wine apart from other alcohol removed wines. Heat-based processes damage the quality of the flavor. V/NO Alcohol Removed Wine's cold filtration allows the taste to remain intact.
"V/NO captures the health benefits of wine and is packaged in a unique and convenient 187ml bottle that doubles as a serving glass.

We take great pride in presenting our premium product, as we strive to offer our customers a natural, sophisticated, and healthier option that they can enjoy every day."
V/NO Alcohol Removed Wine is available at a price more affordable than most wines, in a package that's very classy. It comes in three varieties: red, rose, and white.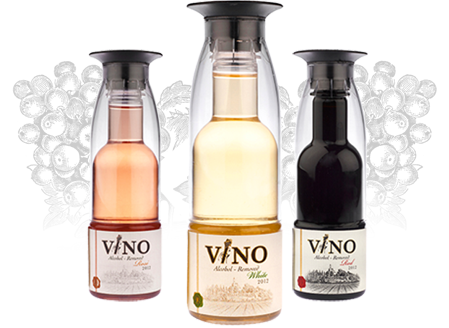 Health Benefits of V/NO Alcohol Removed Wine:
Connect with V/NO Alcohol Removed Wine and Purchase:
V/NO Alcohol Removed Wine has offered a $5 discount special for Mom Blog Society readers! Get $5 off any case through March 31st with coupon code: VinoMomBlogSociety. It'll ship for free too!
One winner will receive a case of V/NO Alcohol Removed Wine! Giveaway runs from 12:00 AM on 1.27.2015 for two weeks! Click on the image below to enter the giveaway: