Planner Helps Families Customize Their Destination Experience
Orlando, Fl. (November 18, 2013) – Universal Orlando Resort is launching a new online vacation planner to help guests plan their Universal Orlando vacation in a fun and interactive way — all from the comfort of their home. The vacation planner allows guests to completely customize their vacation and have access to experiential videos, personal recommendations, travel tips, sample itineraries, vacation packages and more.
"Our guests have told us they'd love a way to really familiarize themselves with our two theme parks, our on-site hotels and our entertainment complex before they arrive," said Alice Norsworthy, executive vice president of marketing and sales. "Our new vacation planner will help them get a better understanding of the entire experience we can offer."
The vacation planner can be accessed by clicking the "Plan Your Visit" tab on the Universal Orlando website. Guests are presented with three options to jumpstart their planning process: Watch, Customize and Browse.

WATCH:
The "Watch" option hosts a series of specially created videos featuring Emily Kaufman, The Travel Mom and leading expert in family travel, and showcases why Universal Orlando is the
perfect vacation destination. Through Kaufman's vacation videos guests will receive an overview of both theme parks, family fun attractions, dining options, special events, the perks of staying at one of Universal Orlando's on-site hotels, Universal CityWalk and all the exciting things that Universal Orlando has to offer.

CUSTOMIZE:
The "Customize" option is where guests can create and book their personalized Universal Orlando adventures. Guests begin by providing key information about their upcoming visit, including their traveling party, desired month of visit and vacation activity interests ranging from thrills to characters to romance to chilling out. The guest will then receive personal recommendations that include everything from the best ticket/vacation package offers to which attractions and shows are a "must-do," all based on their specific vacation needs. Guests will also have the ability to share their final personalized itineraries with their friends and family through their social media channels.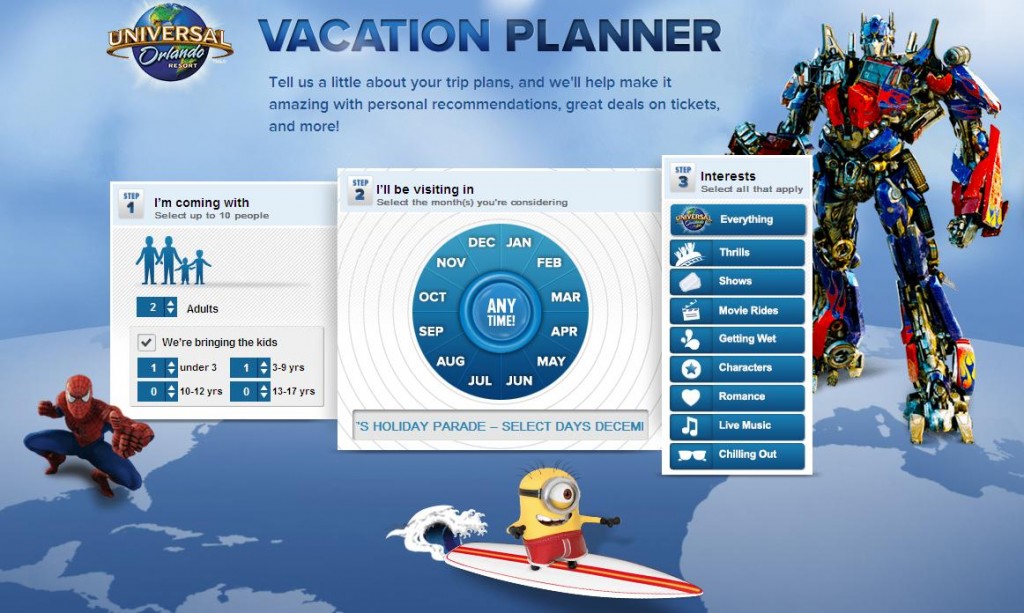 BROWSE:
The site also includes sample adventures which allow guests to browse recommendations based on the type of vacation they are looking for from Family Fun to Grown-Up Getaways to Thrill Seekers.
For more information on planning your next Universal Orlando Resort vacation, visit www.universalorlando.com.
About Universal Orlando Resort
Vacation like you mean it at Universal Orlando Resort – where every heart pounding, jaw- dropping, goose-bumping second counts. With two incredible theme parks, Universal Studios Florida and Universal's Islands of Adventure, three magnificently themed on-site hotels and a nighttime entertainment complex, Universal Orlando is the only place where you can turn spending time with your family into spending time as a family. Together, you can soar above Hogwarts with Harry Potter, swing above the streets with Spider-Man, become a minion in the hilarious and heartwarming Despicable Me Minion Mayhem ride, and join Optimus Prime in the fight to save mankind on the new mega-attraction, TRANSFORMERS: The Ride – 3D.
Universal Orlando Resort is part of NBCUniversal, a Comcast company.
Follow Universal Orlando Resort on Facebook, Twitter, Instagram and YouTube.
MEDIA CONTACT: Universal Orlando Public Relations http://media.universalorlando.com (407) 363-8220