What an honor it was to attend the New York Dairy Tour 2014, sponsored by the American Dairy Association & Dairy Council.
First off, I would like to thank the American Dairy Association & Dairy Council, for this amazing opportunity. Truly heart warming to know that an organization is so passionate about their community, whom continue to empower and inspire through education and innovation.
Second, The Patterson Family, thank you so much for opening up your home, and business to all of us! A family that has continued to grow through generations within the different economic faucets is such an accomplishment! I'm enlightened to see what the next generation of Patterson's will accomplish.
Now, the Highlights of this Moo…Fabulous Weekend.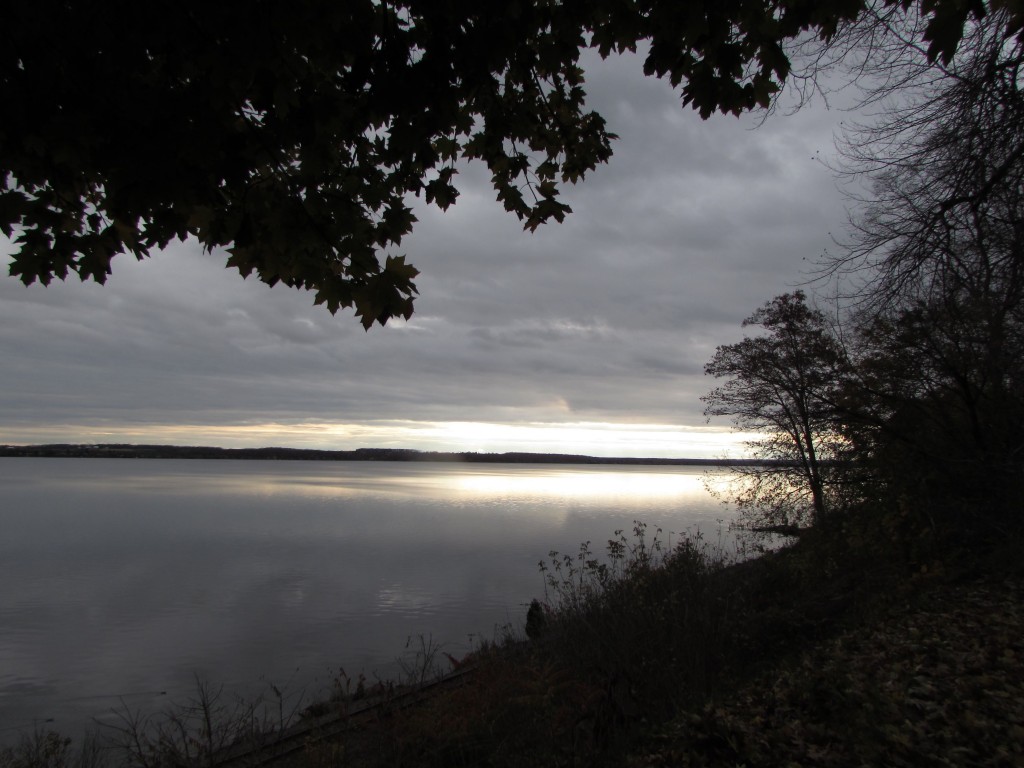 Our weekend was jammed packed with fun filled events, and lots of delicious food and wine! As we arrived at the resort, Geneva on the Lake, located on Lake Seneca, within the Finger Lakes Region, of upstate NY. I was just mesmerized, by this beautiful architectural structure, actually felt as if I was in Wonderland, just a magical breathtaking view! Truly a romantic getaway for any couple!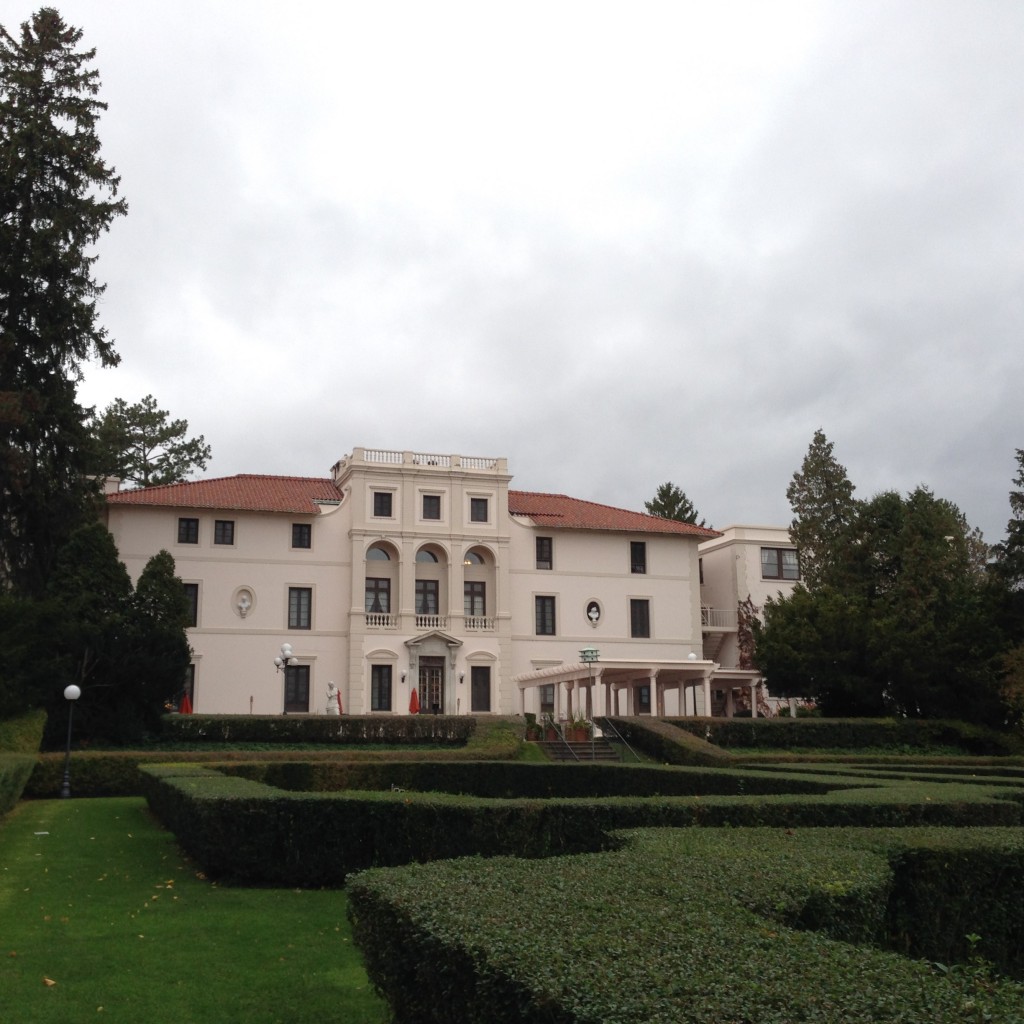 Our room was located on the third floor, so our bellman was gracious enough to carry all our luggage and shopping bags to our room. Yes, we hit the outlet mall before checking in. Two women are not, driving nine and half-hours and passing up an outlet mall!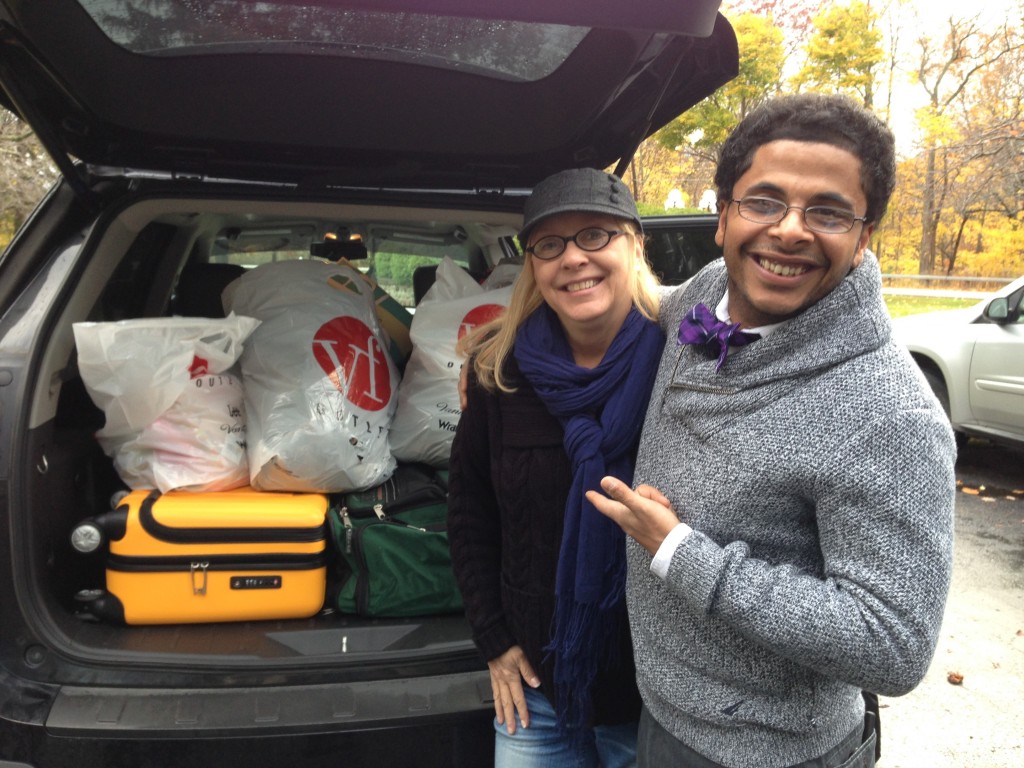 Entering the room after three flights of stairs, hours of driving, and shopping the comforts of home quickly approched! Now, let me just say if this is considered a hotel room, then I guess I need to get out more! Our room was an apartment! Literally, we had a gorgeous living room overlooking the lake, kitchen complete with everything, two bedrooms, and the whool pool hot tub in the bathroom…Amazing! Clearly, I was relaxing with the glass of complementary wine within minutes!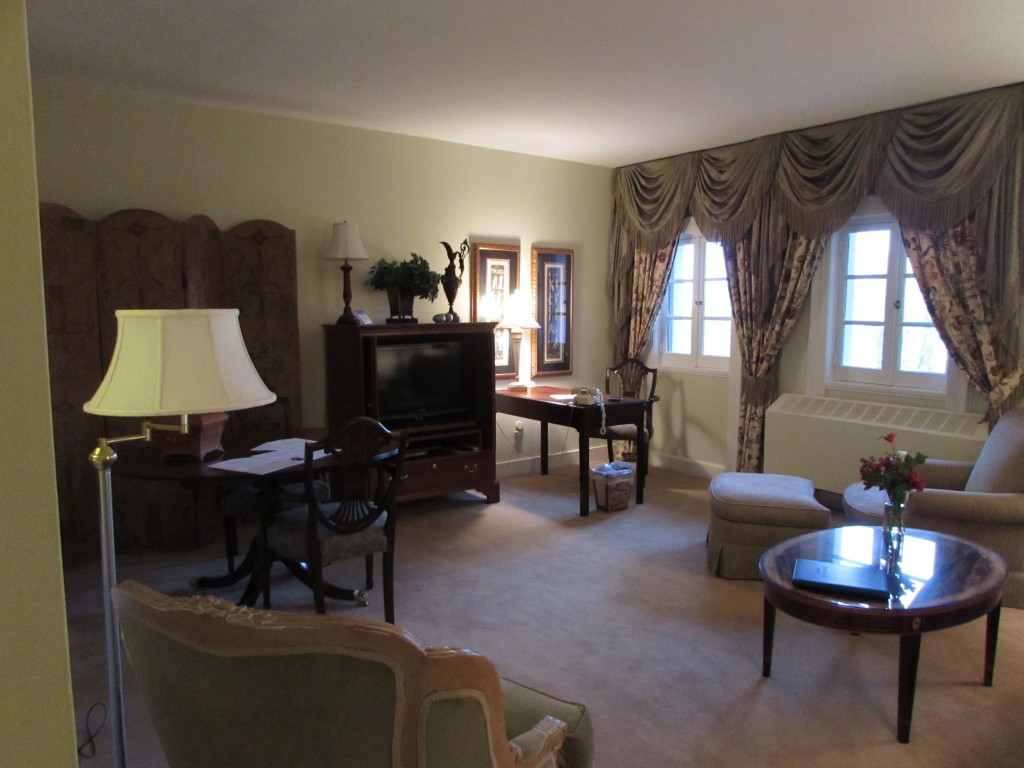 Dinner was by far the most romantic, atmosphere I have ever been in. Yes, I actually started to tear-up a bit. Imagine this, you walk into a restaurant, to your left is a Pianist playing soft romantic melodies on the grand piano. The ambiance is candlelight throughout, couples are nested close together, smiling and laughing and you're with your girl friend! Yes, that's a mood kill, we both missed our spouses dearly at that moment. Dinner was so incredible; no words can justify how delicious everything was!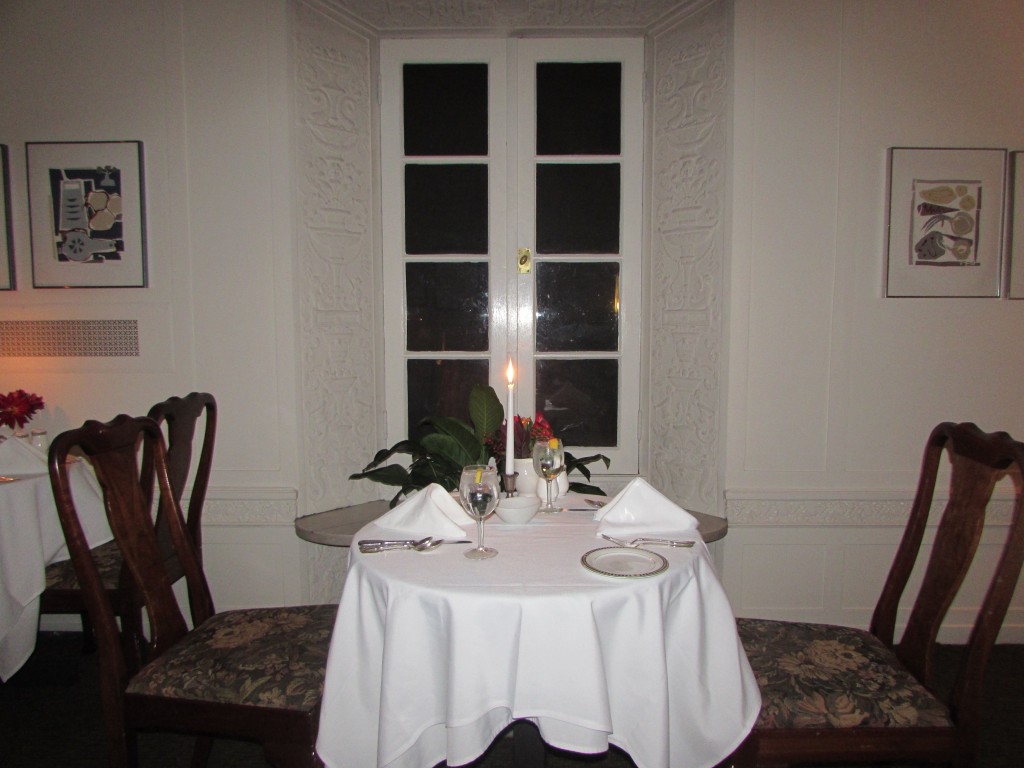 The next day our tours began. The whole purpose of this trip was to provide an in-depth look at dairy farming, and the process behind the Cayuga Milk Ingredients Plant. The innovations dairy farmers take on to maintain their animals, and farm is just mind blowing! Clearly, there is more to taking care of the dairy farm than meets the eye.
The Patterson Farms, is dedicated to maintaining not only the health of their "GirlS" as Mr. Jon Patterson calls them but, also utilizing the latest and greatest technology available for a safer/cleaner environment.
The final, destination was the New York Wine and Culinary Center, a bonus to the trip, as if thing's couldn't get any better!
Our first stop was at the Cayuga Milk Ingredients Plant (CMI). The mission of creating and offering the best milk products available; by reducing nutrient losses, odors, and other negative attributes that effect dairy farmers was enacted in 2008. Furthermore, CMI continued to explore effective measures to reduced milk-hauling cost. The passion and dedication of 21 local dairy farmers is now a visionary site, to pass along to the next generation.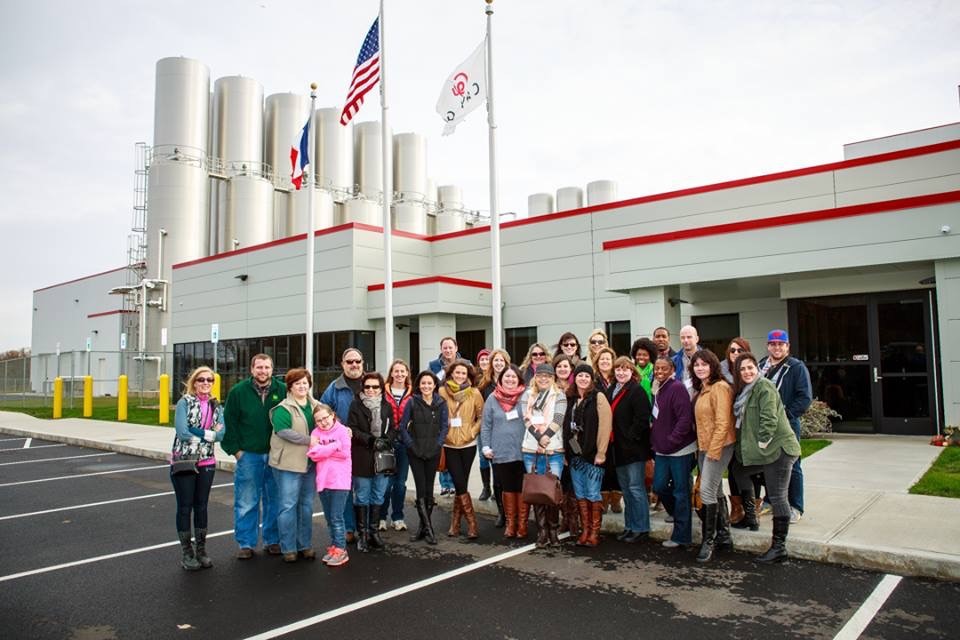 Unaware of what this process consisted of I was pretty optimistic. The plant broke ground in November 2012, so this is a very new and extremely high tech processing plant. Clearly, safety measures are in place when entering a dairy processing plant, but CMI has taken this to another level of security! Which, I do not object to at all, it was actually rather fun dressing up, in a jump suit, hair net and fancy booties on my shoes! Not to mention watching many members of the group take Selfie to see how they looked (Including us).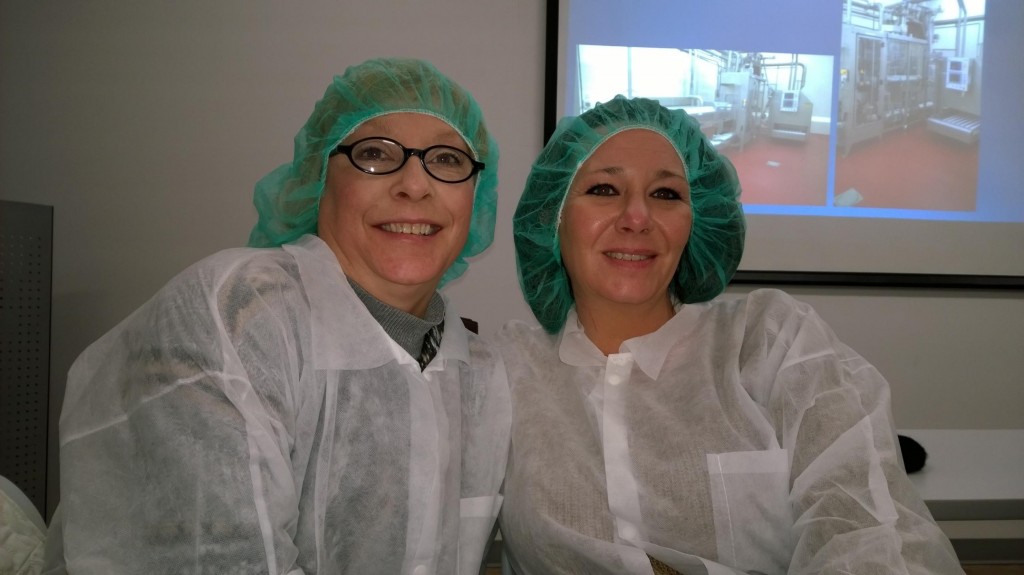 We learned so much information on this tour. For example, the basic process included six different parts; receiving raw milk, the separation and pasteurize, filter, evaporate, dry, and packaging. Now the real issues is can I tell you the process of each one today? No, not at all!
The amount of information is just astronomical! The amount of high tech equipment in this building is vast; basically this whole processing plant runs it's self. Yes, I know hard to imagine, but CMI employs less than 40 employees, and this plant runs 24/7.
The following is a list of current products processed at the plant and some of the vast high tech systems are more accurately described, as this will provide a better understanding of the plants purpose behind the mission (CMI,2014).
Fresh, whole milk is separated, pasteurized, and cooled to 35°F/2°C. Our cream has a fresh, clean flavor and is ideal for use in butter, ice cream, and Ultra High Temperature (UHT) products. It can also be used in cultured dairy products, puddings, and other cream-based desserts.
CMI produces high-quality whole milk powder with a clean, milky flavor by standardizing, vacuum-concentrating, and spray-drying fresh, raw milk. The whole milk powder has excellent solubility and is an ideal ingredient in dairy, confectionery, and bakery applications.
Skim milk undergoes multiple ultra-filtration processes that increase the solids content of milk permeate while leaving a natural milk liquid base and lactose. It is a functional, nutritious addition to powdered drink mixes, soups, sauces, bakery products, and snack food coatings.
The standardized, homogenized, and vacuum-condensed fresh, raw milk is always of the highest quality, with a fresh, milky flavor. When it is added to ice cream mixes, it increases their overall whipping ability and improves and enhances texture. Condensed milk can also be used in a variety of beverages, dietary products, confectionery goods, frozen desserts, and prepared meals.
Skim Milk Powder (Standard and Infant)
Fresh, raw milk is separated, pasteurized, vacuum-concentrated, and spray- dried to produce high-quality skim milk powder. It has excellent solubility and a clean, milky flavor. It is an ideal ingredient in natural and processed cheeses, confectionery goods, yogurts and cultured dairy products, ice cream, and dry mixes for various industries.
Non-fat dry milk powder has excellent solubility and a clean, milky flavor. CMI separates, pasteurize, vacuum-concentrate, and spray-dry fresh, raw milk to produce high-quality non-fat dry milk powder. It is an ideal non-fat addition to natural and processed cheeses; confectionery goods, yogurts and other cultured dairy products, ice cream, and dry mixes for various industries.
The second stop on our tour was, The Patterson Farm, which just so happens to be one of the 21 dairy farmers invested in CMI. The Patterson Farm is a sixth generation farm that has been running since 1832, formally called Fairfields Farm. Currently, the farm is ran by Mr. & Mrs. Jon Patterson, working along the side of them is the next generation of Patterson's.
Their three children, Tad, Wyatt, and Reilley have learned the grass roots of dairy farming from their parents, and work right along with mom & dad every day! I was actually, highly impressed with these kids, and I believe their hard work and dedication needs to be recognized as well. Typically, kids in their age range have no clue to life or hard work, and these kids sure do! Keep up the good work Patterson generation #7 I'm looking forward to hearing about your endeavors in life.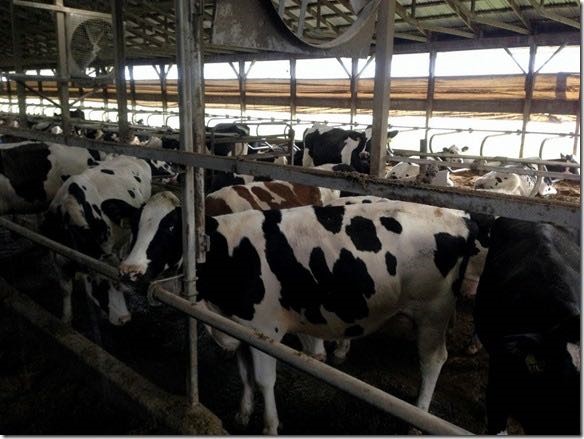 The Pattersons take pride in their "girls," as I mentioned earlier there is more to caring for animals than feeding them. Did you know there're different shelters/barns available for dairy cows? I had no idea either, so it's ok. The Pattersons have installed " freestall barns," which provide a cleaner, fresher, and more comfortable environment, than the traditional tie-stall barns. Not to mention, the girls are able to move around freely. This is just one of many pampered amenities the Patterson's have incorporated into taking care of the "girls."
Pedicures yes, you read that one right! Hold on the pampering continues. The girls get two pedicures a year, misting fans in the summer time, automated brushes for back scratching, 60 day vacation, open smorgasbord including water 24/7, hormone injections, antibiotics, in- vitro fertilization, and if that's not enough they have a dietitian to! Now, if that is not love and affection for over 2,000 dairy cows with 1,000 plus milked three times a day, I don't know what you'd call it then.
All I know is I would love to have a dietitian, and eat anytime I want as much as I want! One of my favorite comments by Mrs. Patterson was, "when the girls, go to the parlor for milking, they will wait till their spot is available". Can you believe that, out of 1,000 plus girls milked daily, three times a day, they actually have a preferred parlor spot! I could not help but laugh, thinking typical woman features right there!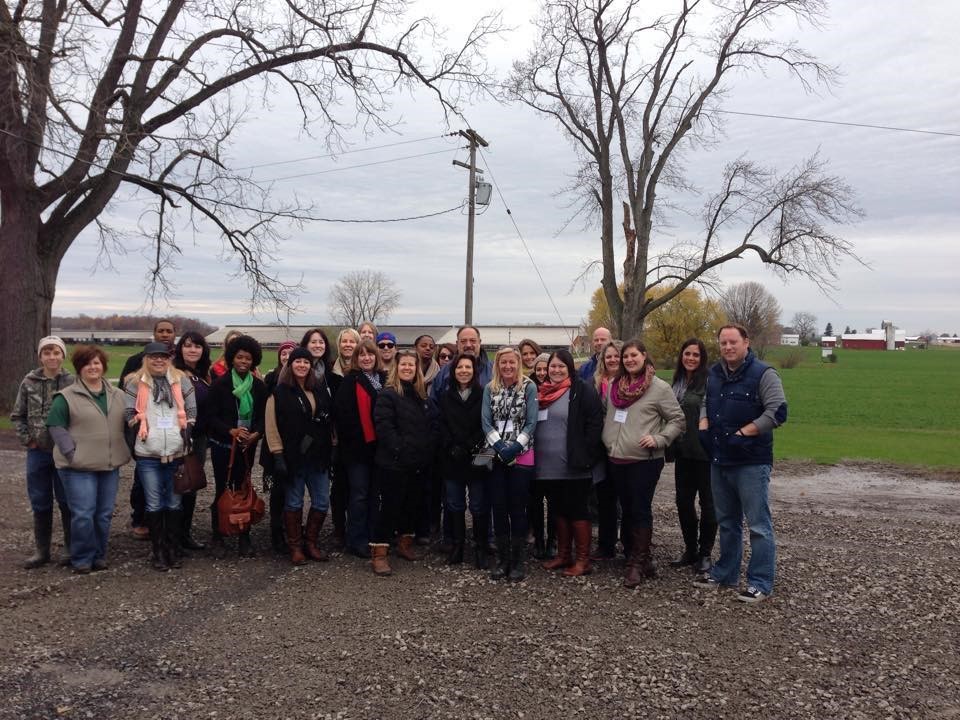 Jon Patterson was rather excited to share with us his methane digester. Which in all honesty, is rather interesting, after all not a lot of people what to talk about (poop) in a public atmosphere. As the methane digester transfers the manure into energy. Yes, that's right energy (electricity) is produced from manure. The energy is then used as the main supply source for the entire Patterson Farm! That's a lot of manure being produced yearly!
The end of our tour at the Patterson Farm concluded with feeding day old calves, and learning all about the different ingredients in the feed. For Example, a few of the ingredients are wheat, soybeans, hay, cottonseed, grain, canola meal, and cornmeal. The Pattersons' have over 2,500 acres of land, which majority of the land is used to harvest the feed.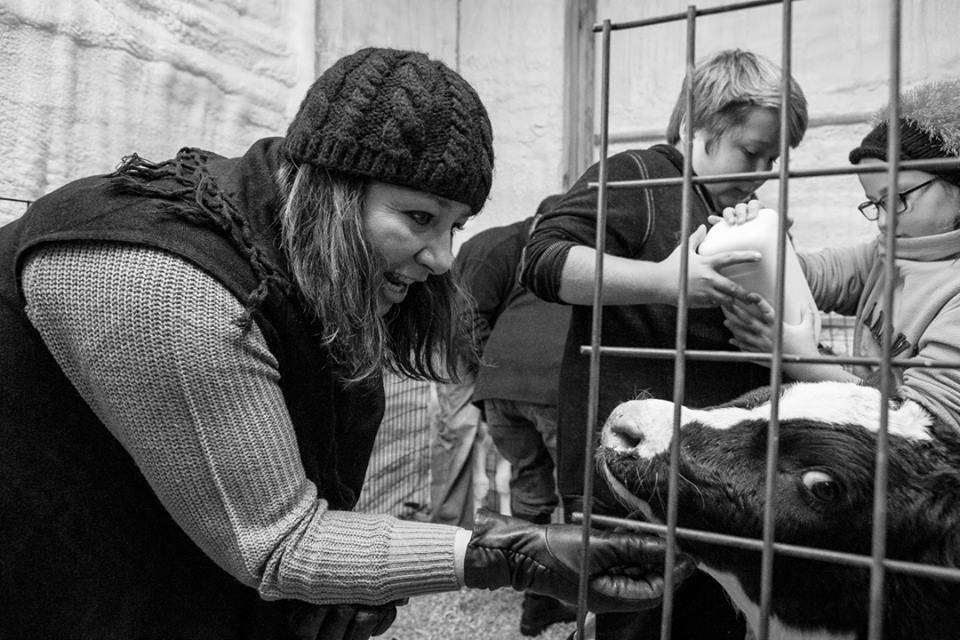 After leaving the Paterson Farm, we headed back to the resort for lunch and a brief rest or refresh from the busy day. Lunch was again fabulous! Ladonna seems to be enjoying her lunch. The buffet featured; Korean BBQ Pulled Pork with braised red cabbage and apples on a Brioche roll. Followed with, a Fall Harvest tossed salad, with autumn harvest greens, tomatoes, carrots, pine nuts, and Red Jacket apples Lively Run Blue Yonder cheese, pre-dressed with Riesling vinaigrette. The Roasted Sweet Corn, with spinach and red onions provides is very festive look. Continued on with Sweet Potato Puree, and finally, the Mediterranean Pasty Vera, pasta tossed sautéed sundried tomatoes, olives, garlic, and mushrooms in olive oil. However, she could not eat desert, but I did and it was the best Apple Crisp I have ever ate!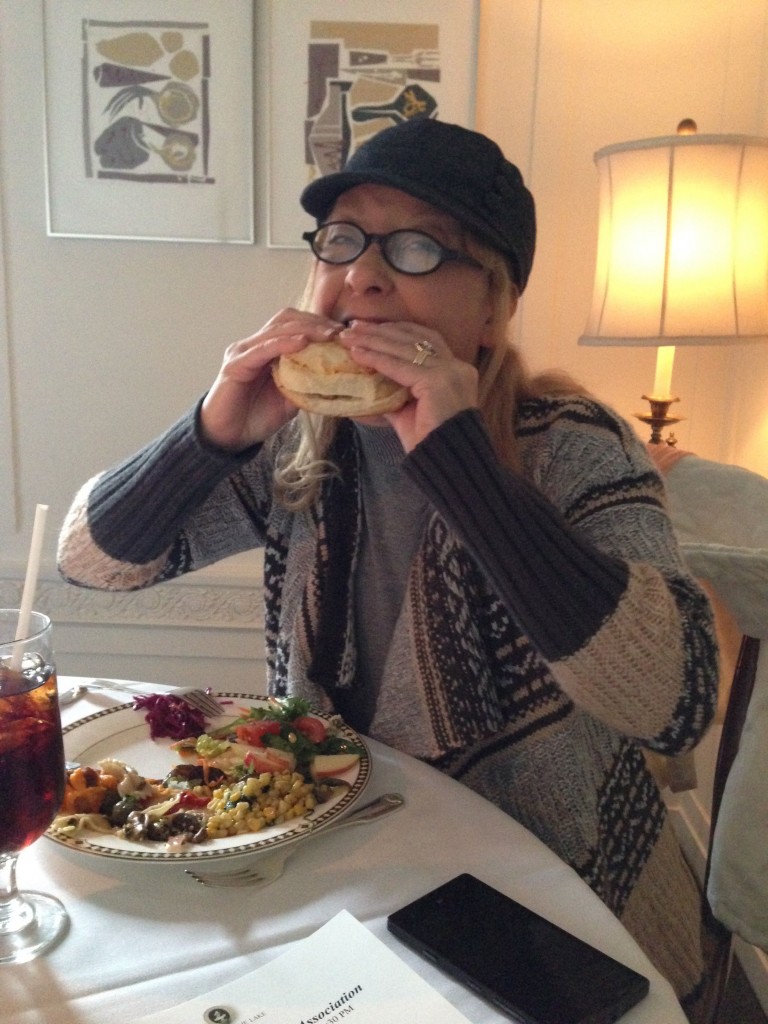 After a much needed rest, everyone was rejuvenate and ready to head on over to the New York Wine and Culinary Center. Chef Jeffery McLean prepared a menu for the entire class. We were broke up into different sections in the classroom; each section had a different item that we were to prepare. Each item on the menu contained a dairy product in some way shape or form.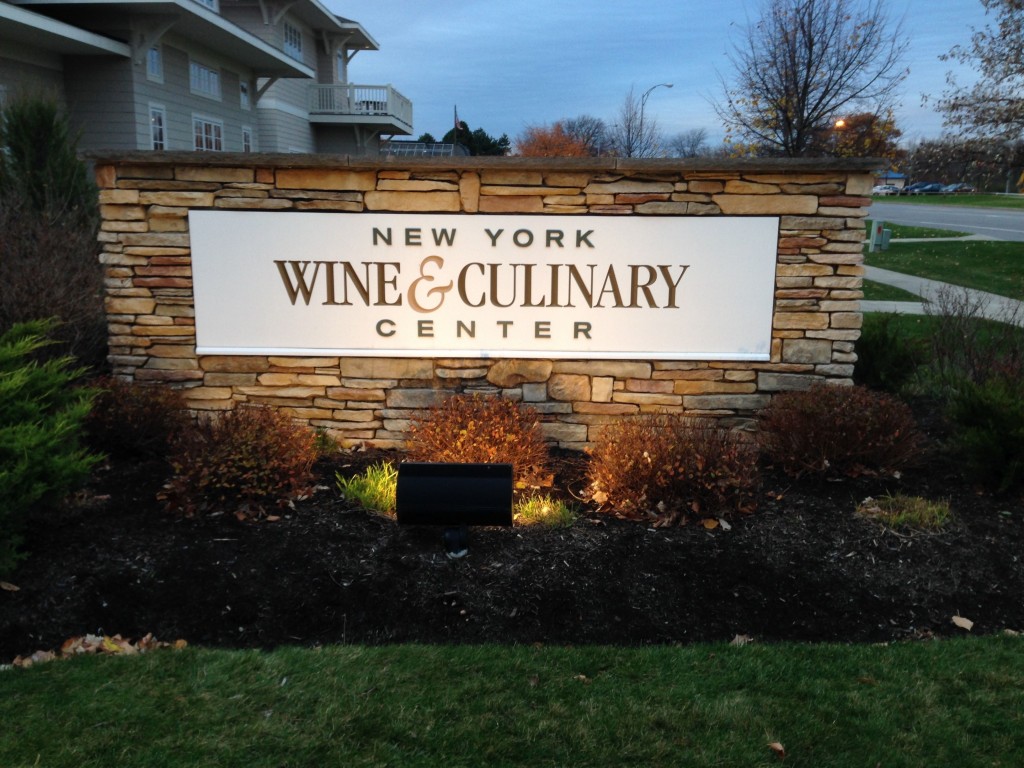 After a much needed rest, everyone was rejuvenate and ready to head on over to the New York Wine and Culinary Center. Chef Jeffery McLean prepared a menu for the entire class. We were broke up into different sections in the classroom; each section had a different item that we were to prepare. Each item on the menu contained a dairy product in some way shape or form.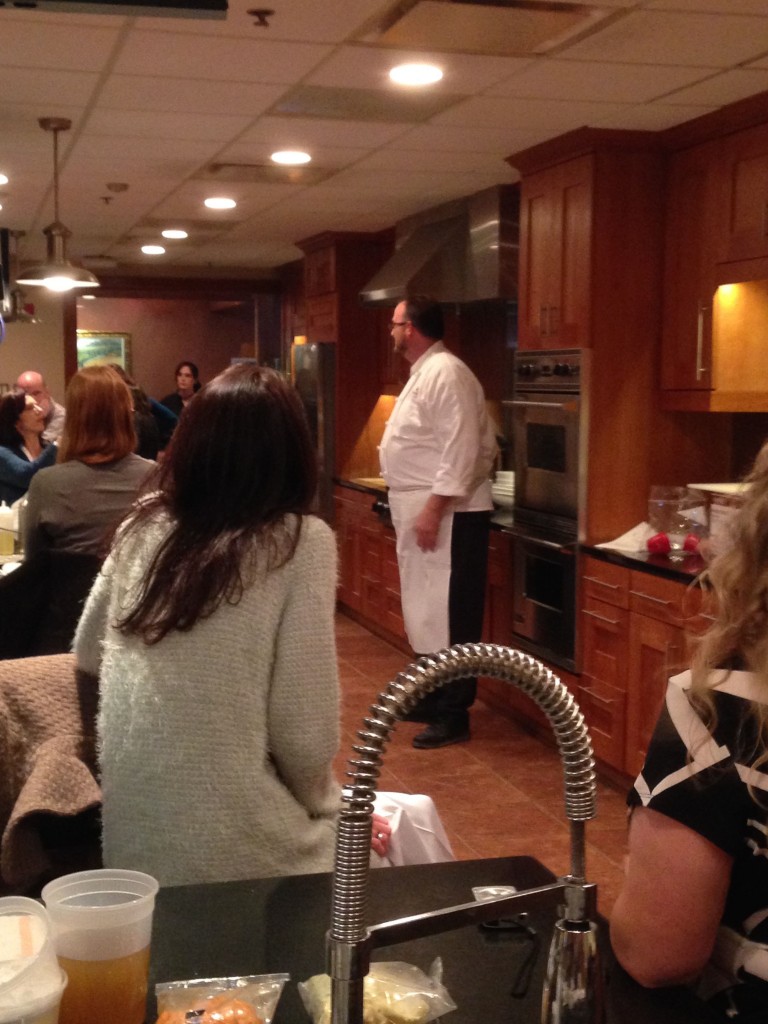 We made the Chocolate Brownie & Vanilla Ice Cream Boats. I love my deserts! Before we began our preparations, Chef went over three common cutting techniques used in the kitchen (plank, stick, dice). Then he continued into the instructions on how to prepare our menu for the night. After, everyone was done, we all headed down the hall to the Sands Gallery. Which, by the way this event center is just beautiful!
The main table was stunning; show casing all our hard work featuring the following menu items:
Caramelized Cheese Crisps stuffed with Pulled Chicken Shredded cheese baked until golden and shaped into cones. Filled with shredded chicken and topped with a Greek yogurt sauce.
Inside-Out Poutine, Flavored cheese curd covered in breaded mashed potatoes, deep-fried served with a side of brown gravy.
Roasted Garlic & Red Pepper Greek Yogurt Spread on Crudites & Crostini Farm-Fresh Greek yogurt combined with roasted garlic and red bell pepper to form a creamy spread to be dipped with crostini or raw vegetables.
Chocolate Brownie & Vanilla Ice Cream Boats Handmade brownie cups topped with delicious vanilla ice cream and chocolate syrup.

Sorry, No photo available. Everyone ate our brownies before I could get a photo. Guess they were delicious.
Unfortunately, this concludes our journey with the New York Dairy Tour 2014. Unless, you'd like the details of our 9 ½ hour drive home..lol Let's just say we had a blast all the way around!
I hope you have enjoyed this article as much as we enjoyed our adventure with the New York Dairy Tour in 2014. Thank you all for such an amazing educational experience and opportunity! #NYSDairyTour2014
Connect with ADADC Twitter | Facebook
Disclaimer: We did not receive any forms of compensation for this review. The sole purpose of this review is promoting and educating the company's products/services available. The reviewer has personally implied her thoughts for the review, as well as; informative information obtained from participants web page to provide the accuracy/authenticity of the products/services indicated.