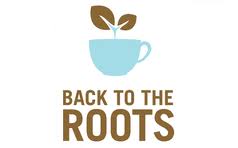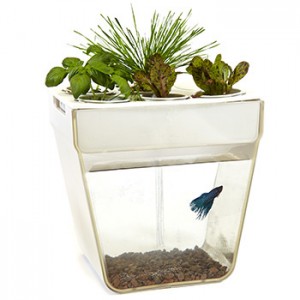 I love my grandma dearly, but boy is she hard to buy for. She has everything her heart desires, so what do you get a women with everything? I know my grandma love to garden and she loves to cook. Every time I go to her house it smells like I just walked into heaven. She is always cooking or baking up something and of course it's always delicious! Back to the Roots AquaFarm is perfect for my grandma. She can grow her own herbs year-round and that's something she has been wanting to do for a long time!
It's a self-cleaning fish tank that grows food. And the fish waste feeds the plants, while plants clean the water. How cool is that? It includes the organic seeds and a discount coupon to buy the necessary betta fish for the tank.It's really attractive and has a3 gallon capacity. It's prefect for just about any room in the house. Although I foresee my grandma placing it in her kitchen.
This amazing little two-in-one invention is a self-cleaning fish tank that grows plants and herbs in a garden on top on the tank. Grow organic produce like basil, lettuce and wheatgrass right from the comfort of your own kitchen.  The AquaFarm is an at-home, closed-looped ecosystem that was developed using principles of aquaponics in which the fish waste in the water is naturally used to fertilize the plants and herbs and they in turn clean the water for the fish. Available at Whole Foods, Nordstrom's and Petco. retails for $59.99. The AquaFarm is the perfect gift and at an amazingly low price too. I know my grams will love this and I'm super excited to give it to her this Christmas!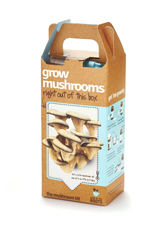 Another fabulous gift I found for my grams was this awesome Mushroom Kit from Back To The Roots! In just three easy steops my grammy can start growing her own Mushrooms! Simply open, mist and harvest. How easy is that? She loves oyster mushrooms, when she cooks she adds mushrooms to her soup, pasta and salad and it's just delicious!
"Grow edible, gourmet oyster mushrooms in just 10 days with this certified organic mushroom mini farm kit.  Utilizing 100% recycled materials as the 'soil,' you just add water and watch the mushrooms sprout from the box. Available at Whole Foods and Home Depot". Back to the Roots Mushroom Mini Farm—retails for $12
Both the AquaFarm and the Mushroom kit make amazing gifts. If you have a garden lover over cook in your life, shop Back To the Roots for some amazing and unique gifts this Christmas!
Connect with Back To The Roots: Shop : Twitter : Facebook
Disclosure: I received a free product from the sponsor to review. I received no monetary compensation and my opinions are my own and were not influenced by the sponsor.