There is simply too much evidence that the majority of trampoline manufacturers are cutting corners to save money. Look at the pads that are meant to protect children from the hard steel frames and dangerous springs that bear the jumping surface. That blue tarp stuffed with barely a quarter-an-inch of foam does not do enough to protect children from serious bumps, bruises, scrapes – even head trauma.
All of that has changed, though, with one groundbreaking design: the Springfree Trampoline, the first ever reengineered design of this classic backyard equipment. When you want to buy a trampoline, don't just go to the same old manufacturers, go to true engineers delivering new safety standards for their products.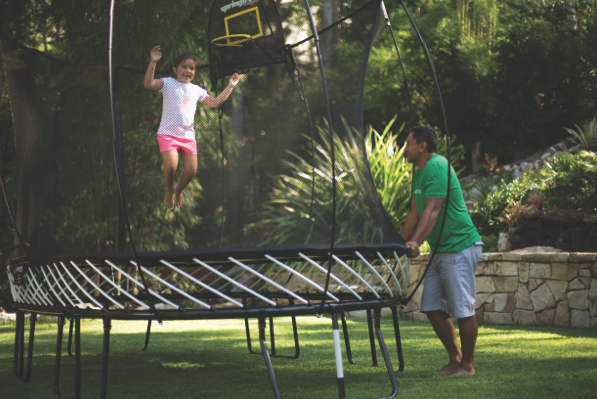 Innovative Design
The traditional spring system in a trampoline involves metal springs laid out in coils that hook together, but they can become exposed and pinch or injure a jumper. By contrast, Springfree Trampoline uses a revolutionary ring of flexible composite rods. These fiberglass implements are specially crafted to bend with pressure and simultaneously provide bouncing power and structural stability. The rods form an interwoven ring that supports the jumping area from below without obstructing it in any way. By allowing the matto depend on a frame located well below, out of reach of jumpers, the composite rods provide unprecedented protection from injury. This type of rod-system also helps to support the enclosure nets, called a FlexiNet, which redirects jumpers towards the center of the trampoline mat when they bounce to the edge. This way, jumpers don't run the risk of falling onto the ground ortoppling the whole contraption. Relying on flexible rods that move out of the way, rather than typical enclosure poles, the design eliminates one more potential contact zone.
The edge of the jumping surface where jumpers can sometimes land is also a very important safety concern. TheSoftEdge mat used by Springfree Trampoline creates a 360 degree safe zone for jumpers — where the mat ends, the FlexiNet enclosure begins.
Fun
It's a sad fact of contemporary times, but children today just aren't as happy playing outside as they were in the past. In fact, the numbers can be quite startling:
Unfortunately, with apps and games on mobile phones, tablets, and just about everywhere, you can't just tell your kids to turn off the TV and get outside. That's why your trampoline should come equipped with the tgoma interactive digital gamesystem, which integrates the trampoline into a space for fun and active play time, using tablet video games and fitness apps to turn media consumption into a physical activity that's both fun and healthy.Technology is a great tool to encourage young minds in learning and play alike, and tgoma helps to take learning outdoors. The statistics are staggering and we know that parents sometimes struggle to balance 'technology' time with 'outdoor active' time, so why not check out why parents love the new tgoma app technology?
Quality Assurance
Within the trampoline industry, there are a variety of ways that companies are recognized for their creative and innovative strategies to keep jumpers safe. The Parent Tested Parent Approved Award and the US Family Choice Award go to products approved by real parents for their unparalleled safety, while the International Design Award recognizes exceptional design on a global level.Choosing a trampoline is no small endeavor; trust the companies that have done the research and have gone above and beyond to assure the safety of your children.