Let's face it, everybody needs a tool box.Teenagers, Single Moms, Do-It-Yourselfers, Mechanics, Everybody! And everyone has wrenches, screwdrivers, drill bits, and all those things that go with them. Wouldn't you like to have a good place to organize it? What about those cordless drills, corded tools, and where are you going to put those extra extention cords?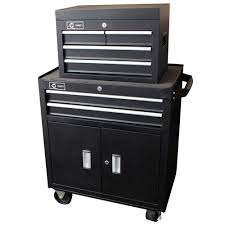 Well, now you have a place for that, and more with the
Trinity Tool Box
. It has ballbearing drawer rollers for a smooth longlasting operation and locking casters so you can move it to the location you are working at. That way you aren't wasting time and energy walking from one place to the other just to get that tool you didn't know you needed until you got into your project. It's like having a tool belt with you, but this box holds a lot more than a tool belt can.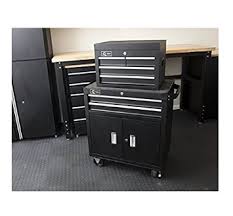 The tool box is lockable incase you want to keep others out of it. The top box can be moved off of the base so that you can use it as a work space. In fact, the top box can be placed inside the bottom box and locked there to keep anyone from walking off with it (if you wanted to). However, I use the bottom for storeage so I don't have room to put it in there, but it is possible if you wanted to.
It comes with drawer protectors to keep sharp things from scratching the bottom of the drawers and they also protects your tools from becoming dull from scratching the bottom of the drawers.
What's not to love; it's portable, durable,a space saver, organizer, and at a price that anyone can afford!
Trinity has been generous enough to offer one lucky Mom Blog Society reader a chance to win a Trinity Tool Chest. Simply enter the Rafflecopter below for your chance to win.