Hang around in the TreePod !
Tree houses have been known to make a lot of memories. One of the issues though with building a tree house is having to pound nails into a tree which could cause injuries. With the TreePod- Hanging Tree House you will find this to be worries of the past.
Canaima Outdoors TreePods can be for more than just kids, there are plenty of kids-at-heart who will dig this cocoon suspended in air. The TreePod has an aluminum skeleton, rated to hold up to 500 pounds, with a 5-foot diameter and 7.5 feet of overhead. The whole thing's covered with a nylon water- and UV-resistant fabric. Mesh windows allow breezes to blow through while keeping the bugs out, and even though the company recommends that you hoist the escape no more than four feet off the ground, it does come with a retractable ladder. The complete tent weighs just 12 pounds.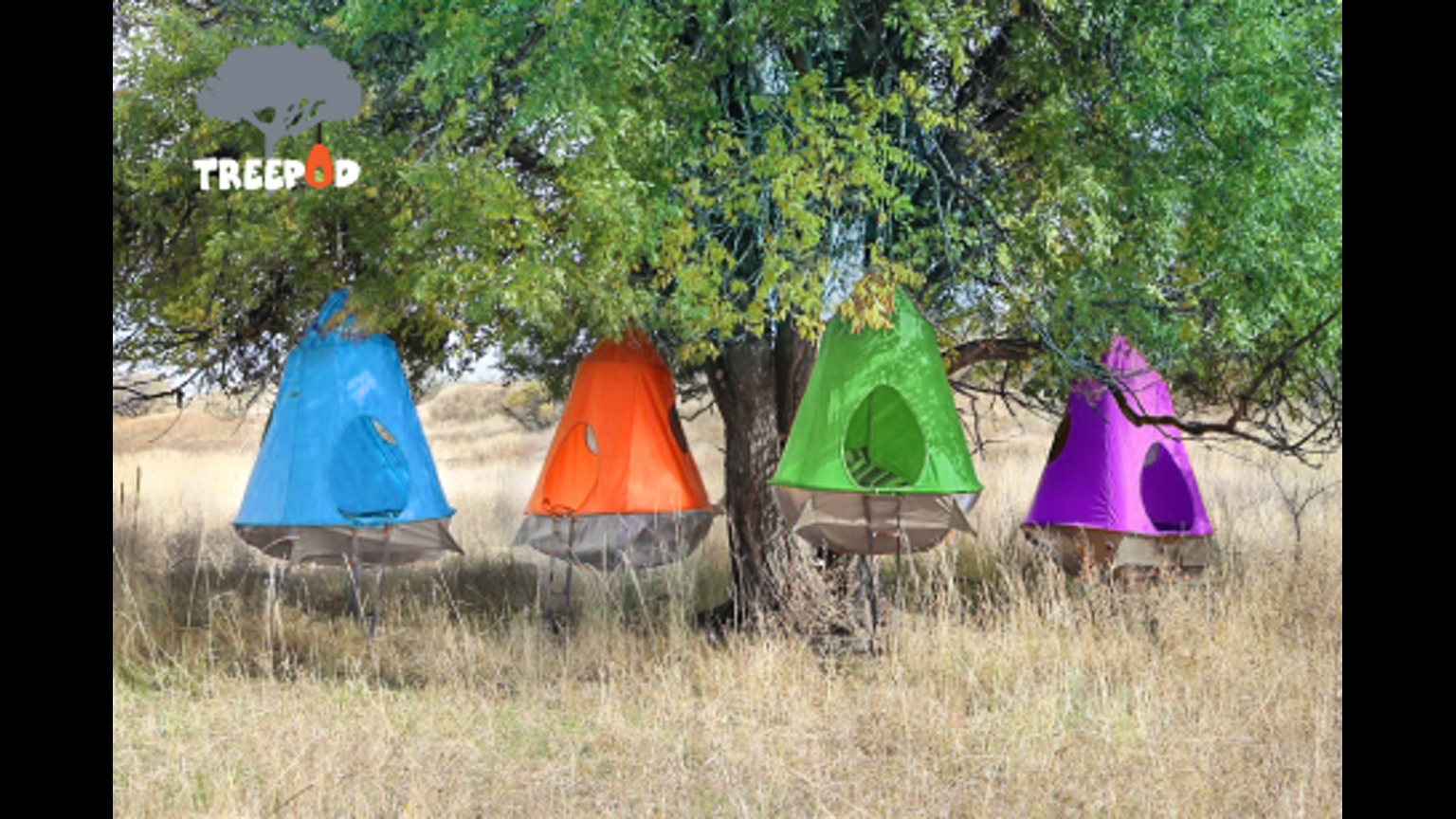 These TreePods come in 4 colors as you see above.
Although we are not putting down the 'original tree house idea' not everyone has the time to spend or possibly may not want to build their own old-fashioned way. You can take the TreePod anywhere, easy to set-up tree house that turns any backyard into an awesome adventure space.
The TreePod is a treehouse alternative and is designed to enable outdoor fun for children and adults. The recreation pros at TreePod developed the TreePod to bring the magic of a treehouse to backyards everywhere. Even where there are no trees, the available TreePod Stand creates a backyard adventure space like no other. The TreePod is lightweight, portable and fully removable. Suspending the TreePod by a sturdy branch, the available TreePod Stand or other anchor points such as overhead beams on a deck or porch.
I love that the TreePod has a durable water resistant lining that is built to withstand the elements, the Treepod features a durable water repellant shell and is treated with a UV-protectant for longevity. The main material is a super-durable nylon with strong and lightweight aluminum framing.
Remember it is designed for safe use, 500 lbs. and is fire retardant. An integrated nylon ladder ensures easy entrance and exit. The suspension system is designed with a steel quick link for easy hanging and fastening. The fun can be taken anywhere, even where there are no trees, with the optional Treestand (sold separately). The tripod Stand is designed for set-up on any flat surface. It is made a steel and has a weight threshold of 1500 lbs.
Details on theTreePod:
Height: 7.5 ft. (2.28 m) Width: 5 ft. (1.52 m Material: UV and water resistant nylon, aluminum frame, and steel quick link. What comes with your pod contents: Pod with roll-up ladder and sewn guy-lines, frame poles, ground stakes, and quick link.
We have already tried it out, although the weather has been chilly we will get a lot of use out of it this coming spring/summer! The kids are excited and keep talking about how cool it will be to use.
From their website: We're partnered with Trees for the Future, to plant a tree for every TreePod purchased through Kickstarter and continuously thereafter. As a company we create products which encourage people to spend time outdoors and we want to do our part to give back to environment.
You can visit then on their social media:
Facebook | Instagram | Website
Disclosure: I received this product from the company above, but all opinions are my own.