Track Your Valuables in one Place with Snupps

What if you came home one night to find out that your home was broken into? Would you be able to tell law enforcement what items were taken? Would really know every item in your house or if it was missing? Would you know the value of the item? I am going to be honest, I wouldn't. I can hardly keep track of my kids socks let alone all of our valuables. As a busy mom of four and a business owner, I don't have the time to sit down, write out a list of valuables, value the items and take pictures of each item. There are days when I am so busy that I can hardly remember to eat!
I am extremely lucky to have the opportunity to travel for my job. Unfortunately, most of my travels are by plane and I never thought about "What if my luggage gets lost?" until it actually happened! The airport claims department wanted a full list of the contents and the value. "UM WHAT?" I was lucky if I remembered to pack everything I would need for my trip let alone remember what I actually packed. And the value of what the contents were worth?? UM NO CLUE!
This is where Snupps saves the day! Snupps makes tracking your valuables a piece of cake and keeps everything in one place.
Snupps allows you to easily inventory your home to keep track of big ticket items for insurance purposes and estate planning. Bad things happen in life, make sure you are prepared for these moments and ease the stress of an already emotional and stressful situation. Catalog your moving list, so nothing gets left behind. Know what's in storage and remember what's tucked away.
Before heading on your next trip, use Snupps to keep track of the contents of your luggage. Snap some pictures, enter some information about each item (don't forget the value) and you are all set.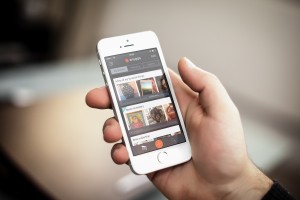 I love using Snupps for my job! I can not tell you how many deliveries I get from UPS, FedEx and USPS every day! There are days when it is impossible to keep track of what is coming in, who sent what and when it is due. With Snupps I can easily keep track of it all! The minute a package arrives, I can take a picture of the shipping label, the contents of the package and add all of the important information that I need in one place! No more packages getting lost or misplaced in the office or searching for the information all over the office. I can stay organized and on schedule!
Signing up for Snupps is a piece of cake. All you need is an email, to create an user name and password and you are all set. You can even sign up by connecting your Facebook account! You can download the Snupps iPhone/iPad App from the iTunes store and easily snap pictures with your iPhone or iPad. Don't worry Android users the Snupps team didn't forget about you. They currently have an Android App in the works and will be released shortly. You will be adding your items and valuables to your shelves in no time!
If you would like more information about Snupps, please visit the Snupps Website. Be sure to stay up to date on all of the latest news from Snupps by following their social media pages on Facebook, Pinterest and Twitter.