As car mechanics continue to improve at a rapid pace, almost every car out there is guaranteed to be affordable at every price point for families of all sorts of socioeconomic background. With over thirty cars, ninety car-seat installations and three hundred cupholders tried and tested, here are the best models to provide you with the best quality and comfort to last you and your family (and all your valued belongings) for years on end without fail.
Pick Your Minivan
Kia Sedona
Your favorite $27,200 budget-friendly minivan just got a family-friendly makeover. With new and improved bumpers, headlights and doors, you no longer have to fear the unfashionable soccer-mom aesthetic. And the best part is — its seats are now made with a stain-proof fabric that will repel all those nasty and unfortunate spills from juice boxes and milk bottles alike. Not only that, its new eight-speed transmission matches it with its more expensive equivalents, making it even more functional than before. Families can easily fit up to four or five child-safety seats with a few of the smaller seats giving the choice of having three seats across the center row. Now, this is definitely a fresh upgrade to suit all families!
Toyota Sienna
Known to be the only all-wheel-drive minivan, the Toyota Sienna begins at a respectable price of $31,115. Its heavy-duty exterior will shelter you and your family even from the heaviest rainfall. The Sienna is wildly praised for its impressive tire-grip and steady control when it comes to wet weather. The probability of skidding off-road is significantly lessened. Furthermore, the minivan's newly-updated automatic high beams and pedestrian detection components make driving even safer. However, the most special part about the Sienna has got to be its size and special-needs accommodations. Apart from its capacity to fit roughly four to five child-booster seats, it also comes equipped with a specially-installed Auto-Access Seat. All it takes is a simple press of a button located on the door and the Auto-Access Seat will rotate and lower itself down to ground-level to facilitate handicapped passengers. One satisfied customer sings high praises for this feature, commending its convenience, accessibility, and spaciousness for her current toddler son as well as for when he grows bigger and older in the future.
Honda Odyssey
While the previous entries on the list are impressive, the Honda Odyssey is unrivaled in its ability to transport many children at a time. Coming in at $30,190, the Odyssey easily allows for six child booster seats. Additionally, its lower anchors and tether for each seat allows flexibility for adjusting the seating arrangements for kids. Moreover, it comes installed with a state-of-the-art touch-screen CabinTalk system, enabling your voice to be heard loud and clear even to the back rows. This will break up any fights in a jiffy. Last but not least, the new safety package of EX models and above contains automatic breaks that are triggered upon collision, cruise control ability, and steering mechanics to readjust the vehicle during an accidental drift.
Two-Row SUVs You Can't Miss Out
Ford Escape
At $24,105, the Ford Escape is well-designed to maximize space both internally and externally. What this means is that structurally, it's small enough to squeeze through tight corners and spaces but interior-wise, it can comfortably accommodate two, if not three child booster seats at best. Moreover, if you download Ford's free app that's compatible with this minivan, you can go from commanding Alexa in your Escape whilst waiting to pick up your kids to multitasking with the utmost efficiency.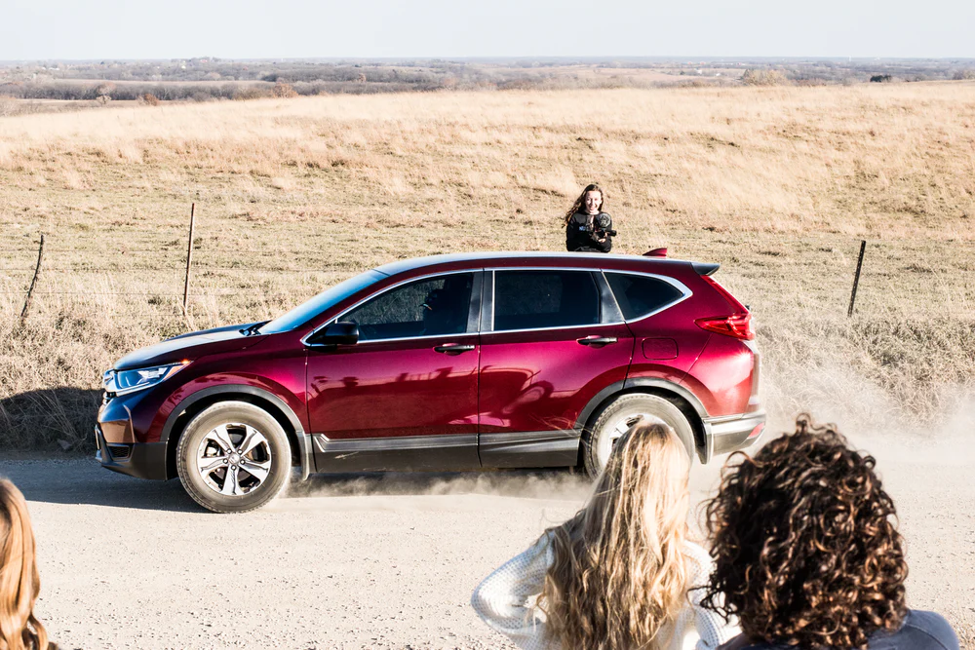 Subaru Forester
Like the Kia Sedona, this consistent fan-favorite also scored a major upgrade this year. Starting off at a reasonable $24,295, it's now updated with Subaru's new Eyesight Driver Assist Technology that hinders you from swerving into other lanes by accident. It also has a stronger engine that provides stronger horsepower for those necessary accelerations at times. And similar to its predecessors on the list, it has more than enough room to fit all your belongings, child-booster seats and passengers together. What this car has to offer that the others don't however, is its substantial oil tank of 26 to 33 mpg; you can expect minimal refills if you pick this!
GMC Terrain
Tiny but powerful, the GMC Terrain ($25,000+) allows you to bend the rear and front passenger seats down flat in order to accommodate any big-ticket items of up to eight feet long. Conversely, when you reset the seats back upright, you can fit the standard number of three small car booster seats. This minivan is especially suitable for drivers with longer limbs because the driver-seat legroom remains unaffected by forward-facing car seats attached behind them. Rest assured, drivers will still enjoy sufficient legroom. It also comes with cool, nifty safety features like the Rear Cross-Traffic Alert which is particularly useful in case a child or an animal dashes behind your car even after you've checked your rear-view mirrors.
Three-Row SUVs You Can't Miss Out On
Volkswagen Atlas
A formidable contender on our list, it's mighty in both size and petrol usage efficiency. The Volkswagen Atlas ($30,895+) allows significant legroom and cargo space — even allowing space for five car seats or boosters. Despite that, it doesn't consume petrol unnecessarily and is in fact, rather efficient; it only utilizes 22 mpg in the city and 26 mpg along motorways. Furthermore, it complies with the 2019 standard for all Volkswagen cars — automatic headlights and heated side mirrors. Finally, it guarantees you a six-year, 72,000-mile warranty that makes it an overall cost-effective family vehicle.
Subaru Ascent
A behemoth in its own class, this minivan functions more like a camper van. Ranging from $31,995 onwards, the Ascent is for adrenaline-junkie families as it can withstand up to 5,000 pounds. It also comes installed with raised ladder-type roof rails. Unsurprisingly, it contains features like Eyesight Driver Assist Technology which is practically a given at this point. However, what really sets it apart from the other vehicles is its 19 cupholders, five child-booster seat capacity, a huge storage compartment underneath its seats and its retractable head restraints.
Nissan Pathfinder
Ever fear to leave your snoozing child in your car? Well, those nightmares are over because the Nissan Pathfinder ($31,230+) is installed with a patented rear-door-alert system. How it works: If you forget to open the back door upon reaching your destination, the system automatically honks to alert you, thereby preventing the tragic deaths of children being left in hot cars yearly. Additionally, it has an Intelligent Around View Monitor that provides you with a 360-degree view, enabling you to account for even your blind spots.
Honda Pilot
Similar to the Odyssey, the Honda Pilot ($31,450+) shares characteristics like CabinTalk and a roomy interior. You can easily squeeze three small car seats in the center and two at the back, which is comparable to the Odyssey's capacity. Lastly, you can also open the truck with a mere kick at the rear bumper for the Touring model and above ($42,250+).
At the end of the day, getting the ideal family car is of the utmost importance when it comes to taking your family on trips or just to run errands. Besides picking the right car, another thing that you'll need is trusty car insurance. While there is a myriad of car insurers out there, we'd highly recommend going with Youi. Car insurance with Youi can't get any easier, simply get a customized quote, make the purchase if it satisfies your needs (they will) and enjoy peace of mind knowing that you are well protected.