National Ice Cream Day is July 16 this year and Mom Blog Society is going to celebrate National Ice Cream month all month long with Thirty-One Gifts with their new ice cream print and embroidery icons. This print is so cute and you are going to want to get your own! Better yet, why not try to win a set? I will tell you more about that later.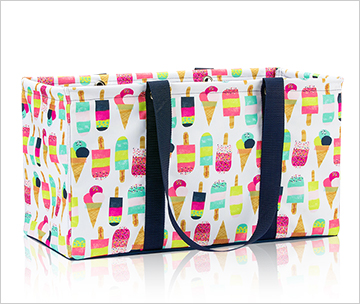 Ice cream is a favorite in our house, as well as ice cream in a cone! Thirty-One Gifts will have you covered on this one. This new print will only be available in July so make sure you get yours before it melts away.
Large Thirty-One Gifts Utility Tote
First, we have this cute large utility tote all decked out in ice cream novelties and sprinkles. It measures approximately 11.75″H x 21.5″L x 10″D and will hold enough to take your party on the go. Everyone loves a party whether it is at the pool or outside on your deck.
The structure is a metal frame so it will keep those bulky items secure and gives strength to make it durable. There are so many uses for it whether it is to tidy up your kitchen pantry, take toys to the beach or pool, or keep your toy room in better order. The uses are endless and It even collapses for easy storage! For an added cost you can get your tote personalized with so many icons and fonts to choose from this could also make a great wedding shower gift or baby shower gift.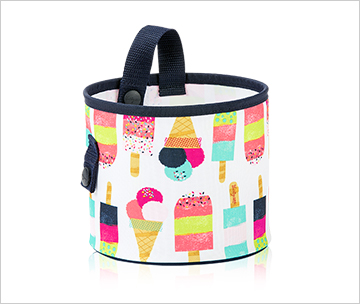 The Oh-Snap Bin
The Oh-Snap Bin also comes in the Sprinkles print and is great for keeping your kids crafting supplies or your own all in one neat place. You can also use it for camping items to take to the public bathroom or in your daughter's dorm room Snaps along the side allow you to connect multiple bins, or hang from a towel rod. Use six more or bins to create a circle! So many ideas you are going to want more than 1. The bin is approximately 5.5"H x 6"L x 6"D. This can also be personalized for an additional cost.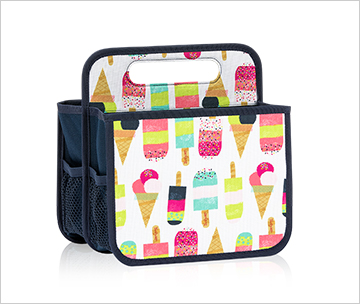 Double Duty Caddy
This Double Duty Caddy is a handy bag that works for craft, mail, car or cleaning storage solutions. It's a great diaper caddy, too. Paired with other pieces you will find that you will have a nice, useful set. Approx. 10 1/2″H x 10″L x 8″D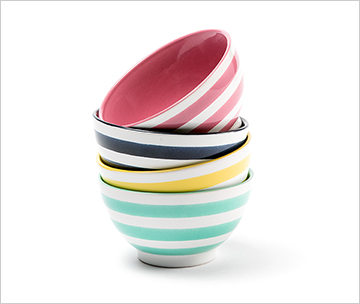 Get the Scoop Bowl Set for National Ice Cream Month
Get the Scoop Bowl Set is my new favorite bowl set. The colors, imagining my ice cream sitting in one of them, the simple but cute pattern. Not only can these bowls be used for your ice cream treats, you could use them for taco toppings for dinner, assorted snacks at your party. The list goes on and on. They are microwave and dishwasher safe which I just love. You get 4 bowls in the set (1 of each of the colors shown).
So what are you waiting for? Get yourself over to Thirty-One Gifts and get your ice cream themed (Sprinkles print) items before it is too late! You can view them all here.
Website | Facebook | Twitter | Pinterest | Instagram | YouTube
Disclosure: Thirty-one Gifts gave me the above items in exchange for my honest opinion. All opinions are 100% my own.
What would you use these fun Thirty-One Gifts for?
You can enter to win a set for yourself from 7/12-27 11:59pm est here