Thinkbaby and Thinksport, the leaders in safe, non-toxic products, received four Family Choice Awards for various baby and sports products. Thinkbaby's Ultimate Gift Bundle, Sippys Cubed Bundle, Thinksters Cubed Bundle and Thinksport's GO2 Travel Containers, all received the acclaimed award.
For 21 years, the Family Choice Awards have recognized excellence in children's and parenting products. Parents, educators, children and qualified professionals rigorously evaluate and test thousands of products to find those that exhibit creativity, great value and extraordinary imagination.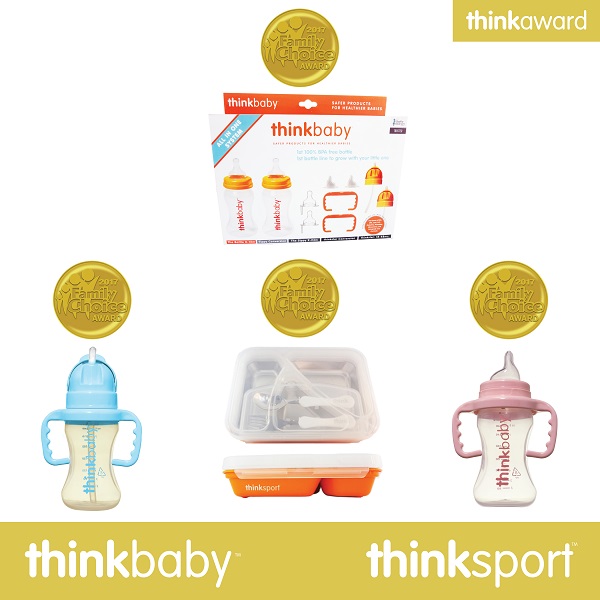 "We are thrilled to receive four Family Choice Awards this year," said Kevin Brodwick, Founder of Thinkbaby and Thinksport. "Thinkbaby and Thinksport products are not only safe and non-toxic but functional, affordable and sustainable. Recognition for our work is always an extraordinary accomplishment."
All Thinkbaby and Thinksport products are free of BPA, PVC, lead, phthalates, melamine, dioxins and biologically toxic chemicals.
Select 4 Sippy Cups, receive 20% off!!

First BPA-free baby bottle line

No spill spout featuring our cross cut design

Extra soft, medical grade silicone spout eases transition from bottle to sippy cup
Select 4 Thinksters, receive 20% off!!
First BPA-free baby bottle line

No spill straw featuring our cross cut design

Extra soft, medical grade silicone, straw provides easy transition from sippy cup to the next stage of feeding straw bottles
Bundle Includes One Baby Body Care Set and One All in One Set!

Baby Body Care includes Thinkbaby's award-winning Safe Sunscreen SPF 50+, Shampoo & Body Wash, Baby Lotion, and Bubble Bath.

All In One Set includes two Thinkbaby bottle bases which transform into The Sippy Cup and then into The Thinkster. The BPA-free line transition from newborn to 4+ years of age.
First travel lunch container with water-tight sealed compartments

Ergonomic fork and spoon secure into top lid, no more losing utensils!

Large compartments make it easy to place food for lighter to heavier fare. Just fill…and GO!
About Thinkbaby and Thinksport
Thinkbaby Thinksport's founder, Kevin Brodwick, brought his interest in health and preventative medicine and his background in biotechnology together to form a company with the sole purpose to create alternative products for babies, children, adults, and athletes alike. With a team of physicians and scientists focused on the latest biological and chemical sciences, Thinkbaby Thinksport continues to lead in the usage of safe, non-toxic materials for consumer goods.
For more information, visit:
If you would like to read more about ThinkBaby ThinkSport you can read our last article
here
.
The information included in this post was provided by Go Think Baby